Schacht Weaving Looms
Schacht weaving looms combine high quality with function and are built right here in the US. Whether you choose the popular 4 Harness Baby Wolf loom, the compact Cricket loom or the folding Flip Rigid Heddle loom, you will be happy with your purchase.
Schacht Wolf Looms - Floor Looms
Available in three sizes these folding floor looms are compact and portable, yet strong. All Schacht Wolf weaving looms feature a steel hub friction brake, brake release foot pedal, aluminum harness channels and an attractive beater pin. All Schacht Wolf weaving looms come with stainless steel heddle bars and a stainless steel reed ( your choice of 6, 8, 10 12, 15 or 20 dent and 300 flat steel heddles. A sturdy X-frame bolt and barrel nut constructions allows these weaving looms to fold with the warp attached. An optional stroller allows for easy moving of the Schacht Wolf looms.
The Schacht Wolf Pup Loom LT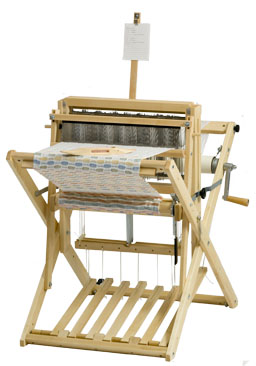 The popular Schacht Wolf Pup LT loom below is now available with lamms and 6 treadles (hence the "LT"). The lamms allow any shaft to be tied to any treadle, making four shaft patterns even easier to weave than before. The Schacht Wolf Pup LT also sports our new quick-release back beam that is a new feature of all of our Wolf looms. Now, the back beam can be quickly removed for threading the heddles without impacting the brake system. 18 inch weaving width. Complete with 300 flat stainless steel heddles and your choice of reed. Complete with handy Treadle Tracker so treadling your draft is easy!
FREE shipping!
Please choose one reed when purchasing a Wolf Pup LT Loom. Additional reeds can be purchased separately at the bottom of the page.
The Schacht Wolf Pup Loom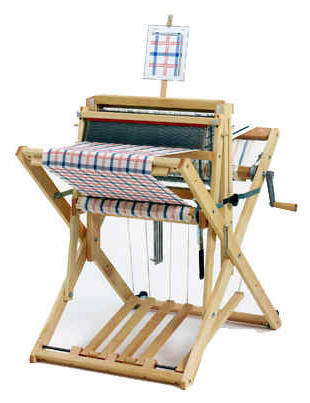 The Schacht Wolf Pup loom is a direct tie-up 4-shaft loom. Here is a little loom you can easily take anywhere with you. The 18" weaving width is ideal for workshops and for all those other narrow projects. In the process of developing this product, Schacht also came up with a couple of nifty enhancements like the automatic fold-up lock button and the Treadle Tracker, a "mini clipboard" for holding your threading and treadling diagrams. The simple and elegant direct tie-up system was designed by F.C. Wood of Waterford, New York, who started building the Dorset Loom in 1956. The Wolf Pup folds up to a depth of only 16 inches. The attached wheels automatically engage when the loom is in the folded position. The Schacht Wolf Pup weighs just 38 pounds. Complete with handy Treadle Tracker so treadling your draft is easy!
The Schacht Baby Wolf Loom
is the a compact, yet strong loom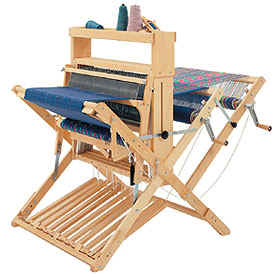 . It has all the advantages of portability while maintaining the best big loom features. If compactness and portability are what you are looking for, you'll be interested in the Schacht Baby Wolf loom. The weaving width of the Schacht Baby Wolf is 26". You have your choice of four or eight shafts, or you can choose our Four Now-Four Later model which allows you to expand from four shafts to eight shafts at any time. The X-frame design is exceptionally stable and can be easily folded to a depth of 18". The adjustable beater allows the position of the shuttle race to be raised or lowered if necessary. The Schacht Baby Wolf employs a friction brake on the warp beam which lets you advance the warp smoothly. FREE freight in the continental US! Compare also to the Leclerc Compact loom.
Please choose one reed when purchasing the Baby Wolf Loom Additional reeds can be purchase separately towards the bottom of the page.
Schacht High Castle Tray
The Schacht Baby Wolf Castle Tray provides handy storage and a convenient place to mount the swivel pin of an extension lamp.
Schacht Stroller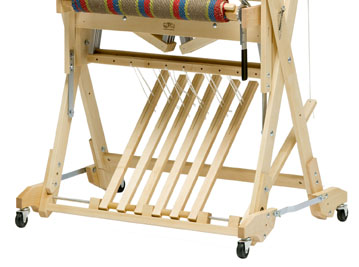 Most Wolf aficionados find the Wolf Stroller an indispensable accessory. Whether you've got a Schacht Baby Wolf or Mighty Wolf, this Stroller makes moving your loom around easy. When installed on the loom, the wheels automatically engage when the loom is folded up, and disengage when the loom is opened
The Schacht Mighty Wolf Loom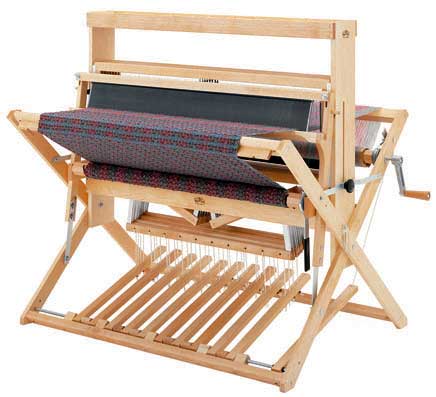 Schacht built the Mighty Wolf loom in response to requests from weavers who liked the Baby Wolf and wanted the same loom but wider. The Mighty Wolf has a weaving width of 36", and uses the same X-frame design as the Baby Wolf.
The Schacht Mighty Wolf loom comes with a high castle that includes a handy storage tray. Choose from 4 Harness, 8 Harness or 4- Now 4 Later (this gives you the option of adding for harnesses later). Solid maple construction with oil finish. Please choose your reed when ordering. FREE freight in the continental US!
Please choose one reed when purchasing the Mighty Wolf Loom. Additional reeds can be purchase separately towards the bottom of the page.
Schacht Rigid Heddle Looms
Schacht Cricket Loom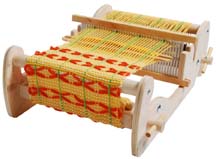 The Schacht Cricket Loom is compact, capable and cute! Your choice 10 inch or 15 inch weaving width gives plenty of room to make a variety of projects without sacrificing portability. The Schacht Cricket Loom comes with two stick shuttles, a warping peg, threading hook, two table clamps, and 8-dent rigid heddle reed and two balls of yarn. Also included excellent warping and weaving instructions and project booklet. Jump into weaving! Ready, set, weave!!
Stand for Schacht Cricket Loom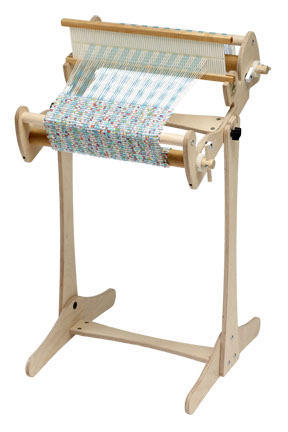 Weave anywhere with the optional loom stand. Instead of propping your Schacht Cricket loom on the edge of a table, this stand will enable you to weave wherever you like.
15 inch Cricket loom with stand shown to left
Schacht Flip Rigid Heddle Loom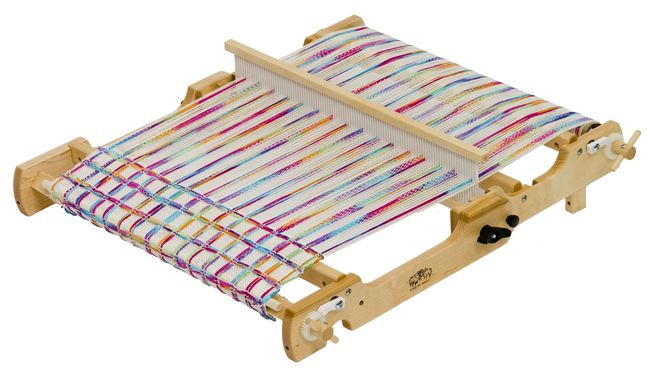 Flip, the new Schacht folding rigid heddle loom, is comfortable, compact, sturdy, and a pleasure to weave on. Designed for high performance, this loom folds in a jiffy for storage or transport. Warp in a flash. Included with Flip, the folding loom, are clamps and a warping peg for direct-loom warping, as well as instructions for both direct and pre-measuring methods. The top cross brace allows long warps, up to 5-6 yards (depending on weight and winding paper), to be wound on the beams without impacting the size of the shed. The heddle, available in 8, 10 and 12 dents per inch, your choice! Choose from 15, 20 or 25 inch weaving width. The Schacht Flip loom is shown above with optional stand.
Please choose ONE reed for your loom above when purchasing
Please Note: If you purchased your Flip loom before 2-17-2010 and would like to add the floor stand your will need to also purchase the retro fit kit. Please call us for this item

Additional Reeds for Schacht Flip Loom
Bag for Schacht Flip Loom
Other Schacht Looms
Schacht Inkle Loom
Inkle Inkle looms are great for start-up weaving programs because they require little additional equipment, are easy to use and understand, and are easily stored. The Schacht Inkle loom is built with years of heavy use in mind. It has one open side for ease of warping. The tension bar has an easy grip handle for adjusting the warp tension during weaving. Please note: This loom does not come with a shuttle. Please order it separately.
Schacht Tapestry Loom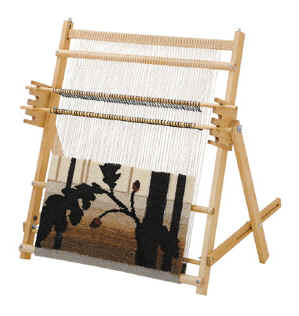 Tapestry weaving is considered by many to be the most personal of all weaving. Among the simplest of looms, the tapestry loom holds a continuous warp under tension, allowing the weaver to see all of the warp at once. Sheds are formed using heddle bars and string heddles. While only two heddle bars are needed for traditional tapestry weaving, we provide four heddle bars so that beginning weavers can also experiment with 4-shaft pattern weaving. To keep the warp tension even throughout your weaving, our tapestry loom has a tension beam with thumbscrews on the end which allow for easy adjustment. Available in 18" and 25" weaving widths, our continuous warping system allows a 60" long warp to be put directly on the loom without using any other warping tools. Shown with optional stand below.
A-Frame Stand for Schacht Tapestry Loom
Designed for use with our portable tapestry looms, our A-Frame Stand inexpensively answers the question of how to hold the loom upright on the table top or the floor while weaving. The adjustable side arms let you vary the angle, and may be folded up for storage. Fits both sizes of Schacht Tapestry loom.
Schacht Table Looms

Table looms are great for cla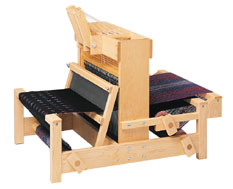 ssroom use, workshops, sampling, and small projects. They are ideal for learning about four- and eight-shaft pattern weaving, since the direct tie-up through the hand levers allows for infinite experimentation. Schacht table looms are expertly crafted of the finest hard maple and built for maximum structural stability. Schacht uses fine-toothed nylon gears on both the warp and cloth beams, which allow precise tension control. The front-mounted levers make shaft selection easy to reach with each hand. Front-mounted levers also make it easy to see at a glance which shafts are raised. Schacht table looms are available in three weaving widths-15", 20", and 25"- with four or eight shafts. The Schacht table looms come with a carbon steel reed in your choice of 6, 8, 10, 12, or 15 dents. (Please choose one) Flat steel heddles, two apron rods, and three lease sticks are also included. A double back beam is available for all table loom widths.
Reed for Schacht Table Loom
Please choose one when ordering a Schacht Table Loom. Additional reeds can be purchased separately.
Stand for Schacht Table Loom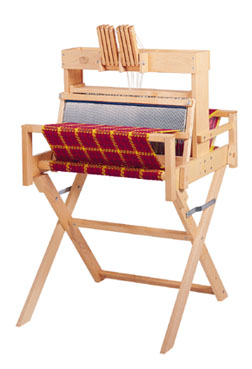 The X-frame floor stand makes the Schacht table loom the correct height to be used with a standard chair. Installation Instructions included. Schacht 8 Harness loom and stand shown to right.
Schacht Weaving Accessories
Schacht Loom Bench
The Schacht loom bench is a beautiful companion piece to our Wolf looms and Standard floor looms. The bench seat height is adjustable from 19" to 24" and has been designed to offer you both a flat and a slanted seat position. Optional bag for bench hold shuttles and yarn.
Additional Schacht Reeds for Floor Looms
For Wolf Pup and Wolf Pup LT $62.95
For Baby Wolf $82.95
For Mighty Wolf & 36" Standard Looms $115.95
For Standard Loom $139.95