Schacht Standard Loom
Products > Weaving Looms and Accessories > Schacht Looms > Schacht Standard Loom
Schacht Standard Loom
FREE Loom Bench with Purchase (A $383.95 Value)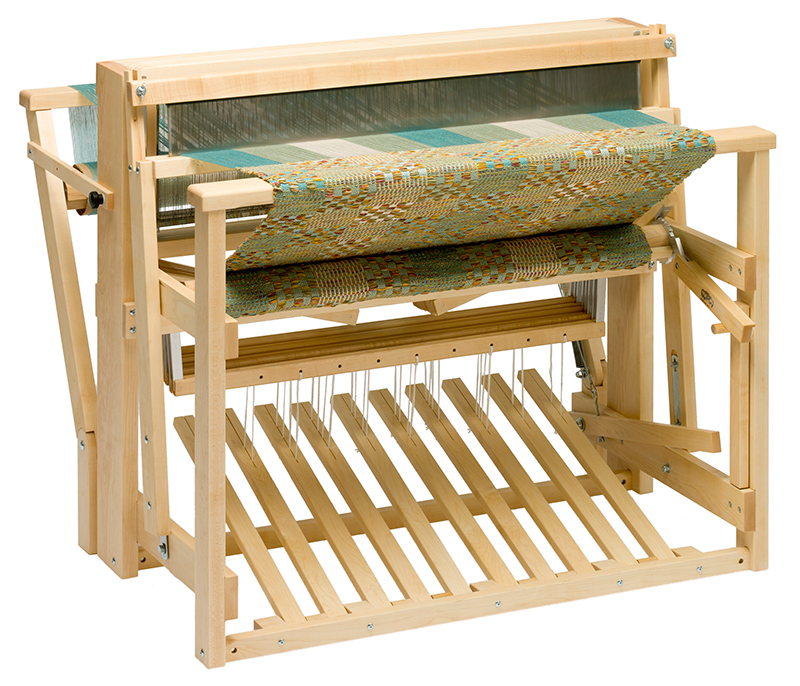 Schacht Standard floor loom comes in two styles:
The Schacht Standard Low Castle and the Schacht Standard High Castle.
Though both looms take up identical floor space, the lower profile of the Schacht Standard Low Castle model appears visually smaller. A High Castle loom includes a storage tray and holes drilled in the top of the castle uprights for the swivel pin of an extension lamp, otherwise the looms function the same.
Both the Schacht Standard Low Castle and the Standard High Castle Schacht looms are available in 36" and 46" wide weaving widths.
All Standard Schacht floor looms may be ordered with eight or Four Now-Four Later shaft options. The number of shafts you choose will depend on the kind of weaving you intend to do. Though most weave structures can be woven on four shafts, additional shafts will increase your pattern option extensively.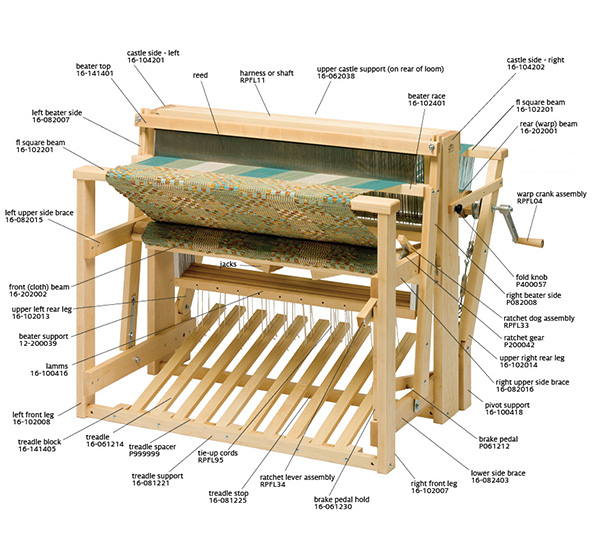 The Schacht Standard weaving loom has an underslung jack mechanism to raise the shafts. The jacks pivot from two points equidistant from the center and lift the shafts by pushing up on the center point. Schacht employs a parallel lamm system which gives our looms a light treadling action. Because of this parallel lamm, it isn't necessary to adjust the tie-up cords.
The Schacht tie-up system is quick and easy to use. Premeasured nylon tie-up cords hang from the lamms and are attached to a treadle by sliding the appropriate cords into the treadle slot. This makes changing tie-ups very fast.
Other special features of the Schacht Standard floor looms include: friction reducing aluminum shaft channels, a back beam which folds with or without a warp on the loom, removable back and breast beams, and an adjustable open-sided beater. The Schacht braking system employs a ratchet and dog on the cloth beam and a friction brake on the warp beam. This combination give you precise tension control at all times. All Schacht Standard weaving looms come complete with your choice of reed (please choose below), flat steel heddles, one 11" boat shuttle with bobbin, reed hook and lease sticks.
Please note that the lead time for these looms varies, but usually is 4 to 6 weeks. We will charge your card half when you order the loom. You will be charged the balance once we receive shipment confirmation from Schacht
FREE Loom Bench if you order your loom before January 30th 2018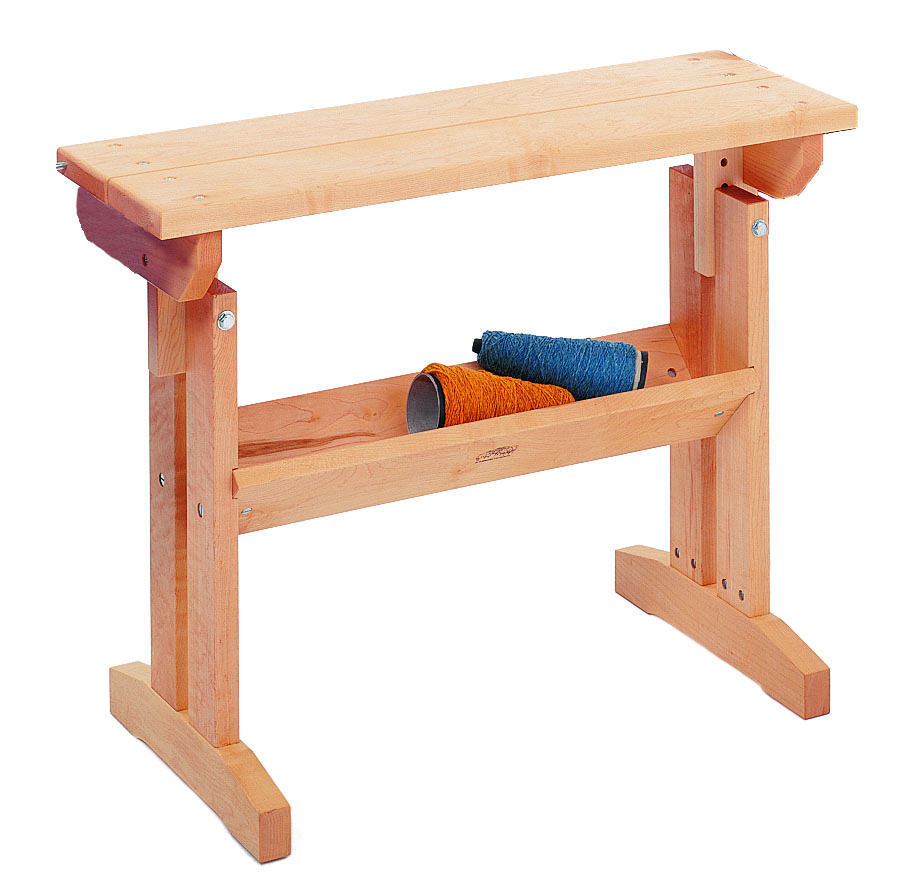 Schacht Standard Loom 36"
Schacht Standard Loom 46"
Reed for Schacht Standard Weaving Loom 36" and 46"
Please choose one when purchasing above loom.
This is part of the loom above and FREE when purchasing a Schacht loom. Extra reeds can be purchased on the Schacht Reed page.
A word about Delivery of your Schacht Loom
FREE shipping on all Schacht weaving looms!
With the exception of the Wolf Pup, all Schacht Wolf looms will be shipped by freight to your home. You will be notified in advance of the delivery day of your weaving loom. You will have to arrange for someone to transport the loom off the truck and into your home. (The delivery driver will do this only at an extra charge. If necessary you can arrange this with us).
Please note that there is a shipping surcharge for weaving looms shipped to Alaska and Hawaii
Schacht Standard Floor Loom Manual
Schacht Standard Loom Accessories
Schacht Sectional Beam for Standard Floor Loom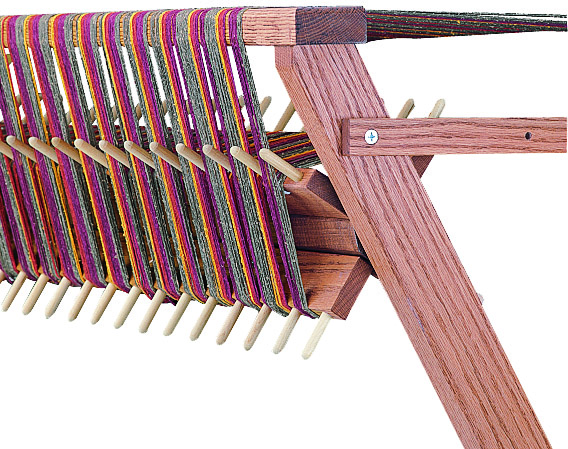 Sectional warp beams are available for the Schacht looms. The Schacht sectional beams are easily assembled and can be installed on the existing warp beam of your Schacht loom at any time. Sectional beams for Standard Schacht looms have 2" sections and a one half yard circumference. They are available in maple or cherry with maple pegs. Please supply with your loom serial number when ordering for your existing loom
Double Back Beams for Schacht Standard Loom
Facilitate the different warp tensions for weave structures such as warp pile, supplementary warp, and Bedford cord. Installation is straight-forward; holes have been predrilled in the loom for easy assembly. Please supply us with the serial number of your loom when ordering.
Schacht Standard Loom Specifications
Weaving Width
36"
46"
Overall Width
44"
53"
Height-Breast Beam
32"
32"
Height-Low Castle
37"
37"
Height-High Castle
46"
46"
Depth-Open
38"
38"
Depth-Folded
26"
26"
weight-8-Shaft
125 lb
141 lb
weight-4 Now-4 Later
110 lb
125 lb
weight-High Castle
add 10 lb
weight-shipping
add 27 lb
weight-4 Later Kit
15 lb
16 lb
Heddles-8 Shaft
1000
1000
Heddles 4 Now-4 Later
1000
1000
STANDARD FLOOR LOOM ACCESSORIES
36" Double Back Beam
19 lb
46" Double Back Beam
22 lb
36" Sectional Beam
9" x 3" x 2"
7 lb
46" Sectional Beam
8" x 3" x 2"
9 lb
Raddle for up to 26"
29 1/2" x 3" x 1"
1 1/2 lb
Raddle for up to 40"
44 1/2" x 3" x 1 1/2"
2 1/2 lb
Raddle for up to 48"
52 1/2" x 3" x 1 1/2"
3 lb
Lamp Holder
4 1/2" x 2 1/2" x 1 1/4"
8 oz
REEDS AND HEDDLES
36" & 46" Reeds
Total Length: 1" longer than weaving width
Total Height: 5"
Flat Steel Heddle
9" from center of eye to center of eye-9/16" eye
Inserted Eye Heddle
9" from center of eye to center of eye-1/4" eye
Texsolv String Heddle
9 3/8" end to end-1/2" eye
You may also like the following: