Schacht Wolf Pup LT Loom
Products > Weaving Looms and Accessories > Schacht Looms > Schacht Wolf Pup Loom
Schacht Wolf Pup LT Loom
FREE Weaving Starter Kit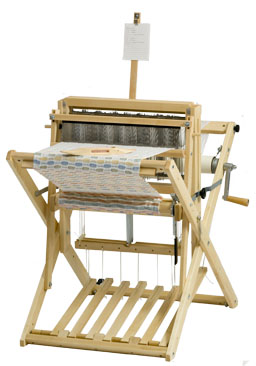 The popular Schacht Wolf Pup LT loom a new version of the Wolf Pup. It is now available with lamms and 6 treadles (hence the "LT"). The lamms allow any shaft to be tied to any treadle, making four shaft patterns even easier to weave than before.
The Schacht Wolf Pup LT also sports Schacht's new quick-release back beam that is a new feature of all of our Wolf looms. Now, the back beam can be quickly removed for threading the heddles without impacting the brake system.
18 inch weaving width. Complete with 300 wire heddles and your choice of reed: 8, 10, 12 or 15 dent. Please choose below. Complete with handy Treadle Tracker so treadling your draft is easy!
NEW! Now available with or without Height Extender. Perfect if you are 5'6" or taller, or have long legs. The Height Extender will raise the loom to a breast beam height from 29.5" to 31.5". You can also add the Height Extender later, but will need to drill holes into your loom to modify it. The price will also be higher than adding it to the loom at time of purchase.
FREE Shipping! FREE Weaving Starter Kit
Schacht Mini Boat Shuttle, Bag of Schacht Weaving Bobbins and Book "Leaning to Weave"
Schacht Wolf Pup LT
Without
Height Extender $1431.95 Quantity
Schacht Wolf Pup LT
With
Height Extender $1533.95 Quantity
Please choose ONE reed when purchasing a Wolf Pup LT Loom. Additional reeds can be purchased separately on the Schacht Weaving Accessories page.
This item usually ships within 3 weeks directly from Schacht
NEW! A High Castle Tray and Sectional Warp Beam for the
Schacht Wolf Pup LT can be found here

You may also like the following: