Schacht Flip Loom
Products > Weaving Looms and Accessories > Schacht Looms > Schacht Flip Loom
Schacht Flip Rigid Heddle Loom - NEW! 30" Weaving Width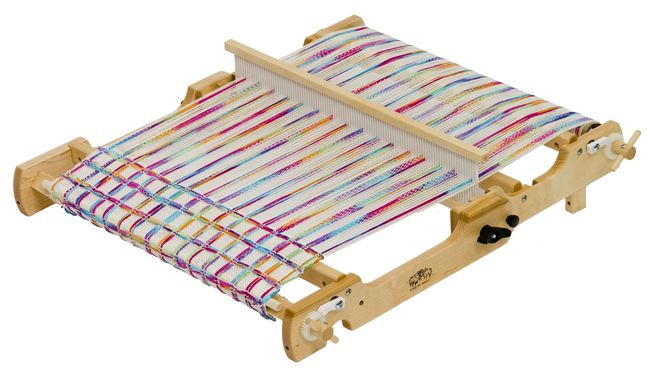 The Schacht Flip loom is rigid heddle loom that is comfortable, compact, sturdy, and a pleasure to weave on. Designed for high performance, this loom folds quickly for storage or transport. Since the Flip loom is a rigid heddle loom it can be warped in a flash. This loom comes with a holder for a second reed, so if you want to weave with two reeds in the future, there is no need to buy a second heddle kit.
Included with Flip loom are two stick shuttles, clamps, threading hook and a warping peg for direct-loom warping, as well as instructions for both direct and pre-measuring methods. The top cross brace by the front and back beams allows long warps, up to 5-6 yards (depending on weight and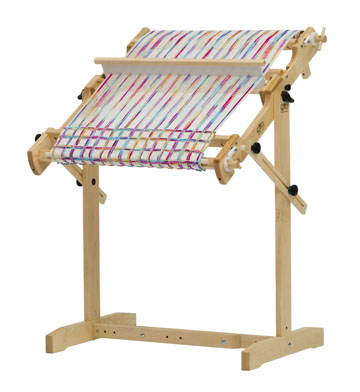 winding paper), to be wound on the beams without impacting the size of the shed.
Complete with your choice of reed: 8, 10 and 12 dents per inch. Choose from 15, 20, 25 inch and now in 30 inch weaving width. Solid maple construction. The Schacht Flip loom is shown to right with optional stand.
FREE Shipping
Note for older looms
: If you purchased your Flip loom before 2-17-2010 and would like to add the floor stand your will need to also purchase the retro fit kit. Please call us for this item
Please choose
ONE

reed when ordering your Cricket loom.

Additional reeds can be ordered from the Schacht Weaving Accessories page
Optional Accessories: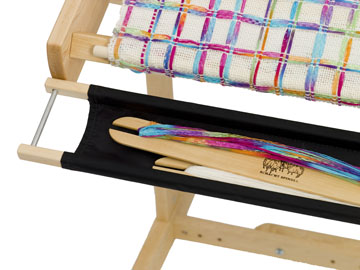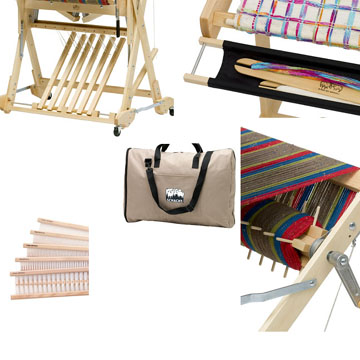 Schacht Flip Trap
Schacht Flip Travel Bag
You may also like...