Leclerc Looms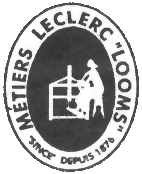 Why a Leclerc Loom?
Leclerc looms are made with high quality in mind and are guaranteed for one year. Leclerc looms are made from solid kiln dried Canadian maple with a clear lacquer finish and come complete with accessories. Leclerc floor looms ship fast, most looms ship with one or two business days. These weaving loom kits are ready to be assembled by you so you can save some serious cash. All pieces are numbered and no special tools are required. All Leclerc floor looms come with both written assembly instructions and a reference DVD so you will be successful in assembling it.
Leclerc Floor Looms
Leclerc Compact 24" Floor Loom Kit

The Leclerc Compact 24" jack-type floor loom is light but solid, and easily movable when folded. It is a great loom at a great price! This Leclerc loom can be folded without trouble even after weaving has started.
The Leclerc Compact is built as a 4 harness floor loom with six treadles for easy tie-up, and can be converted into an 8 shaft loom. Just add 4 shafts (and 4 treadles) later. This built-in option alone costs extra if you order any other brand loom.
Leclerc Artisat 36" Floor Loom Kit 4 or 8 Harness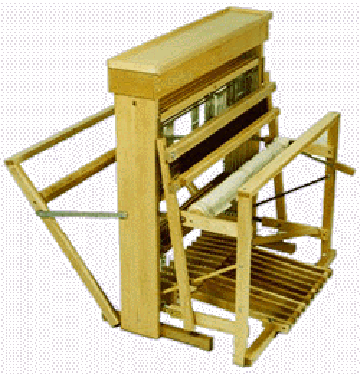 The Leclerc Artisat 36" loom is a 4 shaft jack-type floor loom that is designed for the weaver with limited space who wants a fairly wide, solid loom. The Artisat floor loom is a quiet floor model loom equipped with an easy tie-up system. Its weight has been reduced to a minimum, but it is sufficiently sturdy to do heavy work. This Leclerc loom can be folded front and back to a depth of 14" (4 shaft loom) even if weaving is on the loom. The shed will always be good regardless of the kind of cloth you are making (Double Weave, Bronson, Leno, etc.). It is built with 6 treadles (4 shaft loom) and permits any combination of tie-up.
Leclerc Nilus II Floor Loom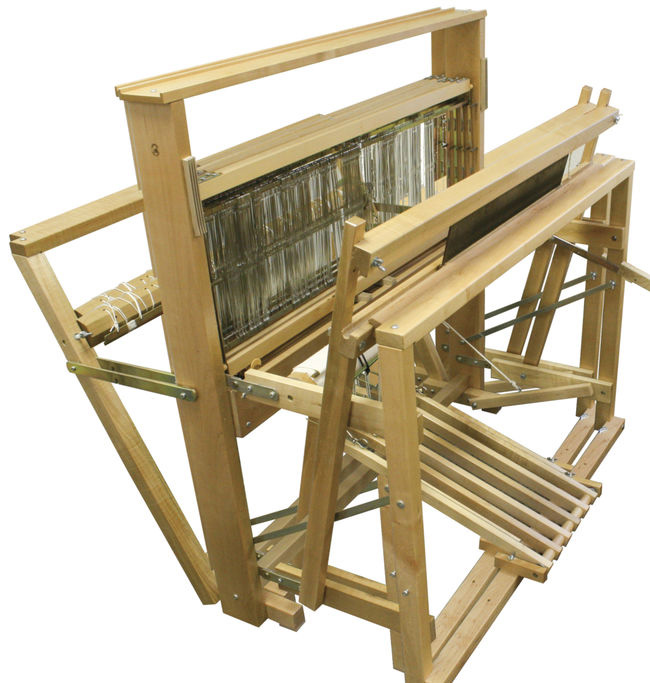 One of Leclerc's most popular floor looms, the Nilus II offers a wide variety of options. The Leclerc Nilus II Loom is available as a Jack type loom (with or without back hinged treadles), a counter balanced loom or a countermarch loom. The Nilus II loom is equipped with a regular plain beam to which a set of rake-like pieces can be added to convert it into a sectional warp beam. (Optional) All Leclerc Nilus II weaving looms has been designed with a stabilizer foot, for a better stability. The shed is always good with any combination of tie-up. It is equipped with a friction brake giving a perfect tension every time. The front cloth beam ,front and back breast beams are removable for easy threading, and the warp beam is also removable for outside beaming when required.
Leclerc Weavebird V2 Dobby Loom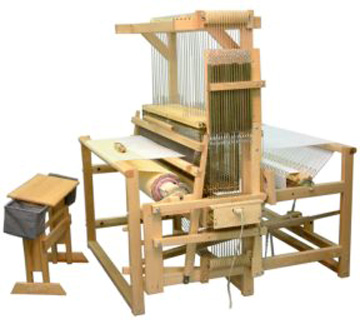 The Leclerc Weavebird is a dobby floor loom without jacks, lams, tie ups, and no limitations on shaft combinations and no limitations of pattern repeats.
Weavebird controls both the rising and sinking shed so the tension on the warp threads is always uniformly even. Because part of the warp threads rise while the balance sink, the yarn stretch is minimized. The loom has 2 treadles.
Leclerc Weavebird Loom Details

Leclerc Cendrel Inkle Loom and Warping Board Combination
The Leclerc Cendrel Inkle loom is a floor inkle loom and a warping board combination. Make bands up to 16 feet in length.
Leclerc Cendrel Inkle Loom Details
Leclerc Table Looms
Leclerc Voyager Table Loom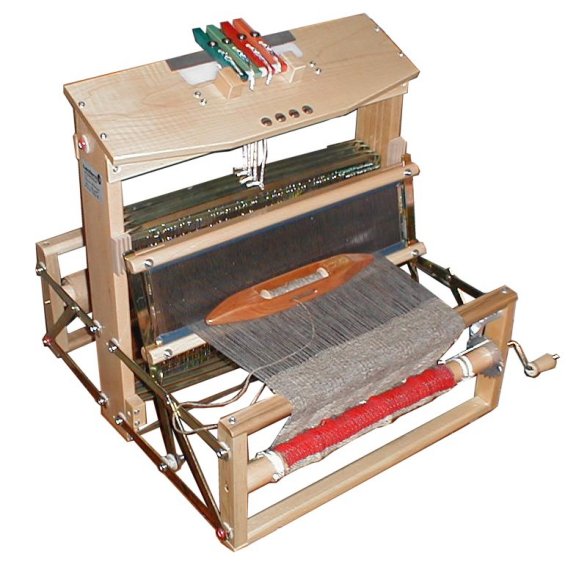 The 4 harness Leclerc Voyager table loom has the advantage of being smaller and lighter than the Leclerc Dorothy loom. It folds for easy transport or storage. The Leclerc Voyager table loom is great for beginning weavers, or if you want a really portable 4 harness loom to carry with you.
Leclerc Voyager Table Loom Details
Leclerc Dorothy Table Loom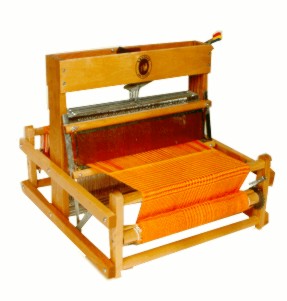 The 4 harness Leclerc Dorothy table loom is collapsible for easy carrying and storage. It is a practical loom for school, summer camps, occupational therapy and hobbyists. 15 3/4" weaving width or 24" weaving width. The shafts are operated by the unique side levers of graduated lengths.
Leclerc Dorothy Table Loom Details
Leclerc Weaving Accessories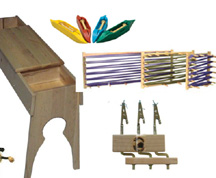 Leclerc weaving accessories like boat shuttles, warping boards, bobbin winders, second back beams, loom benches
Leclerc Weaving Accessories Details
Leclerc Looms - over 125 years of Quality
Get free weaving patterns directly from Leclerc