Ashford Looms
Want to learn to weave? Ashford looms are great for beginning weavers. The Ashford Sample It loom, Ashford Knitters loom or the Ashford Rigid Heddle loom are easy to warp and weave on.
Ashford weaving looms are built with you in mind and will give you many hours of weaving pleasure! Ashford rigid heddle looms are sturdy, well made and perfect for the beginning and experienced weaver. They have strong ratchets a well made frame. Choose from the compact Ashford Sample It loom, great for learning to weave, or sampling, the oh so portable folding Ashford Knitters Loom or the time tested Ashford rigid heddle loom that is available in three sizes.
Ashford Rigid Heddle Looms
Ashford Sample It Loom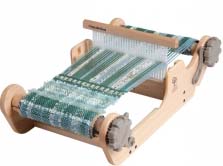 This new compact rigid heddle loom is perfect for the beginning weaver. It is inexpensive, compact and cute without sacrificing function. This Ashford Sample It loom is perfect for new and experienced weavers. The perfect classroom rigid heddle loom. Whether you are learning to weave for the first time or want to learn new techniques or sample your yarn, the Ashford Sample It Loom is fun and easy to use.
Ashford Sample It Loom Details
Ashford Knitters Loom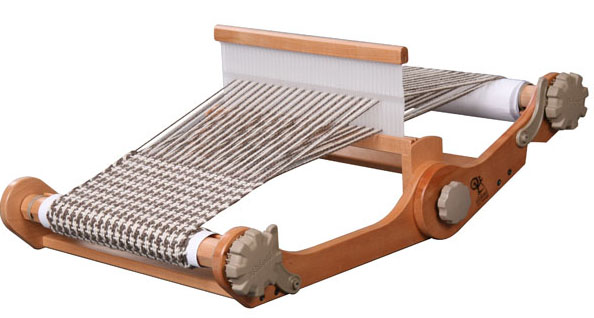 Check out the Ashford Knitters Loom. Assembled and ready to go, just unfold this loom and start with your first weaving project. This compact Ashford rigid heddle loom lets you weave anytime, anyplace. It is fast to warp and weave – from yarn to scarf in two hours. It is easy – a loom that is simple to understand and operate.
Ashford Rigid Heddle Loom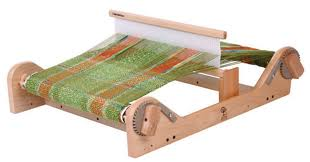 Check out this Ashford Rigid Heddle loom! Heavier in construction than the Knitters Loom above, it is just as easy to use, even for beginners, but still versatile. This is the original Ashford rigid heddle loom that has stood the test of time. You can use the loom to weave cushion covers, table mats, runners, fabrics, garments, floor mats, shawls, place mats and just about anything.
Ashford Table Looms
Ashford Katie Loom 8 Harness, Folding Table Loom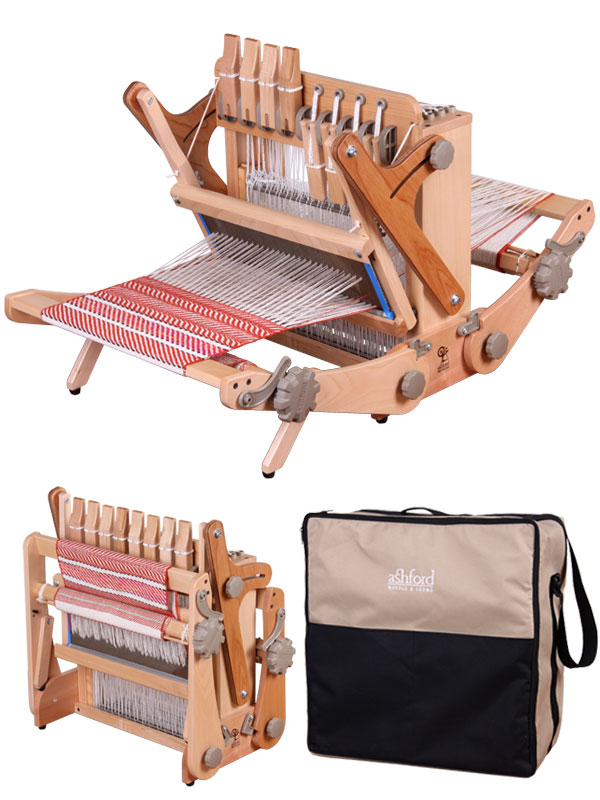 The Ashford Katie Loom is the perfect folding table loom for workshops, sampling, travel and fun. The Ashford Katie 8 harness loom is portable – easy to fold and pack. The Ashford Katie loom is compact - 12 in weaving width. It is light weight– 14¼lbs and offers smooth levers and an auto bounce back overhead beater. The Ashford Katie loom is easy to thread – the beater flips up & out of the way. With eight harnesses packed into a nice small table loom you truly have unlimited possibilities.
Ashford Table Loom - 4, 8 & 16 Harness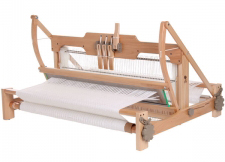 Check out this folding table loom! Larger than the Katie Loom above, the Ashford table loom has a solid wood frame and is available in four or eight harness.
The Ashford table loom offers a overhead beater system meaning that you will always beat evenly. The levers that raise the harnesses are positioned in the center of the loom so they can be operated with both hands easily.
Ashford Inkle Loom

The Ashford Inkle weaving loom is very easy to use and lots of fun. The Ashford inkle loom is designed to create long, very strong, braids. You can weave quite intricate patterns, and experiment with different types of yarns, beads and colors. If you are a weaver, you can use the Ashford inkle loom to create wonderful trims and tassels for your hand-woven cushions, rugs, etc.
Ashford Weaving Accessories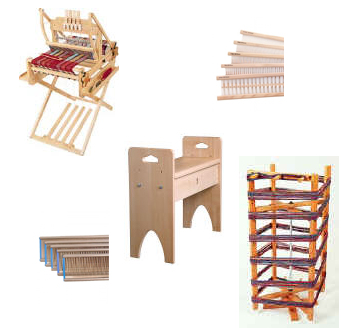 Looking for loom stands for the Ashford Knitters Loom or the Rigid Heddle Loom?
These and extra reeds for all Ashford loom can be found at this page
Ashford Weaving Accessories Details
You may also like...