Ashford Knitters Loom
Products > Weaving Looms and Accessories> Ashford Looms > Ashford Knitters Loom
Ashford Knitters Loom
FREE 10 Dent Reed when you boy BOTH Loom and Stand plus FREE Shipping!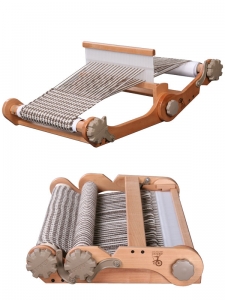 Check out the Ashford Knitters Loom. Assembled and ready to go, just unfold this loom and start with your first weaving project. This compact Ashford rigid heddle loom lets you weave anytime, anyplace. It is fast to warp and weave – from yarn to scarf in two hours. It is easy – a loom that is simple to understand and operate.
The flexibility of this loom means you can be weaving in your lunch break, while camping, or when visiting friends. What's more you can take it to workshops with your weaving still in place.
The Ashford Knitters Loom offers the following features: Strong design nylon handles, cogs and pawls, chunky wide-eye 7.5dpi reed with large holes and slots. For all your fancy & funky yarns, light weight, only 3.3lb. Loom includes a warp and weave booklet, warping peg, threading hook, 2 clamps and 2 shuttles. This loom has a lacquer finish and is assembled. Loom stand, tote bag and extra reeds are listed below with the weaving accessories.
FREE 10 Dent Reed when you buy BOTH Loom and Stand plus FREE Shipping!
Choose from three weaving width 12", 20" or 28"
Ashford Knitters Loom & Carry Bag Combo

Get both the Ashford Knitters Loom and Carry Bag! Transport your Ashford Knitters Loom and weaving accessories like stick shuttles and yarn safely and in comfort.
Nice padded bag with nylon straps lets you take your loom to wherever you want to weave.

Stand for Ashford Knitters Loom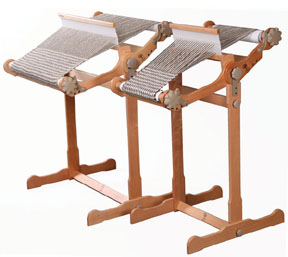 The Ashford Knitters Loom stand is both sturdy and comfortable so you can sit and weave anywhere, no table required. The angle of the Ashford Knitters loom, mounted on this stand, is adjustable for comfortable weaving positions for all weavers, short or tall.
You may also like...
| | | | |
| --- | --- | --- | --- |
| | | | |
| Stand for Knitters Loom | | | |