Weaving Books
Weaving Books A to Z
A Weaver's Book of 8-Shaft Patterns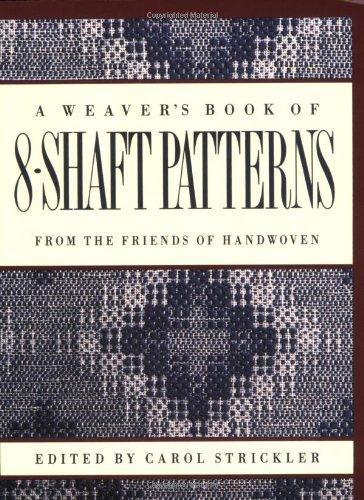 From the Friends of Handwoven. THE Reference book for 8 harness patterns! This classic weaving book is a must have reference for 25 different threadings including broken and undulating twills, block weaves, overshot, summer and winter, waffle weaves, huck lace, M's and O's, crackle weave, warp rep and many more.
With over 900 samples and their drafts this book is a true treasure trove for the serious weaver. If you have and 8 harness loon then A Handweaver's Book of 8 Shaft Patterns should be in your weaving library. Period.
Card Weaving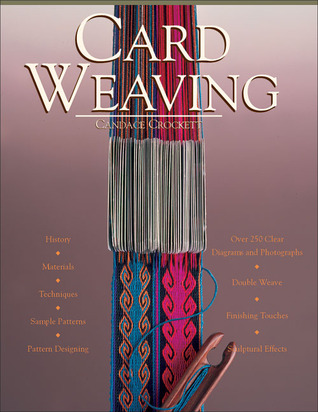 This classic Volume takes the reader from the ancient origins of card or tablet weaving to the finished, intricate band. Card Weaving offers instructions on warping and weaving, how to design your own pattern, dark and light patterning, structural techniques and finishing will provide all you need to know to start card weaving.
You'll find that there is a whole lot more to card weaving than just cards and yarn. 142 pages
Easy Weaving with Supplemental Warps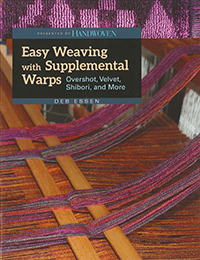 Make the most of your 4-shaft loom with these supplementary warp techniques by Certificate of Excellence in Weaving recipient Deb Essen. You'll learn about the basics of supplementary warps and weaving, along with modifying drafts and designing project.
The Easy Weaving with Supplemental Warps guides you through 8 compelling projects, each teaching a lesson, such as turned overshot, Shibori, Bedford cords, and pique. Exploring supplemental warps with Deb Essen will opens you up to new challenges and exiting ways to make fabric.
Easy Weaving with Supplemental Warps, Deb Essen
NEW! Handwoven Baby Blankets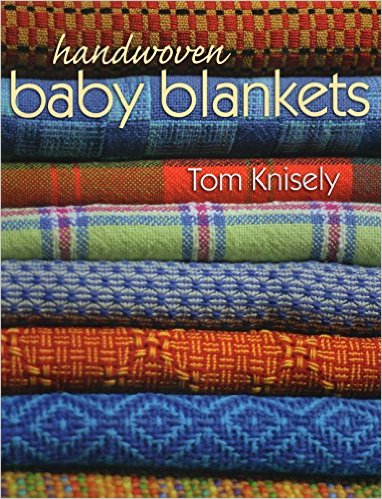 What better way to welcome a tiny new person than a handwoven baby blanket?
These beautiful and colorful designs will appeal to todays contemporary moms as well as lovers of traditional weaves.
Handwoven Baby Blankets are a popular weaving project and Tom Knisely provides 30 snuggly blanket designs for 4 and 8 shaft weaving. You'll find a variety of plain or fancy weave structures that are applicable for other kinds of projects as well. 101 pages
NEW! Handwoven Home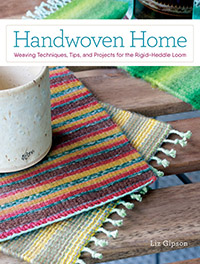 Weaving Techniques, Tips and Projects for the Rigid Heddle loom. Let weaving expert Liz Gibson guide you thru these projects. Handwoven Home offers and overview of rigid heddle weaving tools and techniques you will need to create home textiles. From choosing the right yarn to creating amazing cloth, Handwoven Home will guide you with patterns for table runners, placemats, towels, throws and more, perfect for weaving on your rigid heddle loom. 168 pages
Handwoven Home, Liz Gibson
NEW! Handwoven Table Linens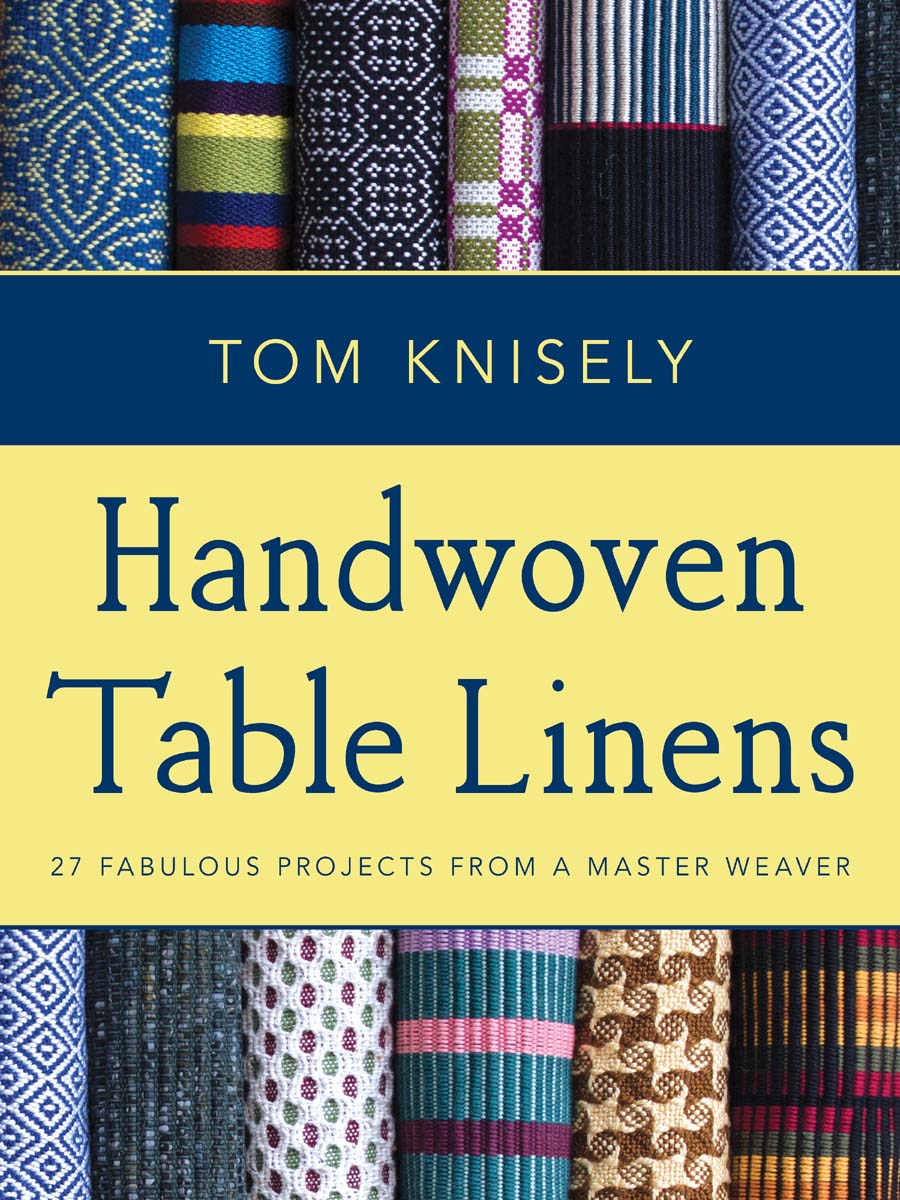 27 Fabulous Projects from a Master Weave, you will love these down to earth projects that are easy to master. Handwoven Table Linens has patterns and ideas to spruce up your table with new weaves Placemats, runners, tablecloths, and napkins play a central role in creating the look of a dining room or kitchen table, and this book gives you the tools needed to realize your vision for these special items.
Tom Knisely has found inspiration from things as varied as china patterns, a classic Spode Christmas tree, and traditional weaving patterns such as Shadow Weave, Wheel of Fortune, and Star of Bethlehem. For each pattern, he outlines the materials you need, how to set up your loom, and the pattern to weave. Add your own dash of inspiration if you choose different colors, and make each piece your own.
The 27 patterns in Handwoven Table Linens include simple weaves worked on 2- and 4-harness looms, as well as more complex weaves requiring more harnesses.
NEW! Inventive Weaving on a Little Loom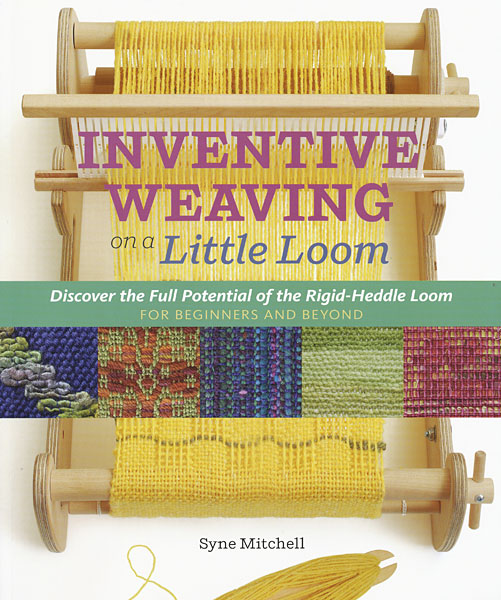 Discover the full potential of the Rigid Heddle Loom. Rigid-heddle weaving is simple to learn, is easy to master, and offers a lifetime of possibilities to discover! Inventive Weaving on a Little Loom covers everything rigid-heddle weavers need to know about the craft, from the basics—how to select a loom, set it up, and get started—to a wide variety of fun techniques that yield beautiful results.
Begin by exploring a variety of weave structures, including finger-manipulated laces, tapestry, and color play with stripes, plaids, and multicolor yarns.
Then move on to more complex designs and irresistible projects, from pillows and curtains to bags, shawls, and even jewelry. Explore warp-face patterning, weft-pile weaving, weaving with fine threads, woven shibori, shadow weave, and the textural effects you can create with different yarns and with wire and conductive thread. Everything you need to know is here, with fully illustrated step-by-step instructions to ensure success. Softcover, 296 pages; Storey
Learning to Weave, Revised Edition, Deborah Chandler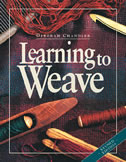 THE reference book for the beginning four harness weaver! More than 40,000 weaver have used Learning to Weave as an unparalleled study guide to learn from scratch or hone their skills. All of the basics are covered: understanding the tools of weaving, making a good warp three ways, reading and designing drafts, and understanding weave structures.
We don't know of a better weaving text to teach yourself how to weave on a 4 harness table or floor loom. Softcover, 8 1/2 x 11, 232 pages, color photographs and black and white illustrations throughout.
Learn to Weave with Anne Field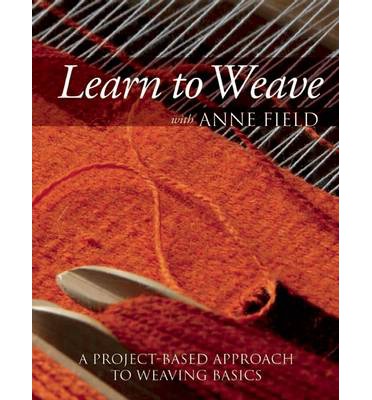 If you are new to four harness weaving you will need a basic weaving books that will show you the ins and outs of weaving. Look no further.
A Project Based Approach to Weaving Basics. Master the basics of weaving with a four harness loom (or more) with Anne Field.
Start by learning about different looms types, how to wind a warp, warp your loom, thread your loom as well as tips and advice about various weaving techniques, yarn types and weaving tools. Taking a project-based approach with "Learn to Weave" will let you follow step by step instructions for 11 projects, including a practical table runner, mats and cushions, wearable wraps, a reversible jacket, decorative wall hanging and scarves. 196 pages, softcover

NEW! Next Steps in Weaving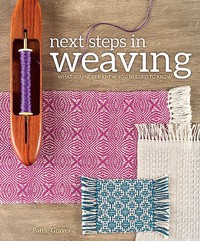 Next Steps in Weaving has what you never knew you needed to know. As a new weaver Next Steps in Weaving will help you expand your weaving horizon. Explore a variety of weaving structures such as twill, color and weave, overshot, summer and winter and lace weaves. Each weaving structure is explained and supplemented with instructions for weaving a sampler and a project to solidify your new skills.
Whether you are new to weaving, have the basics down or are looking to improve your weaving skills this book will be an asset in your weaving library. Please note that Next Steps in Weaving is written for Four Harness Looms.182 pages.
Pin Loom Weaving
This comprehensive book included instructions for building your own pin loom as well as 40 projects for these tiny looms. Create your own blankets, bags and purses, soft toys, home decor and more.
Pin looms are palm sized looms that produce little squares and rectangles of fabric from a single strand of yarn. Try this addictive portable weaving craft and find out why everyone is falling in love with it. 124 pages
Simple Woven Garments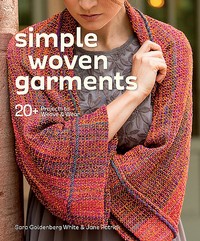 Simple Woven Garments is both a pattern book and an idea book for creating simple woven shapes and turning them into everyday, highly wearable fashions. Readers will enjoy classic woven styles and nods to today's style trends in a collection of 20 woven garments (and 4 variations) for the "what's next" weaver.
This guide will help weavers create fabric that works for the intended garment, is easy to weave, and is above all beautiful. Authors Sara Goldenberg and Jane Patrick explore techniques such as yarn usage, spaced warps, felting, pick-up weaving patterns, finger-control weaving techniques, and embellishments. Shapes are simple rectangles and sewing requires minimal skill.

Weavers will enjoy creating garments including wraps and tops, ranging from easy shawls with a twist to woven sweaters. Woven squares, rectangles, and strips are assembled into easy-sew garments with minimal finishing. 150 pages

Tapestry Weaving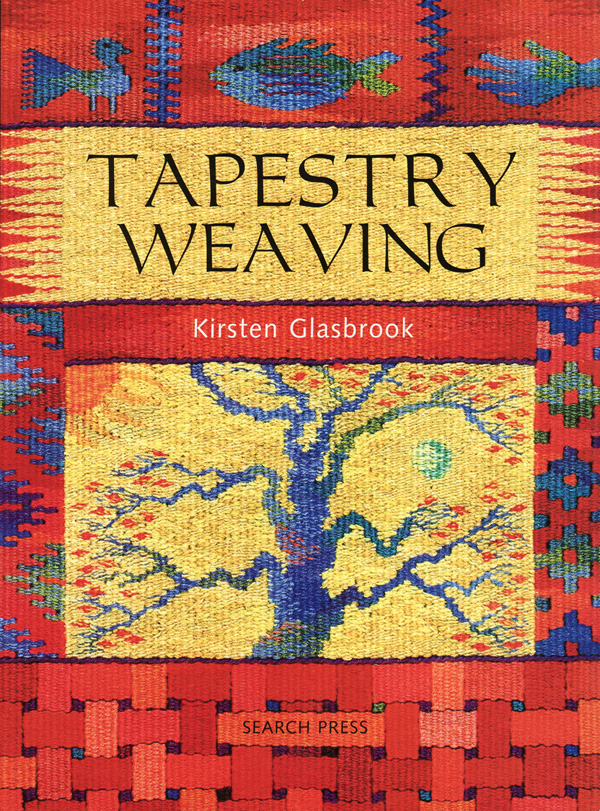 Discover all you need to know about tapestry weaving, from choosing colors and winding warps to creating images and finishing off with tassels and beads.
Tapestry Weaving will offer step-by-step guidance on how to create horizontal and diagonal lines, curves, motifs, shading, outlines, borders and more. 98 pages, softcover
The Ashford Book of Weaving Patterns from Four to Eight Shafts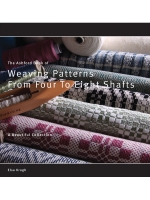 This weaving books will guide you as you build your skills and gain confidence. Elsa Krogh, a Danish weaver, spinner and author, will show you how to weave her favorite weaving patterns using four, six and eight shafts. Elsa has woven beautiful and exciting shawls, scarves, cushions, towels, table runners, placemats and fabric material.
The Ashford Book of Weaving Patterns from Four to Eight Shafts uses a variety of techniques from twill to summer and winter and modern backed weaves and there are projects for all levels of weaving experience. Many of the weaving patterns are sourced from archival material from Danish museums.
Elsa brings a wonderful sense of continuity to her craft as well as elegant Scandinavian style. 92 pages.
The Ashford Book of Rigid Heddle Weaving, Rowena Heart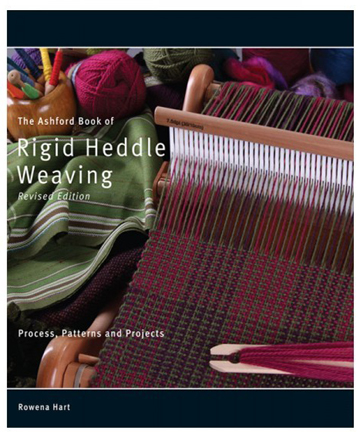 Get weaving in no time! In the Ashford Book of Rigid Heddle Weaving by Rowena Heart guides you step by step through the many weaving techniques, showing just how easy it is to make your own woven creations. Learn to warp the loom, weave small tapestries, rugs, cushions, cotton towels and Leno Lace.
76 pages, softcover. Revised Edition,
The Techniques of Tablet Weaving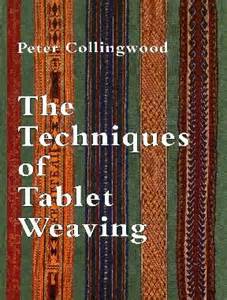 This 320 page manual presents the most complete instructional and historical documentation of tablet weaving ever contained in one book. Peter Collingwood will guide you thru 17 weave structures with close-up photographs, pattern drafts and step-by-step diagrams to illustrate each technique.
In addition to providing historical background, the text includes concise instructions with helpful hints for reproducing each technique and many new variations.
First printed in 1982 this invaluable reference for tablet weavers quickly sold out. This revised edition features digitally-enhanced clearer photos that the first edition.
The Techniques of Tablet Weaving is a wonderful scholarly compilation of all available information. 320 pages.
The Handweaver's Pattern Directory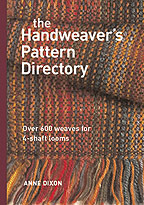 The Handweaver's Pattern Directory is a full-color practical guide to weave structures for 4-shaft looms that features drafts for 600 weaves including twill, zigzag, diamond, herringbone, block drafts, and specialized techniques. It is an awesome reference guide that you will use over and over again. Each structure includes a color photograph, threading and treadling sequences, and degree of difficulty. Readers will find sections on tools and equipment, types of fibers and yarns, weaving basics, finishing techniques, ideas to encourage experimentation with different yarns, looms, and colors, and a full glossary of international weaving terminology. The Handweaver's Pattern Directory is divided into five sections for clarity: straight draft, point draft, block weaves, lace weaves, and specialized techniques. Individual samples are shown actual size or bigger from the front view, with a detail showing the reverse view where this is of particular interest. For purposes of comparison and pattern clarity, for each two-page unit of samples, the same color thread is often used for warp or weft. Extended samples (gamps) use different threading drafts and thread color combinations to increase the range of options available to the weaver. The Handweaver's Pattern Directory is a must have for the serious weaver! Please notet: this is not a how-to-weave-book, but a weaving pattern book. 196 pages
The Weaver's Book of Scottish Tartans
Shuttle-Craft Monograph 5. This little book is a handy reference for any tartan weaver. Over 160 tartan profiles are given, plus thread counts for many more. Harriet Tidball. begins with a brief history of the tartan and how it is interwoven with the history of Scotland. Then she describes and illustrates the basic tartan patterns. It is a very useful text. The only difficulty weavers may encounter is adjusting to her unique system of notation for the tartan setts. She does not use the typical "pivot point" to illustrate the sett. However, her profile system is helpful in visualizing the full pattern. 46pages, black and white.
The Weaver's Idea Book

Take your rigid heddle weaving beyond the basics and explore the possibilities of your rigid heddle loom! The Weaver's Idea Book goes beyond the first steps of weaving so that you get the most from your rigid heddle loom. The Weaver's Idea Book presents a wide variety of patterns for the simple rigid-heddle loom, accompanied by harness drafts for multis haft looms. The techniques include leno, Brooks bouquet, soumak, and embroidery on fabric. Each chapter contains weaving patterns along with swatches illustrating the techniques, accompanied by step-by-step photography. The book is arranged by structure or type of weave, from variations on plain weave to doubleweave. With traditional patterns from around the world, bands, and fabrics woven on two double heddles, weaving tips and tricks help weavers at all levels achieve their textile dreams. In addition to pattern drafts, Jane offers project ideas that guide the reader through creating functional woven projects, from wearables to home decor. You may also like the companion DVD to this book: Weaving on a Rigid Heddle Loom. 239 pages
The Weaver's Inkle Pattern Directory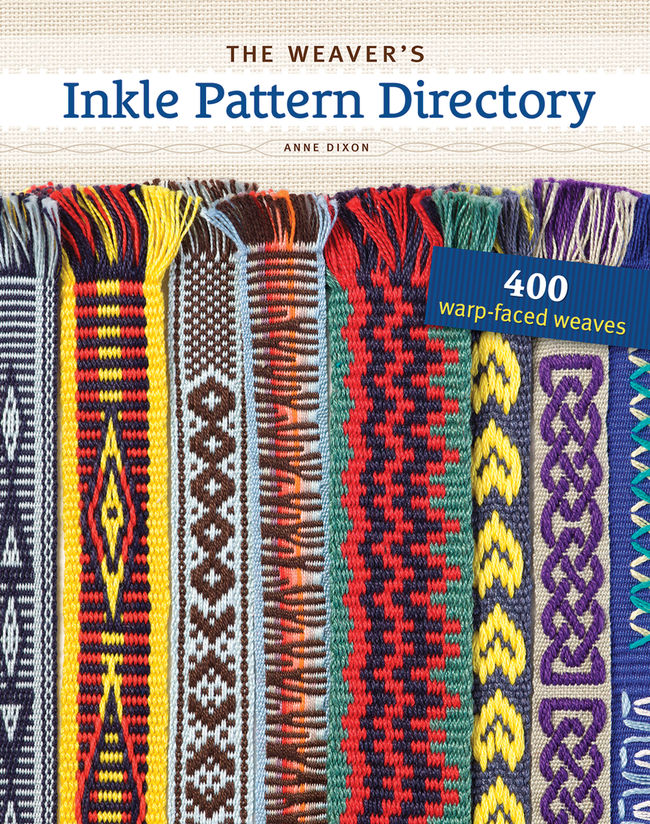 More than 400 Warp Faced inkle patterns for the weaving enthusiast. Highly praised expert weaver Anne Dixon brings us the The Weaver's Inkle Pattern Directory, the ultimate resource for inkle weavers. This book provides the most comprehensive tool available to inkle weavers including instructions for inkle loom set up and simple techniques.
The Inkle loom Pattern Directory features an astonishing array of over 400 woven patterns and a wide range of inkle weaving techniques including warp- manipulated, pick-up, lettering, baltic style patterns, monk's belt, soumak, gathering and pleating, dukagang inlay, inserted fringe, beaded edgings and more. 175 pages
Weaving for Beginners, an Illustrated Guide

Okay, so why THIS book? No matter what you are planning to weave you will use Weaving for Beginners as a treasured reference guide over and over again! Weaving for Beginners is jam packed with useful information, tips and tricks that you can learn something new even if you are not a beginning weaver Let master weaver Peggy Osterkamp show you how it's done. More time and more pleasure from your weaving -- that's what Peggy Osterkamp's New Guide to Weaving series offers novice and experienced weavers alike. The methods Osterkamp describes are based on many sources: Europe's centuries-old tradition of efficient handweaving as a livelihood, adaptations for handweaving from the textile industry, techniques taught by Jim Ahrens, the original designer of AVL looms, and her own experiences teaching and weaving. This Book has one objective: make four harness weaving easier for beginners! Spiralbound. Hardcover.
NEW!

Weaving Innovations from the Bateman Collection
Weaving Innovations from the Bateman Collections takes a look at the patterns that Dr. William Bateman developed and studied over 50 years ago will help intermediate to advanced-level weavers think more innovatively about their craft.
With hundreds of color draft diagrams and photos of Bateman's sample weaves, artists can experiment with his innovations on their own looms. Bateman, a chemistry professor turned weaver, analyzed traditional patterns and extended them in completely new directions. The samples included are Dr. Bateman's originals, and detail the yarns and setts he outlined in his documentation. The drafts are organized into weave groups, ranging from those with their origins in traditional structures like twill or overshot, to the one-of-a-kind new weaves Bateman invented. After she completed her monographs on the Bateman weaves, Virginia Harvey donated his nearly 1,500 samples to the Seattle Weavers' Guild. His original weaves, and the ways he manipulated more traditional weaves, form a fascinating resource for today's weavers. 271 pages
Weaving Made Easy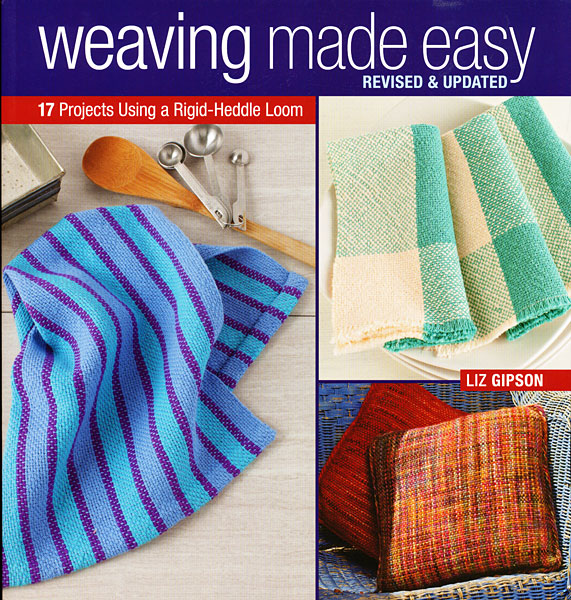 Weaving Made Easy is the beginning weavers' ultimate guide to making fun, simple, and functional weaving projects from start to finish. Weaving Made Easy features seventeen simple projects made on the rigid heddle loom, a small, portable, and affordable weaving loom. Weaving Made Easy includes a step-by-step guide on getting started weaving; weaving vocab. 101, tools and materials explained, the basics of warp and weft, and how to start weaving. Weaving Made Easy offers clear instructions for how to make various practical fabrics, from drapy to sturdy scarves and bags to belts, placemats, rugs, and more. 127 pages
Weaving Rag Rugs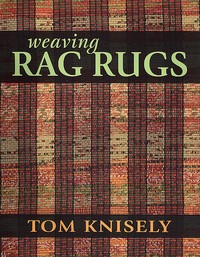 In Weaving Rag Rugs Tom Knisely shares his rug weaving expertise with you in a way that is easy to understand. Detailed step by step instructions guide you through the entire process, from preparing the rags to warping the loom to finishing the edges.
The 30 favorite rag rug patterns from simple to advanced cover a huge range of materials, color schemes and styles.
This first comprehensive book on weaving rag rugs in a generation is sure to become a weaving classic. 129 pages
Weavers Companion

What a great compact quick reference book! Let this sturdy, spiral-bound volume keep track of the weaving details. It's all here: sett and reed sleying charts, formulas for calculating warp and weft, fiber identification tests, basic weave drafts, finishing techniques, fiber factoids, a must-have gray scale, design shortcuts, and much, much, more!
Woven Scarves
Subtitled: "28 Inspired Designs for the Rigid Heddle loom". Once you've learned the basics of rigid heddle weaving, what's next? Scarves are a great way for new weavers to practice and explore weaving techniques, and Woven Scarves offers a collection of 28 scarves and variations that will range in complexity from rank to advanced beginner. Most importantly, all the scarves in this book are worked using knitting yarns. Thus projects work up quickly, are made from readily available yarns, and open the door to knitters (among others) who may be interested in weaving, but up to now have hesitated due to perceived cost, perceived difficulty, and availability of materials.
This book is primarily for new weavers and will use the rigid heddle loom exclusively (though drafts will be provided where appropriate to further expand the reach of this book to shaft-loom weavers). While this is not a learn-how-to-weave book, basic warping info will be provided, as well as a glossary of weaving terms. 160 pages, softcover.
Woven to Wear
Thoughtful Designs. Simple Shapes. Woven to Wear has more than just patterns- discover 17 designs and plenty of ideas for unique fabric and garments you'll want to wear again and again. Garment can be woven on 2 or 4 harness looms.


Author Marilyn Murphy and several contributors at the forefront of handwoven wearables offer guidance for weaving scarves, wraps, shawls, capelets, and other garments, along with advice for finishing, cutting and sewing the fabric, adding edgings and closures, and combining woven fabrics with other techniques such as knitting and patchwork.

The Woven to Wear designs are influenced by a global melting pot of traditional folkloric costume and ethnic fabric mixes in which silhouettes are roomy, layered, and flowing, and the cloth takes center stage.