Weaving Books
New Weaving Books
NEW! Weaving Rag Rugs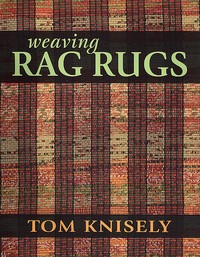 Learn how to weave Rag Rugs with master weaver Tom Knisely. Every weaver weaves a rag rug--or two, or three. In this long-awaited book, well-known weaver and teacher Tom Knisely shares his knowledge and expertise in this collection of favorite rag rug patterns.
•The first comprehensive book on weaving rag rugs in a generation
•Color planning and design advice for rag rugs
•Step-by-step instructions on warping and weaving for your rag rug
•More than 30 rag rug projects, from simple to advanced
You might also like Tom Knisely's DVD "Weave a Good Rug"
NEW! Woven Scarves
Subtitled: "28 Inspired Designs for the Rigid Heddle loom". Once you've learned the basics of rigid heddle weaving, what's next? Scarves are a great way for new weavers to practice and explore weaving techniques, and Woven Scarves offers a collection of 28 scarves and variations that will range in complexity from rank to advanced beginner. Most importantly, all the scarves in this book are worked using knitting yarns. Thus projects work up quickly, are made from readily available yarns, and open the door to knitters (among others) who may be interested in weaving, but up to now have hesitated due to perceived cost, perceived difficulty, and availability of materials.
This book is primarily for new weavers and will use the rigid heddle loom exclusively (though drafts will be provided where appropriate to further expand the reach of this book to shaft-loom weavers). While this is not a learn-how-to-weave book, basic warping info will be provided, as well as a glossary of weaving terms. 160 pages, softcover.
NEW! Weave Classic Crackle and More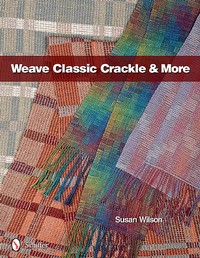 Learn how to weave Crackle, a surprisingly versatile weave structure with exciting design potential. Weave Classic Crackle and More offers a comprehensive explanation of drafting the crackle weave structure and weaving classic crackle. Tools and tips for independent designing add extra depth to your study of crackle. Explore crackle's flexibility with a myriad of treadling variations, including an in-depth discussion of polychrome techniques. Learn about the expanded possibilities and unique challenges presented by crackle on more than four shafts. Over 200 images illustrate the methods described.
NEW! Magical Materials to Weave
If you are looking for a weaving book in the Danish tradition this one is it. Well known Danish weaver Lotte Dalgaard worked for more than 10 years developing fabric with attractive pleats, folds, frills, and crinkles—without cutting. The results are fascinating and set a whole new style of hand-woven fashion. Loom-formed textiles are exciting because the cloth becomes the protagonist, not simply a backdrop for the pattern-cutting design skills. Dalgaard now shares her secrets in Magical Materials to Weave including a helpful list of yarn suppliers, a shrinkage chart, and dozens of illustrative photographs and diagrams, so all weavers can share in the pleasure and play with magical materials.
Weaving Books A to Z
A Weaver's Book of 8 Shaft Patterns

If you have an eight harness loom, this book is for you! For the adventurous weaver! Variations on twills, complex overshot, crackle, lace and huck, double weave and shadow weave all abound in this satisfying collection of complete weaving drafts. For those moments to study something new are diversified plain weaves, extended twills, unit weaves, piquet multiple tabby, and more. When you know basically what you want, this well-laid-out book will show you several options toward your weaving goal. This complete manual is a road map.

A Weavers Garden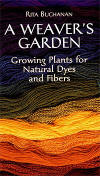 If you love gardening and are a weaver, this book will interest you! It is subtitled: Growing Plants for Natural Dyes and Fibers. A Weavers Garden has valuable hints from a veteran botanist and weaver on dyeing fibers and fabrics, what soap plants to use for cleaning textiles, advice on fragrant plants to scent and protect fabrics, plant materials to use as tools, suggestions for planning and creating a garden featuring cotton, flax, indigo, and much more.
Includes glossary, pronunciation guide and an abundance of illustrations. An informative and inspiring volume for weavers, gardeners, textile artists, and craftspeople.
Best of Weaver's: Summer and Winter Plus

Over 40 Projects in Summer & Winter and other Tied Unit Weaves. Learn how to weave exciting, luxurious fabrics will come easily to beginning and experienced crafters alike, with this compendium of special weaving structures. Featuring more than 40 projects and instructions for designing and drafting more designs, the guide presents weavers with detailed directions for summer, winter, diamond, taquet, samitum, and polychrome weaves. This collection features patterns for coverlets, garments, table linens, and rugs.
Best of Weaver's: Huck Lace
A Collection of the best articles from Weaver's on the area of pattern weaving encompassing huck lace. The result is a beautiful look at some of the more interesting texture weaves and projects utilizing them. The articles range from simple traditional 4-harness huck to dobby loom network drafting. Complex weavers and beginners will marvel at these projects and fall in love with huck (if they are not already) The best part of this book is the clear pattern diagrams accompanied by detailed photos of the weave structure.
Over 40 projects and a practice sampler.
Best of Weaver's: Overshot is Hot!
With more than 30 of the best overshot projects compiled from 20 years of Weaver's magazine and Prairie Wool Companion, this weaver's reference combines step-by-step instructions with weaving theory. Best of Weaver's Overshot is Hot features such projects as heirloom linens, traditional coverlets, and colorful modern applications for scarves, table toppers, and wall hangings are presented, covering everything a crafter needs to know to design fabulous fabrics in Overshot is Hot and its cousin star-and-diamond weave. Both beginners and advanced weavers working on at least four-shaft looms will delight in the projects provided.
Doubleweave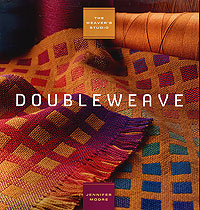 Doubleweave is the art of weaving two layers of cloth at the same time, one above the other on the loom, creating beautiful cloth that is reversible yet unique on each side. Using pick-up techniques and clever color mixing, patterns emerge that are different but complementary on each side.
Y
ou will learn all the basics of doubleweave techniques, as well as tips and tricks of setting up the warp. Specialty techniques are shown for 4-shaft and 8-shaft looms. The weaving effects covered include lace, tubular weave, pick-up, color mixing, and more. And since doubleweave showcases color and pattern in unique ways, you will learn how to use these to great effect in your cloth designs. Throughout The Weavers Studio: Doubleweave you will find a wealth of inspiration with many examples of finished cloth and projects, from wall hangings and table runners to scarves and pillows. Be sure to check out the
Doubleweave DVD
too!
Learning to Weave, Revised Edition, Deborah Chandler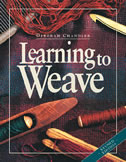 THE reference book for the beginning four harness weaver! More than 40,000 weaver have used this unparalleled study guide to learn from scratch or hone their skills. All of the basics are covered: understanding the tools of weaving, making a good warp three ways, reading and designing drafts, and understanding weave structures.
We don't know of a better weaving text to teach yourself how to weave on a 4 harness table or floor loom. Softcover, 8 1/2 x 11, 232 pages, color photographs and black and white illustrations throughout.
Mastering Weave Structures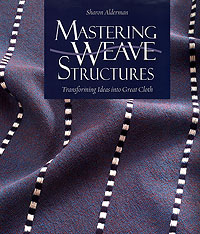 Transforming Great Ideas into Cloth. What a great book if you want to delve deeper into weaving. A Must Have! This book is as crisp and clean as a damask tablecloth, as deep as a 16 harness waffle-weave towel, as durable as a 24 harness figured twill, as contemporary as a computer generated network weave. Not specifically a book of pattern weaves or a beginning weavers how-to reference, it is much more. Simply put Mastering Weave Structures is a textbook on the weave structures available to harness-loom weavers. What a difference Sharon Alderman's weaving and teaching experience make in presenting to the serious weaver this life long reference work on woven structure design. The traditional patterns are developed here, but with the purpose of making them available to the weaver to develop just the right structure for the material and purpose of their projects. We don't say this about all the books we see, but Mastering Weave Structures is a classic reference and textbook.
Rep Weaves

27 Projects using New and Classic Patterns. Using an ordinary counterbalance loom, this guide teaches beginning weavers how to create an array of projects featuring the warp-faced rep-weave technique, which initially appears very complex but is actually quite simple after learning the basic principles. Detailed descriptions of the weaving drafts are accompanied by step-by-step instructions for their completion, while helpful charts and drawings along with color photos of the finished projects illustrate the processes from start to finish. Projects such as the reversible curtain valance—with a weave-in tabby and weft-faced rep—can be worked up in a combination of colors for completely different looks, and old classic rug patterns may be woven like the original versions or used as a source of inspiration.
The Ashford Book of Weaving for the four Shaft Loom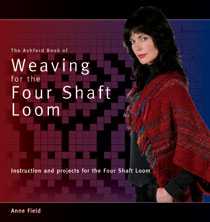 Learn how to weave with Anne Field! 175 pages packed with informative weaving "how to" weaving patterns and projects, full color, inspirational and informative text. Written specifically for the Ashford four harness table loom, this comprehensive book will be your helpful 'Weaving Teacher" for any kind of four harness loom. It covers planning a warp, pattern drafting, weaving techniques and fourteen innovative projects. New weavers take note!
The Ashford Book of Weaving Patterns from Four to Eight Shafts
This weaving books will guide you as you build your skills and gain confidence. Elsa Krogh, a Danish weaver, spinner and author, will show you how to weave her favorite weaving patterns using four, six and eight shafts. Elsa has woven beautiful and exciting shawls, scarves, cushions, towels, table runners, placemats and fabric material.
The Ashford Book of Weaving Patterns from Four to Eight Shafts uses a variety of techniques from twill to summer and winter and modern backed weaves and there are projects for all levels of weaving experience. Many of the weaving patterns are sourced from archival material from Danish museums.
Elsa brings a wonderful sense of continuity to her craft as well as elegant Scandinavian style. 92 pages.
The Ashford book of Weaving for Knitters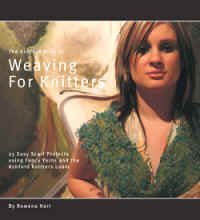 25 Easy Scarf Projects using Fancy Yarns and the Ashford Knitters Loom. Let international weaving teacher and fiber artist Rowena Hart show you how knitters can enjoy weaving. She will show your how to use all the wonderful fancy knitting yarns to produce spectacular woven pieces.
For all rigid heddle looms
The Ashford book of Projects for the Eight Shaft Loom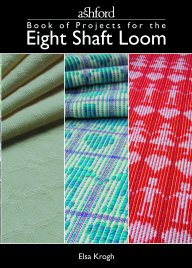 This book contains a variety of weaving techniques from twill variations in the Scandinavian tradition to multi shaft summer-&-winter and modern backed weaves. The new owner of an eight shaft loom and the experienced weaver will both find inspiration and challenges in this collection of placemats, towels, shawls, wall hangings, and suit material. Author Elsa Krogh is a master weaver and teacher living in the north of Denmark.
The Ashford Book of Rigid Heddle Weaving, Rowena Heart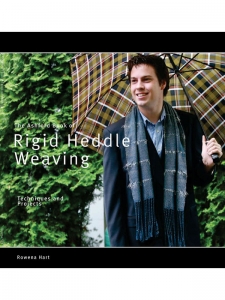 Get weaving in no time! In the Ashford Book of Rigid Heddle Weaving by Rowena Heart guides you step by step through the many weaving techniques, showing just how easy it is to make your own woven creations. Learn to warp the loom, weave small tapestries, rugs, cushions, cotton towels and Leno Lace. 76 pages, softcover. Revised Edition,
Back ordered until June 2014.
The Handweaver's Pattern Directory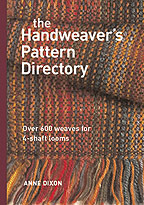 The Handweaver's Pattern Directory is a full-color practical guide to weave structures for 4-shaft looms that features drafts for 600 weaves including twill, zigzag, diamond, herringbone, block drafts, and specialized techniques. It is an awesome reference guide that you will use over and over again. Each structure includes a color photograph, threading and treadling sequences, and degree of difficulty. Readers will find sections on tools and equipment, types of fibers and yarns, weaving basics, finishing techniques, ideas to encourage experimentation with different yarns, looms, and colors, and a full glossary of international weaving terminology. The Handweaver's Pattern Directory is divided into five sections for clarity: straight draft, point draft, block weaves, lace weaves, and specialized techniques. Individual samples are shown actual size or bigger from the front view, with a detail showing the reverse view where this is of particular interest. For purposes of comparison and pattern clarity, for each two-page unit of samples, the same color thread is often used for warp or weft. Extended samples (gamps) use different threading drafts and thread color combinations to increase the range of options available to the weaver. The Handweaver's Pattern Directory is a must have for the serious weaver! Please notet: this is not a how-to-weave-book, but a weaving pattern book.
The Weaver's Idea Book

Take your rigid heddle weaving beyond the basics and explore the possibilities of your loom! The Weaver's Idea Book goes beyond the first steps of weaving so that you get the most from your rigid heddle loom. The Weaver's Idea Book presents a wide variety of patterns for the simple rigid-heddle loom, accompanied by harness drafts for multis haft looms. The techniques include leno, Brooks bouquet, soumak, and embroidery on fabric. Each chapter contains weaving patterns along with swatches illustrating the techniques, accompanied by step-by-step photography. The book is arranged by structure or type of weave, from variations on plain weave to doubleweave. With traditional patterns from around the world, bands, and fabrics woven on two double heddles, weaving tips and tricks help weavers at all levels achieve their textile dreams. In addition to pattern drafts, Jane offers project ideas that guide the reader through creating functional woven projects, from wearables to home decor. You may also like the companion DVD to this book: Weaving on a Rigid Heddle Loom
Weaving for Beginners, an Illustrated Guide

Okay, so why THIS book? No matter what you are planning to weave you will use this book as a treasured reference guide over and over again! Weaving for Beginners is jam packed with useful information, tips and tricks that you can learn something new even if you are not a beginning weaver Let master weaver Peggy Osterkamp show you how it's done. More time and more pleasure from your weaving -- that's what Peggy Osterkamp's New Guide to Weaving series offers novice and experienced weavers alike. The methods Osterkamp describes are based on many sources: Europe's centuries-old tradition of efficient handweaving as a livelihood, adaptations for handweaving from the textile industry, techniques taught by Jim Ahrens, the original designer of AVL looms, and her own experiences teaching and weaving. This Book has one objective: make four harness weaving easier for beginners! Spiralbound. Hardcover.
Weaving Made Easy!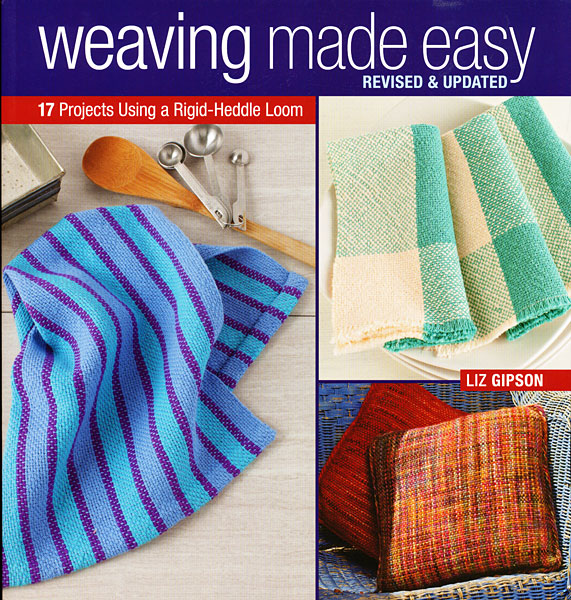 Weaving Made Easy is the beginning weavers' ultimate guide to making fun, simple, and functional weaving projects from start to finish. Weaving Made Easy features seventeen simple projects made on the rigid heddle loom, a small, portable, and affordable weaving loom. Weaving Made Easy includes a step-by-step guide on getting started weaving; weaving vocab. 101, tools and materials explained, the basics of warp and weft, and how to start weaving. Weaving Made Easy offers clear instructions for how to make various practical fabrics, from drapy to sturdy scarves and bags to belts, placemats, rugs, and more.
Weavers Companion

What a great compact quick reference book! Let this sturdy, spiral-bound volume keep track of the weaving details. It's all here: sett and sleying charts, formulas for calculating warp and weft, fiber identification tests, basic weave drafts, finishing techniques, fiber factoids, a must-have gray scale, design shortcuts, and much, much, more!
Individual Weaving Patterns
Color and Weave Towels, Pattern
These towels give you a lot for a little. Four towels from one warp, each with a different border. You may be familiar with popular color-and-weave patterns such as Houndstooth Check and Log Cabin, but those are just the tip of the iceberg. Meet two new—and nameless— patterns.
Included are tips for how to manage two colors and work with doubled threads. 6 pages.
Pick-Up Artist Runner, Pattern
The humble pick-up stick has amazing patterning power. With it you can create a third shed that allows you to break the normal over/under configuration.

This reversible runner, will transform you into a pick-up artist by allowing you to master warp and weft floats and learn how and when to combine them. Along the way learn the art of hemstitching—a weaver's favorite finish worked right on the loom.