Weaving Videos - DVDs
Weaving DVDs are sorted A to Z
Block Weaves - 2 DVD Set
When you understand block weaves, you hold the key to a world of exciting weaving possibilities. In this 2 DVD Set Madelyn van der Hoogt offers an extensive look at this weave design. Learn the basics of block weaves, how the patterns work, and how one pattern looks in various weave structures how to read block weave drafts, taking care to look at many weave structures' tie-up and treadling patterns. Find out how to design your own block weaves on paper or with a computer software and create an infinite number of designs by combining color, pattern, and weave structure,
Along with Madelyn's video workshop, you will get a
printable booklet on block weaves
, complete with planning exercises, reference materials, and block-weaving ideas.
Creative Weaving, Four Weaving Techniques for the Rigid Heddle Loom
Four Weaving Techniques for the Rigid Heddle Loom. Take your rigid heddle weaving to the next level with this video. Learn how to embellish plain weave fabrics with hand-manipulated or stitched design elements. In this Video series you will learn how to make 3-dimensional designs with boutonne, a traditional plain weave technique, how to embellish your fabric with Danish Medallions, how to use hemstiching to finish your fabric and to make geometric designs in your fabric.
You will also learn how to weave a no-sew blanket in any width regardless of your loom. 217 minutes
Creative Weaving, More Techniques for the Rigid Heddle Loom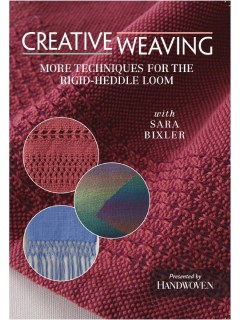 Want more rigid heddle weaving adventure? You can weave striking, beautiful, exciting cloth on a rigid-heddle loom or any loom! In her video series, Creative Weaving, professional weaver and teacher Sara Bixler shows you how to take simple weaving in new directions, giving time-honored techniques a contemporary twist. You can embellish plain-weave fabrics with hand-manipulated lace designs or play with shapes and colors. In this weaving video, you'll learn:
How to weave leno lace, a hand-manipulated lace that is great for scarves and other accessories and looks great with fine or bulky yarn in solid or variegated colors .How to weave Brooks Bouquet, a hand-manipulated lace that is lovely to add interest to handwoven towels, scarves, and other fabric. How to use clasped-weft techniques to create colorful geometric designs in your weaving. Learn decorative fringe techniques to protect and add interest to your woven fabrics. Try weaving with Sara and see where your creativity will lead you.

Double Your Fun: Doubleweave on a Rigid Heddle Loom
Doubleweave is on of the best reasons to use two heddles on a rigid heddle loom. With a second heddle and a little know-how, you can weave fabric twice as wide as your loom's weaving width.
You can also weave pieces that are connected at both selvedges ( like a tube) ore weave cloth with interchanging pattern layers. Learn how to warp your rigid heddle loom with two heddles, manage pick-up sticks, improve your selvedges and how to trouble shoot projects.
This doubleweave DVD will work with any rigid heddle loom as long as you have two heddles (reeds) of the same dent size. Your loom may also need second heddle blocks (depending on model) 90 minutes
Quantity
In Praise of Simple Cloth 2 DVD Set
Liked "How I Spin"? Let Rita Buchanan take you a step further and share her passion for spinning and weaving with this crossover spinning-weaving-knitting DVD.
Packed with a joy for spinning and weaving Rita shares practical tips and will teach you how to: match yarn for a project, explore the properties of various fibers, spin and weave for wall and floor rugs, creating humble household fabrics for everyday use as well as knitting with handspun yarns. Keep it Simple!
Learn to Weave, Tom Knisely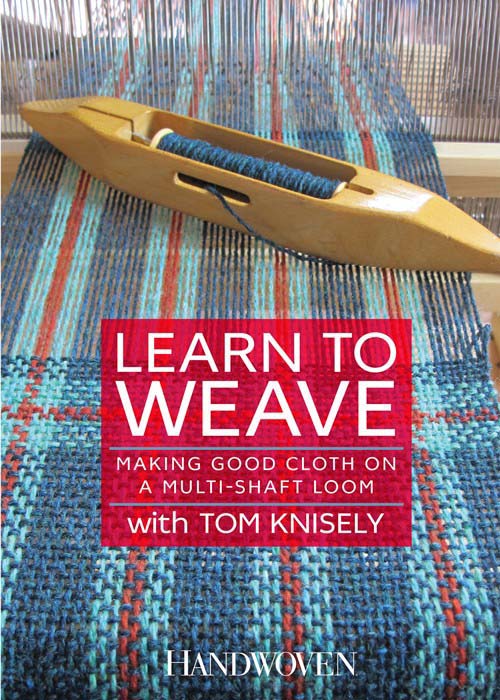 Making good cloth on a multi-shaft loom. Let master weaver and author Tom Knisely teach you how to weave!
From project planning to warping to weaving a good cloth, this DVD will show you how to weave with confidence and creativity.
You will learn: the basics of multi-shaft looms and how they work, how to plan a project using your chosen yarn and how to warp comfortably and accurately. You will find weaving tips for good selvedges, and finishing your woven fabric.
172 minutes
NEW!

Totally Twill The Basics DVD
Totally Twill the Basics. Twill is a basic weave structure and often this first one new weavers try. Because of it's versatility twill is easy to fall in love with. From its lovely drape to its shaft-thrifty and seemingly endless patterning possibilities, twill is perhaps the most versatile of weave structures. In this 86-minute workshop, master weaver Robyn Spady will show you how to create your own beautiful twill! In this workshop, you'll learn how to use the twill circle to design twill patterns.
Find out how to determine sett and when to use floating selvedges. You will also learn to use different twill variations, from rosepath and birds-eye to M and W, turned, and fancy twills. Create double-faced cloth using unbalanced twills and learn more about design twill gamps.
Armed with Robyn's clear explanations and helpful weaving tips, you'll soon be inventing your own unique twill fabrics.

NEW!

Totally Twill Beyond the Basics DVD
If you love to create original patterns and weave them into a variety of designs, then twill is the weave structure for you! In this video workshop, Robyn Spady shows how you can start with a single threading and create a variety of surprising and sophisticated twill patterns and designs. 74 Minutes
You will go beyond just the fundamentals in this workshop and dive into the vast possibilities of twill! If you need the basics to twill or just a refresher, check out Robyn's workshop, Totally Twill: The Basics above

In this DVD you'll learn:
•How to plan steps and runs for advancing and advancing point twills
•How to define grid and path for a networked twill
•How to scale a network draft to fit the number of shafts on your loom
•Techniques for designing and scaling with weaving software
•Tips for threading and weaving complex twills
•Color strategies for echo weave
•Designs for corkscrew and manifold twills
The Loom Owner's Companion - 2 DVD Set
Know and Love your Loom. If you are a beginning weaver or want to know more about looms, than you just have to have this informative DVD! Find out the differences and advantages between the different loom types, learn how to keep you loom in top working order and how to read all kind of drafts and tie-ups correctly.
Let master weaver Tom Knisely also show you dozens of tips for trouble free weaving. 2 hour DVD set, over 2.5 hours total.
Weave a Good Rug DVD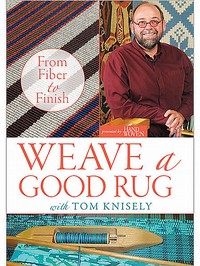 Learn to weave rugs the easy way with this 2 disk DVD. You can take Your Weaving Skills to New Heights With Rug Weaving!
Rugs present some unique weaving challenges. They can be rustic, elegant, or just plain fun, but they also have to be, well, rugged. In this video Tom Knisely explains how to weave a good rug from fibers to finishing, Tom explains everything you need to know to successfully and comfortably weave attractive, sturdy rugs you'll delight in having underfoot. Here's just a sampling of all the weaving tips and techniques that you will learn from this three and a half hour video workshop:
•What features to look for in a rug loom in order to create a sturdy piece of fabric
•Rug shuttles, temples, and other equipment that makes rug weaving mores successful and easier on the weaver
•Choosing and preparing materials, from cottons and wool yarn to fabrics for rags, for rug weaving
•Warping techniques specifically for weaving rugs
•Dozens of tips for weaving warp rep and weft rep, rag, and boundweave rugs
•Braids, fringes, binding, and other finishing techniques
You might also like Tom Kniselys book "Weaving Rag Rugs"

Weaving on a Rigid Heddle Loom 2 DVD Set

Explore the endless possibilities of the rigid heddle loom as Jane Patrick shows you how to take your loom to its limits! The rigid heddle loom is great for beginners, but equally great for seasoned weavers who can explore its endless potential while never getting bored. If you're accustomed to thinking of the rigid heddle loom as a "placemat" loom, be prepared.
The 2-disc Weaving on a Rigid Heddle Loom set, will show you how to use it for all kinds of fabrics—from sturdy little rugs to sheer shawls, from simple plain weaves to complex finger manipulations to doubleweave and beyond. Learn how to warp your loom in a matter of minutes, use a pick-up stick to weave any pattern you choose, use two heddles for fine fabrics and even double cloth, and so much more! Plus, you get printable PDFs of downloadable sampler instructions and "cheat sheets" included. $34.95 You may also like the companion book to this DVD The Weavers Idea Book
Weaving Well DVD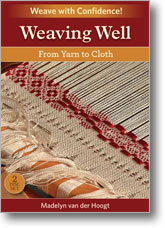 Editor of Handwoven magazine Madelyn van der Hoogt demonstrates techniques and tips for satisfying, successful multishaft weaving: Match yarn, sett, and structure to get the results you want, weave clear patterns and smooth selvedges, learn how to handle repairs and errors with ease.
Make your finishes as attractive as your weaving and learn dozens of other weaving tricks that you didn't know you didn't know. Weaving Well is the ideal companion to tweak YOUR weaving! Madelyn shows you everything you need to know to make beautiful woven fabrics, from great start to fabulous finish.
Weaving Rep with Rosalie Neilson
Weaving Rep with Rosalie Neilson. Warp-faced rep weave is a playground of vibrant color and patterning possibilities. Rep weave is characterized by the alternation of thick and thin picks of weft, or ribs. Great for rugs, runners, bags, and other sturdy fabrics, rep is also wonderful for creating artistic hangings because it allows many blocks of pattern with relatively few shafts.

In this workshop video, rep weaver Rosalie Neilson teaches:
•How rep works and why it's different from other warp-faced weaves.
•How to warp rep patterns smoothly and accurately.
•Weaving rep with smooth weft joins and good selvedges.
•How to design your own rep block patterns.
•Other warp-faced options with a rep threading.

PLUS! This 173-minute workshop video also includes a handout with warping and weaving tips, lists of materials for rep, and one of Rosalie's rep projects shown on the video

Warping your Loom DVD
Tension is good for warps, but terrible for weavers. From front to back, back to front, bobbin to beam, and paddle to raddle, Madelyn's no-worry warping techniques help ensure that your every warp will deliver a satisfying weaving experience. Learn to warp without worries! Master trouble-free techniques for winding, sleying, threading and beaming your loom!
Make warping more smooth, serene, and successful with logical, easy-to-follow steps that avoid the horrors of tangling, uneven tension, and lost threads.
Avoid Uneven tension with tips on how to, wind your warps quickly and effortlessly, keep your warp aligned and under control from warping board to beam, sley the reed, thread the loom, tie on to and beam the warp, find threading errors and fix them before you weave. $35.95