Ashford SampleIt Loom
Products > Weaving Looms and Accessories> Ashford Looms > Ashford SampleIt Loom
Ashford SampleIt Loom 10" & 16" Width
Ashford SampleIt Loom 10"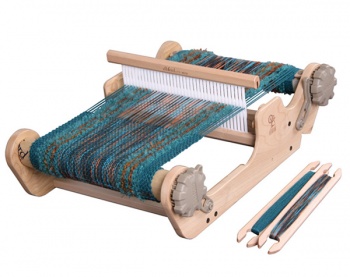 This new compact rigid heddle loom is perfect for the beginning weaver. It is inexpensive, compact and cute without sacrificing function. This Ashford SampleIt loom is perfect for new and experienced weavers and with a 10" weaving width it is perfect for scarves too and the perfect classroom rigid heddle loom.
The Ashford SampleIt Loom has a built-in second heddle option so you can weave with two reeds of the same dent at the same time (only one reed is included).
Whether you are learning to weave for the first time or want to learn new techniques or sample your yarn, the Ashford SampleIt Loom is fun and easy to use. Just add yarn!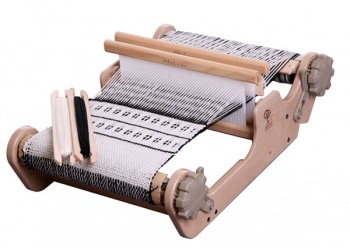 The Ashford SampleIt loom comes complete with 7.5 dent reed, two stick shuttles, a double ended threading hook, warping pegs, clamps and a 20 page color weaving booklet to get you weaving in no time.
10" Ashford SampleIt Loom
Ashford SampleIt Loom 16"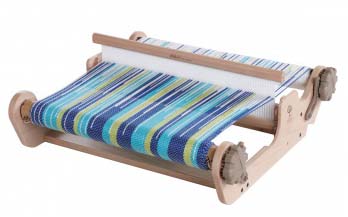 New wider widths. Weave a full 16" wide cloth on this wider version.
Sold out until mid January 2018

Additional reeds for the Ashford SampleIt Loom can be found here
| | |
| --- | --- |
| | |
| Kate from Ashford in New Zealand is weaving on the Ashford SampleIt Loom | |
| | |
Ashford SampleIt Loom Reeds - NEW 15 Dent Reeds
Weave with a variety of yarns and get additional reeds for your Ashford 8" and 10" SampleIt Loom. Choose from 2.5, 5, 7.5, 10, 12.5 and now also 15 dent reeds.
Ashford SampleIt Loom Stand for 10" Loom
For the 10" Ashford SampleIt loom only. Weave comfortable and free up your kitchen table
Learn to weave with the
Ashford SampleIt Loom pdf
with assembly, warping and weaving instructions
Need help deciding which loom to get? Check out our
Weaving FAQ
or give us a call!
You may also like the following: