Small Looms & Weaving Cards
Products > Weaving Looms > Small Looms
Small Weaving Looms
Small looms like an Inkle Loom, Rigid Heddle Loom or Tapestry Loom great for beginning weavers. They are simple looms that you can take with you and weave anywhere. These small looms are great for classes, workshops and for weavers of all ages.
Inkle Looms
Inkle looms are used to weave colorful bands. They can be simple in design or quite elaborate. Inkle loom bands are warp faced meaning that only the warp threads will show once the band is finished. Inkle looms are fast and easy to set up. To weave on these small looms you make your own string heddles that allow you to obtain a shed. Bands woven on Inkle looms can be used as to make cell phone cases, coin purses, belts, guitar straps, hat bands, trims, fancy ribbons, hangers etc. You can also join several bands together to make sturdy bags, wall hangings and many more items.
Ashford Inkle Loom John Day Inkle Loom Leclerc Cendrel Inkle Loom
Tapestry Looms - Frame Looms - Weaving Cards
Tapestry weaving is often called "painting with yarn". You can weave simple strong fabrics or complicated detailed tapestry scenes. Your weaving can be coarse or fine. Continuous string heddles allow you to create a shed. You will require a tapestry beater for best results to pack the weft.
Ashford Tapestry loom Schacht Tapestry loom Ashford Frame Looms Schacht Weaving Cards
Rigid Heddle Looms
Rigid Heddle looms are perfect for beginners weavers. You can get a small loom with only a 10" weaving width or a wide loom with a 48" weaving width or anything in between. They are simple, easy to weave on and fast to warp and compact enough so you can weave anywhere! So if you are thinking about learning to weave, a rigid heddle loom is a great place to start.
Want to take your rigid heddle weaving even further? Add a stand or a second heddle kit for your loom and you can weave even more patterns! With a floor stand you will be able to use your rigid heddle loom anywhere you like. Happy Weaving!
SampleIt Loom Rigid Heddle Loom Knitters Loom Harp Forte Loom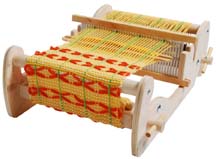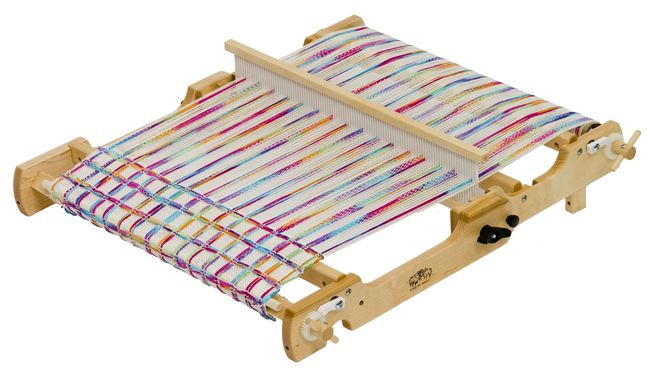 Cricket Loom Folding Schacht Flip Loom