Ashford Rigid Heddle Loom
Products > Weaving Looms and Accessories > Ashford Looms > Ashford Rigid Heddle Looms
Ashford Rigid Heddle Looms - Now available in 48" weaving width!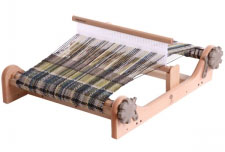 Want to learn to weave? Check out this Ashford Rigid Heddle loom! Heavier in construction than the Ashford Knitters Loom, it is just as easy to use, even for beginners, but still versatile. This is the original Ashford rigid heddle loom that has stood the test of time. You can use the loom to weave cushion covers, table mats, runners, fabrics, garments, floor mats, shawls, place mats and just about anything. The Ashford rigid heddle loom offers a sturdy ratchet system with clicker paws (see image below) on the outside of the weaving loom so your warp will not snag. It comes with everything you need to get started except yarn: a 7.5 dpi reed, perfect for your first project, two shuttles, warping peg,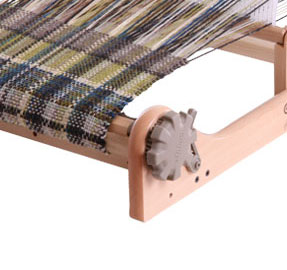 threading hook, clamps and a weaving guide, unfinished. Learn to weave with this easy to use rigid heddle loom!
If you are ordering 48 inch loom please note that it is recommended that you order additional reeds at the same time. Due to the length of the reeds they are fragile when it comes to shipping. (UPS and USPS are not kind to packages). You can also order these later, but order at least two at the same time, so they will make a sturdier package. We do our best to prevent any problems, but the lengh of this item makes it fragile when it comes to shipping.
| | |
| --- | --- |
| | |
| Kate from Ashford in New Zealand is showing you how to weave on the Ashford Rigid Heddle Loom | |
Loom Stand for Ashford Rigid Heddle Looms

Free up your kitchen table! The Ashford rigid heddle loom stand will let you take your loom into any room! Complete with two handy shelves for setting down shuttles and comfortable, adjustable foot rest. Convenient weaving angle.
The Ashford rigid heddle loom can easily be removed from the stand for transport. Ashford rigid heddle loom and stand shown to left.
You may also like the following