Weaving Shuttles
We have Ashford and Kromski stick shuttles for rigid heddle weaving and Leclerc and Schacht boat shuttles and end-delivery shuttles for table looms and floor looms.
Other Weaving Accessories can be found here!
Stick Shuttles
John Day Stick Shuttle Starter Pack
Get weaving with this stick shuttle starter pack! You get three stick shuttles at one great price. Set includes one 14", one 8" and one 6" stick shuttle. Made from lightweight but strong Poplar wood. Smoothly sanded, Tung oil finish. American Made.
John Day Stick Shuttles
You can never have too many shuttles for your weaving projects. Made from lightweight but strong Poplar wood. Smoothly sanded, Tung oil finish. American Made
Ashford Stick Shuttles

Ashford unfinished stick shuttles, smoothly sanded, beech wood. For use with rigid heddle looms, or as extra shuttles for your large loom. You can never have too many. Four sizes to choose from.
Kromski Stick Shuttles
Nicely finished clear lacquered Kromski stick shuttles to accompany your loom. You will want more than just one or two! available in 4 sizes.
John Day Belt Shuttle

Johns Day belt shuttle for all brands of Inkle looms or back strap loom. Poplar hard wood with tung oil finish
Ashford Belt Shuttle
Ashford Belt shuttle for all brands of Inkle looms.
Boat Shuttles
Leclerc Boat Shuttles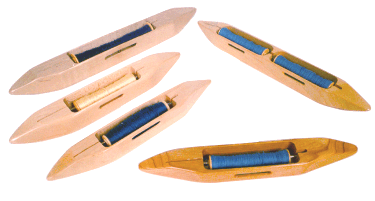 Made from Canadian maple, these boat shuttles are well balanced and smooth. Kiln dried. The Leclerc boat shuttles feature a closed bottom (except the slim one, it has an open bottom) and are beautifully shaped. The Leclerc small boat shuttle is just a little smaller than the regular size. The smallest Leclerc boat shuttle is the slim.
Choose from 5 sizes. All come complete with one 4" bobbin except large, which comes with one 6" bobbin. (Two bobbin shuttle comes with two 4" bobbins) All Leclerc boat shuttles are crafted from solid Maple with lacquer finish.
Leclerc Bobbins for Boat Shuttles
Sturdy styrene bobbins in two sizes. 12 bobbins per pack.
Leclerc Colored Boat Shuttles

Color code your weaving yarn and never grab the wrong shuttle again!! Colored Leclerc closed bottom boat shuttle, complete with one 4" styrene bobbin. Ideal for beginners and experienced weavers alike. These Leclerc boat shuttles offer a unique cost effective option. Made of high impact plastic (High Density Polythylene) this shuttle will last a lifetime. The shape and weight are comparable to the wooden Leclerc Boat Shuttles. Available in 4 colors, closed bottom. The boat shuttle measures 1 1/8" X 1 5/8" X 11 1/4" and weighs 4.7 ounces. A great value!
Schacht Boat Shuttles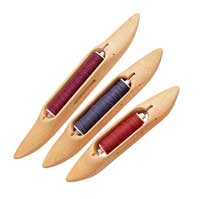 Schacht boat shuttles crafted from solid hardwood with open bottom. Available in three sizes. Use 4" bobbins for the 9" and 11" Schacht boat shuttle, use 5" bobbins for the 13" Schacht boat shuttle. Oil finish.
Schacht Slim Boat Shuttle, Cherry
11" slim Schacht boat shuttle in solid Cherry wood with tung oil finish. This boat shuttle is just a bit thinner than the regular 11" Schacht boat shuttle above.
Schacht Weaving Bobbins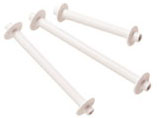 White plastic bobbins. Set of 10. Choose from 4" or 5"
Schacht End-Delivery Shuttles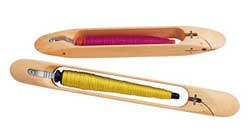 There is just one word for these shuttles: Great! My selvedges have never been better. Schacht End Delivery Shuttles are designed with the weaver in mind. The Schacht end-delivery shuttle has a pirn which remains stationary, instead of a free-spinning bobbin. The weft yarn unwinds off the pirns tip when the shuttle is in motion and stops unwinding when the shuttle stops. The yarn comes off the pirn and goes through a set of adjustable tension pads and comes out of the shuttle at a constant tension. This even delivery of weft causes less draw-in, which in turn makes better selvedges. Choose from two sizes.
This Schacht End-Delivery shuttle is a bit more pricy but well worth it! Perfect for most yarns, just stay away from highly textured or large diameter yarns. I have used this shuttle with 16/2, 10/2, 8/2, 3/2 etc, and am just loving the result, Bridget
Pirns for Schacht End-Delivery Shuttle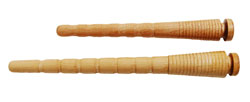 The Schacht End-Delivery Shuttles require pirns instead of bobbins. Wooden pirns for the Schacht End-Delivery Shuttles above. Smooth tapered 6" or 8" length.
Choose the 6" pirn for the 12" shuttle and the 8" pirn for the 15" shuttle. Bags of 5
Ashford Boat Shuttle

Nice 11" silver beech boat shuttle from Ashford. One bobbin included. Open bottom, use with blue bobbins below.
Ashford Bobbins for Boat Shuttle
Set of 10 bobbins, 4.5" for above Ashford boat shuttle.
Leclerc Ski Shuttle

Leclerc Ski Shuttle for medium to heavy yarns and rags. This special ski shuttle has the yarn wrapped horizontally around it so it slides easily in the warp. 18 inches. Solid Maple
John Day Pick Up Sticks
Poplar wood pick up sticks in two length, 19" and 29". Tung oil finish. Made in Oregon