Weaving Accessories
Products > Weaving > Weaving Accessories
Schacht Bobbin Winders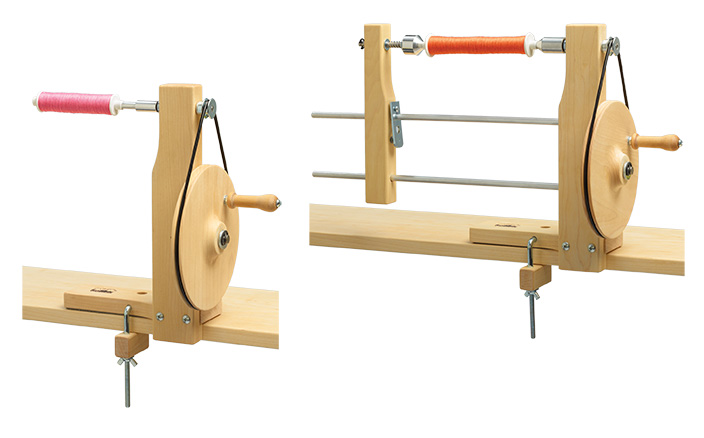 Schacht offers several styles of bobbin winders: manual and electric, single ended and double ended. The Schacht single ended manual bobbin winder has a tapered shaft that will accommodate bobbins up to six inches long.
The Schacht double ended bobbin winders can be used for shorter or longer bobbins, pirns, spools and spinning wheel bobbins. They are available both in electric and manual models. Both Schacht bobbin winders, double-ended manual and electric winders are available with special tips for winding lace bobbins. Conversion kits are available.
Schacht Double Ended Electric Bobbin Winder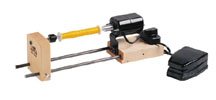 Schacht Double Ended Electric Bobbin Winder. Wind your bobbins or pirns faster. Comfortable foot pedal.
Adjustable length can also hold your spinning wheel bobbins so you can use them for winding off yarn for weaving.
Leclerc Metal Bobbin Winder

A light but strong hand bobbin winder with completely covered metal gears. Tapered shaft for all Leclerc bobbins and Leclerc Spools. Wood handle.
Clamps to a table top up to 1½" thick.
Schacht Yardage Counter
This wooden counter will count yards instead of feet while keeping a nice tension on your yarn. The counter will record up to 9999 yards and comes complete with a clamp. Schacht quality built.
PDF for the Schacht yardage Counter
Warping Boards and Warping Mills
John Day Warping Boards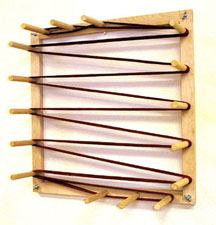 John Day 6.5 yards warping board. Three dowels at the top and bottom of this warping board will enable you to wind your warp with one or two crosses.
Solid Maple hardwood frame. Complete with assembly instructions. A great value! Unfinished.
Made in Oregon U.S.A.
Ashford Warping Boards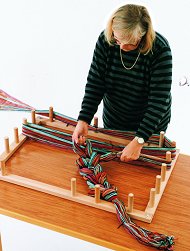 Ashford only uses the finest native New Zealand Silver Beech hardwood, sourced from sustainably-managed forest with Forest Stewardship Council approved. This sturdy Ashford Warping Board is available in two sizes, your choice of 4.5 yards or 12 yards.
Ashfords fine quailty and craftmaship has been on the market for over 75 years, bring to all of our customers a wide variety of Spinning Wheels, Weaving Looms, yarns, felting supplies and dyes for fiber. Experience the joy and pleasure of creating your own unique projects. Create, Relax and Enjoy knowing your crafts are substainable, renewable and environmentally friendly.
Schacht Warping Board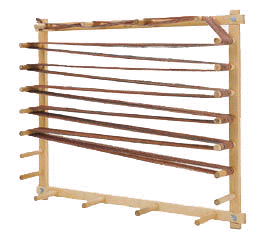 Schacht 14 yard Warping Board
Warping boards are one of the basic weaving supplies that every weaver should have. This large warping board will allow you to weave to your hearts content. Solid Maple with oil finish.
Schacht Warping Board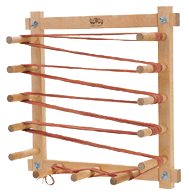 Schacht 4.5 yard Warping Board
Smaller version for shorter warps. Solid Maple construction with oil finish
Leclerc Warping Boards

The Leclerc warping boards offer sturdy construction and are easily disassembled for storage.
Use them on a table or hang on a wall. Available in three sizes. Solid Maple construction and nice lacquer finish.
You may also like the Leclerc Cendrel Inkle Loom that can be converted to a 10 yard warping board
Warping Mills
Ashford Warping Mill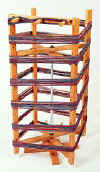 The Ashford Warping Mill holds up to 16 yards of warp. It lets you wind your warp in comfort. Warping mills allow you to wind your warp faster and without having to move your arms back and forth.
It is the preferred method for longer warps. Silver Beech wood construction
Schacht Horizontal Warping Mill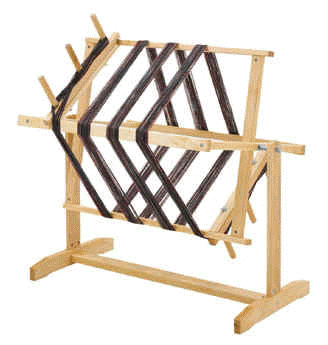 Warping Mills are ideal for long warps. Instead of going back and forth with your arm to measure threads like on a warping board, the warping mill goes around and around, which is quicker and less tiring.
The Schacht warping mill can be used on a table or on the floor. This mill has a two yard circumference, will hold up to 18 yards of warp, and can be folded up for storage.

Schacht Winding Station
This awesome winding station from Schacht will make your life a whole lot easier. At 35 inches tall the winding station is just the right height for working comfortably. Just clamp your ball winder or bobbin winder (or both) onto the winding station and they are always ready to go. No fuss, no setup.
You can also attach a swift to the Schacht winding station if you like. (a arm swings out to the left or right, your choice). Tame weaving yarn cones by placing them on the built-in cone rack that holds up to eight cones, and they will never fall over again.
The spool rack also holds up to eight spools. Reduce tangles by threading the yarn thru the eyelets in the winding station. The solid maple winding station with Tung oil finish is perfect for your studio or weaving room! Items shown on winding station sold separately.
Schacht Incredible Rope Machine
The Schacht Incredible Rope Machine is the fiber artist's handy tool for making customized edge trims, accents for pillows, coats, and sweaters, and purse handles, jewelry, belts, and more. This simple-to-use tool allows the craftsperson to fashion the just-right accent. Any size, color or texture can be used for the perfect sweater trim, or just-right handle for a custom-made bag. Many different yarns, thick and thin, loops and boucle's, can be combined at the same time. Blend colors, textures, and fibers from very fine ropes to very thick ones. The Schacht Incredible Rope Machine is versatile, useful, and just plain fun. In minutes you can make decorative ropes out of a range of yarns. Create multi-colored or multi-textured, thick or thin ropes for belts, trims, handles, and more. Complete easy-to-follow instructions show you how to be infinitely creative.
Loom Benches
Schacht Loom Bench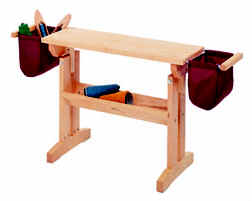 The Schacht loom bench is a beautiful companion piece to our Wolf looms and Standard floor looms.
The bench seat height is adjustable from 19" to 24" and has been designed to offer you both a flat and a slanted seat position. Optional bag for bench hold shuttles and yarn.
Bag for Schacht Loom Bench
Ashford Loom Bench
Designed with your comfort and posture in mind. Four position adjustable seat height. Folding seat conceals roomy storage compartment.
Useful cut out hand holds on the both sides. Unfinished Silver Beech wood.
Louet Loom Bench

Sturdy Louet bench for Jane/Kombo/David/Spring. Solid beech wood with clear lacquer finish.
Non-slip rubber feet. Seat height 22.5 inches.
Leclerc Open End Benches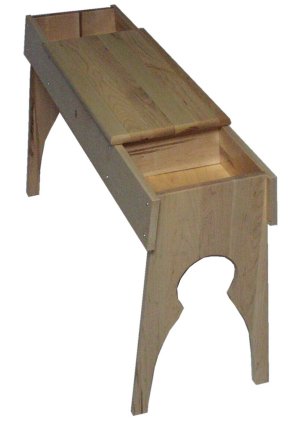 Leclerc loom bench with open compartments on both sided and closed compartment in the center. You can choose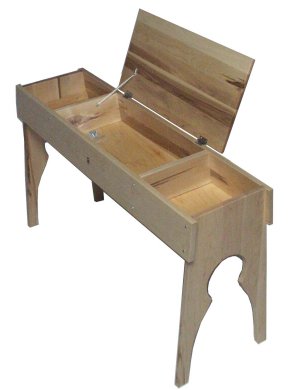 e from two heights. 23" Height for Artisat, Nilus, Inca, Mira and Fanny. The length of the bench is 38".
The 26" Height is recommended for Nilus II, Colonial, Nilart Kebec and Weavebird. The length of the bench is 44" Canadian Maple Construction with clear lacquer finish.
Leclerc Adjustable Height Loom Bench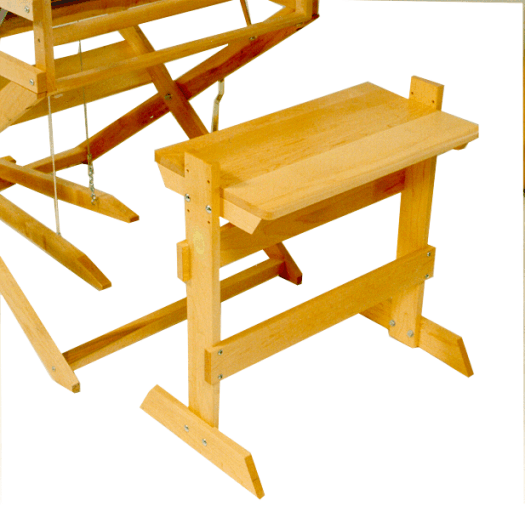 This Leclerc Bench is recommended for the Leclerc Compact, the Artisat and the Minerva as well as table looms on stands. Adjustable height from 21" to 25". Seat Length 24". Canadian Maple Construction with clear lacquer finish.
Leclerc Rocking Loom Bench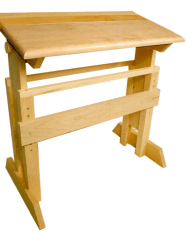 Selecting the proper Loom Bench is one of the most important decisions a weaver must make. The ability to weave over long periods of time without excessive interruptions for fatigue depends heavily on the weavers comfort.
Up until now, finding a Bench with just the right height and seating area has been difficult, but even when that is accomplished, the most common complaint by weavers is the leg numbness experienced from the seat edge cutting into the back of the legs (especially from shorter weavers).

Leclerc's new Rocking Bench has solved the dilemma. Adjustable in 1" increments from 21" to 26 3/4" this Bench will satisfy virtually all height requirements. In addition, the seat can be set at two additional angles(84 and 78) at any height providing an aligned surface to the back of the Leg when the Treadles are being depressed. This a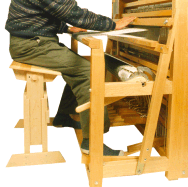 alignment eliminates the seat edge cutting into the back of the leg shutting off blood circulation.

As an additional feature, if the weaver prefers, the seat can be allowed to move or float with the body thru the full 90 to 78 degree arc so the seat is always aligned flush with the angle of the leg. With a full 12" by 24" seat area, this Bench will provide maximum comfort over extended weaving periods.
Leclerc Matching Bench Bags
As an added feature Leclerc has designed two weavers auxiliary pouches made of durable Jean material (same as the Voyageur bag) to hold all the misc. tools a weaver needs at their fingertips. The bags attach to each side of the seat. For Rocking Bench only.
Schacht Dizzy Yarn Gauge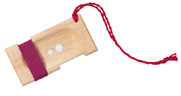 This magical multi-purpose tool will become an indispensable companion to both weavers and spinners. Sporting 1/2" and 1" measures, the Schacht Dizzy Yarn Gauge can be used as a weaver's sett gauge or spinner's yarn gauge, as well as a diz for making a consistent sliver for spinning. Maple
Schacht Tapestry Beaters
Well balanced beaters. Solid maple with smooth oil finish. Choose from three styles to fit your need.
Ashford Sley Hook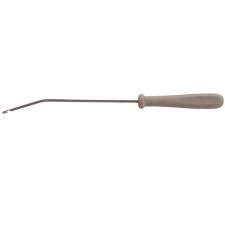 Long, slim metal reed and heddle hook with sturdy plastic handle.
Ashford Nylon Reed Hook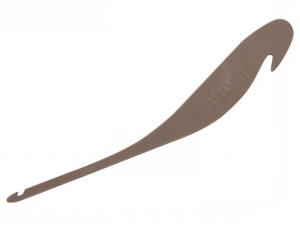 Flat shaped nylon hook for threading heddles and the reed of your loom.
Schacht Brass Reed Hook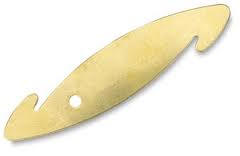 Flat S shaped durable brass hook
Reed Holder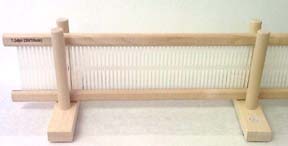 Sturdy set of two holders will keep your reed upright for comfortable threading. Solid maple construction with rubber feet.
Leclerc Wire Heddles
Leclerc standard wire heddles in three sizes. 9.5 inches, 10.5 inches and 12.5 inches. packs of 100.
Leclerc Texsolv Heddles
Texsolv heddles are made in joined 100 heddle bundles. The strong, durable polyester is made without knots. Texsolv Heddles will not stretch. The operate quietly and are a great alternative to traditional wire heddles. Eye length 1/2 inch. Choose from three sizes.
Fringe Twisters
NEW! Ashford Fringe Twister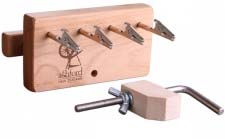 Ashford quad fringe twister complete with clamp and instructions. Great for making a twisted fringe for scarves and shawls, create multi colors twisted cords for accessories, pillow and bags. Create your own finished look. Lacquer finish.
Leclerc Fringe Twisters
Leclerc Fring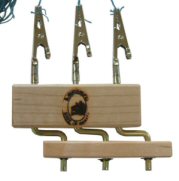 e Twisters in double, triple or quad styles! A must have for all weavers. This nifty little tool will help you make the finishing touches to scarves, bags, rugs, wraps and gives your weaving a professional look. Leclerc Fringe Twisters are great for twisted cords too. Let your imagination run wild! Triple fringe twister shown.
Schacht Weaving Cards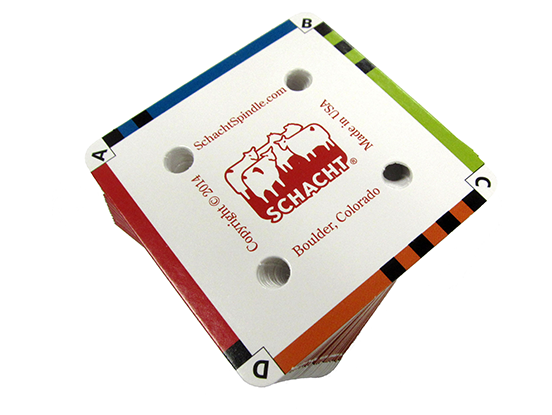 Schacht Weaving Cards can be used alone or on a loom.
Card weaving (also known as tablet weaving) is a way to create patterned woven bands that are thick, sturdy and beautiful. Though weaving cards are often regarded as a simple tool, the weavings they can produce are infinite in design and complexity. The portability of these cards gives you the possibility of carrying a four harness loom in your pocket.
You can use the Schacht weaving cards on their own with a simple tensioning device, such as tying the yarn to a door knob and tensioning around your waist. Or use the cards on a loom. An Inkle Loom is an ideal companion, but you can also use them on a Schacht Cricket, Schacht Flip, table, or floor loom.
Schacht has developed these tablet weaving card that, at 3-1/2″ inches square. They are comfortable in the hand without being bulky. Colored bands and stripes are printed along each edge as an aid in keeping track of the card's position. Made of sturdy yet flexible 24-point card stock, these cards will serve you well over many, many warps.
The cards come in packages of 25, more than enough for a range of projects. All you need to add is yarn and a belt shuttle. You can start weaving complex bands at less than the cost of two coffees!
You may also like the following: