Leclerc Weaving Accessories
Products > Weaving Looms and Accessories > Leclerc Floor Looms > Leclerc Nilus II Loom
Leclerc Metal Bobbin Winder

A light, but strong metal hand bobbin winder with completely covered metal gears. Tapered shaft for all Leclerc bobbins and Leclerc Spools. Wood handle.
Clamps to a table top up to 1½" thick.
Leclerc Warping Boards

The Leclerc warping boards offer sturdy construction and are easily disassembled for storage.
Use them on a table or hang on a wall. Available in three sizes. Solid Maple construction and nice lacquer finish.
Leclerc Open End Benches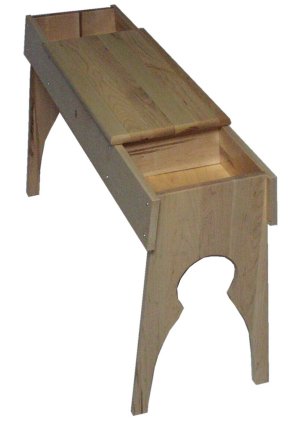 Leclerc loom bench with open compartments on both sided and closed compartment in the center. You can choos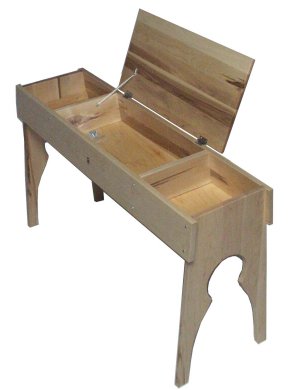 e from two heights. 23" Height for the Leclerc Artisat, Nilus II, Mira and Fanny. The length of the bench is 38".
The 26" Height is recommended for Nilus II, Colonial, Nilart Kebec and Weavebird. The length of the bench is 44" Canadian Maple Construction with clear lacquer finish.
Leclerc Adjustable Height Loom Bench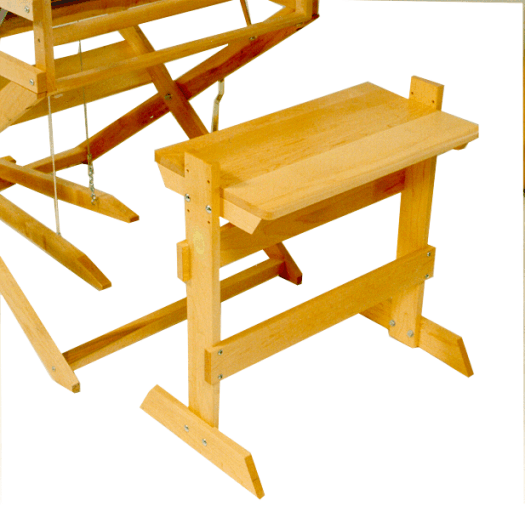 This Leclerc Bench is recommended for the Leclerc Compact, the Artisat and the Minerva as well as table looms on stands. Adjustable height from 21" to 25". Seat Length 24". Canadian Maple Construction with clear lacquer finish.
Leclerc Rocking Loom Bench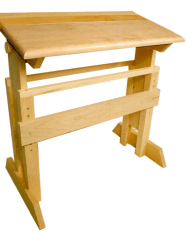 Selecting the proper Loom Bench is one of the most important decisions a weaver must make. The ability to weave over long periods of time without excessive interruptions for fatigue depends heavily on the weavers comfort.
Up until now, finding a Bench with just the right height and seating area has been difficult, but even when that is accomplished, the most common complaint by weavers is the leg numbness experienced from the seat edge cutting into the back of the legs (especially from shorter weavers).

Leclerc's new Rocking Bench has solved the dilemma. Adjustable in 1" increments from 21" to 26 3/4" this Bench will satisfy virtually all height requirements. In addition, the seat can be set at two additional angles(84 and 78) at any height providing an aligned surface to the back of the Leg when the Treadles are being depressed. This a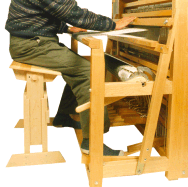 alignment eliminates the seat edge cutting into the back of the leg shutting off blood circulation.

As an additional feature, if the weaver prefers, the seat can be allowed to move or float with the body thru the full 90 to 78 degree arc so the seat is always aligned flush with the angle of the leg. With a full 12" by 24" seat area, this Bench will provide maximum comfort over extended weaving periods.
Leclerc Matching Bench Bags
As an added feature Leclerc has designed two weavers auxiliary pouches made of durable Jean material (same as the Voyageur bag) to hold all the misc. tools a weaver needs at their fingertips. The bags attach to each side of the seat. For Rocking Bench only.
Leclerc Boat Shuttles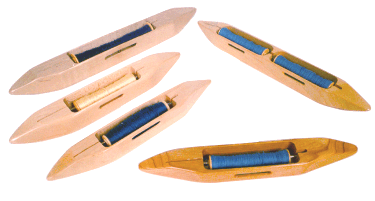 Made from Canadian maple, Leclerc boat shuttles are well balanced and smooth with a lacquer finish The Leclerc boat shuttles feature a closed bottom (except the small one) and are beautifully shaped. Choose from 5 sizes.
All come complete with one 4" bobbin except large, which comes with one 6" bobbin. (Two bobbin shuttle comes with two 4" bobbins) Please note that the smallest Leclerc boat shuttle is the slim, not the small. All Leclerc boat shuttles are crafted from solid Maple with lacquer finish.
Leclerc Colored Boat Shuttles

Color code your weaving yarn and never grab the wrong shuttle again! Colored Leclerc closed bottom boat shuttles, complete with one 4" styrene bobbin. Ideal for beginners and experienced weavers alike. These Leclerc boat shuttles offer a unique cost effective option. Made of high impact plastic (High Density Polythylene) this shuttle will last a lifetime. The shape and weight are comparable to the wooden Leclerc Boat Shuttles. Available in 4 colors, closed bottom. The boat shuttle measures 1 1/8" X 1 5/8" X 11 1/4" and weighs 4.7 ounces. A great value!
Leclerc Bobbins for Boat Shuttles
Sturdy styrene bobbins in two sizes. 12 bobbins per pack.
Leclerc Sectional Warp Beam Conversion Kit
For direct warping from spools or small bobbins. Available in 1 and 2 inch section (The Dorothy is available in 1 inch sections for the 24 inch only). This system consists of 4 rake-like pieces that are attached to the plain beam on the loom or onto the Double Warp Beam. It allows warp beaming 1 inch or 2 inch wide at a time and requires a number of spools according to the sett of warp ends. On the Dorothy and the Voyager, the clams are fixed directly on the beam;

Many weavers use the Leclerc 1" section beam on non-Leclerc looms (because very few manufacturers offer SWB in 1"). This will require drilling new holes on your warp beam. The results are excellent and the 1" sections seem to be more reliable (than 2").
Please do not purchase this item for the Leclerc Dorothy or Voyager table looms.

A sectional warp beam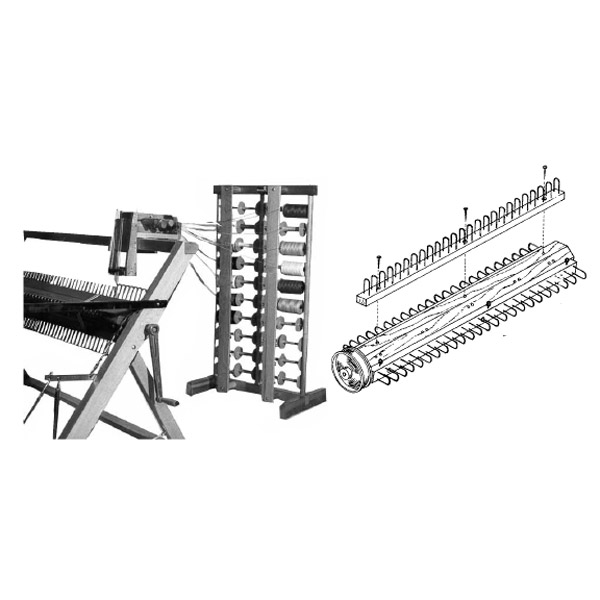 is especially appreciated by the weaver without a helper since the warp can be beamed easily by one person.

The overall length of the rakes are:
36" weaving width is 37" long
45" weaving width is 47" long
60" weaving width is 61" long etc.
Leclerc Wire Heddles
Leclerc standard wire heddles in three sizes. 9.5 inches, 10.5 inches and 12.5 inches. packs of 100.
Leclerc Texsolv Heddles
Texsolv heddles are made in joined 100 heddle bundles. The strong, durable polyester is made without knots. Texsolv Heddles will not stretch. The operate quietly and are a great alternative to traditional wire heddles. Eye length 1/2 inch. Choose from three sizes.
You may also like...