Kromski Harp Forte Accessories
Products > Weaving Looms and Accessories > Kromski Weaving Accessories
Kromski Harp Forte Loom Stand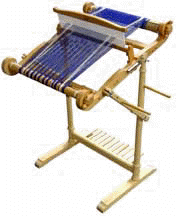 If you do not want to weave on your Kromski Harp or Harp Forte loom with the back end propped against a table edge, try the loom stand. This will allow you to weave wherever you like! With this stand you will be able to adjust the weaving angle of your loom so that it is a perfect fit for your height. All the pieces have been turned so there is shape and contours to everything. Your warping pegs (these come with the loom) can be used as pegs on either side of the loom to hold shuttles, yarn or to keep other supplies handy.
The remaining pegs can be conveniently stored at the back of the loom, so that they do not get lost. Use the stand for weaving, but also for warping when using a warping peg, and for storage (your Harp can be folded on the stand so it takes up less space). We are sure weavers will find even more ingenious ways to use the Harp floor stand.
Kromski Harp Forte, Rigid Heddle Loom Bags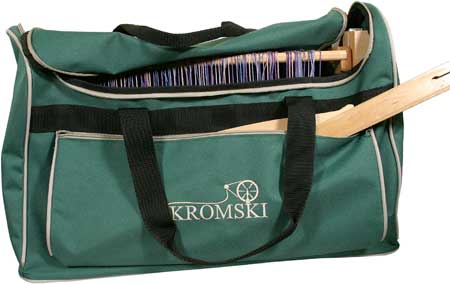 Because the Kromski Rigid Heddle Loom conveniently folds (with your warp and project in place), why not put it in a tote bag for easy storage or travel. The bags are made of poly-canvas and feature canvas handles and a shoulder strap.
The base of the tote is reinforced to provide sturdy support of the loom.
There is plenty of room for stick shuttles, pick-up sticks, warping equipment, clamps and your weaving yarns.
Kromski Harp Upgrade Kit
Change out the plastic ratchets and paws on your Kromski Harp loom for metal ones and presto, you have the Kromski Forte. Metal ratchets allow for high tension, no other rigid heddle loom offers.
Kromski Harp Forte Rigid Heddle Loom Reeds

Your Kromski rigid heddle loom comes with an 8 dent rigid heddle reed (as of January 1st 2014), if your loom is older than this date your loom came with a 10 dent reed. Other rigid heddle reeds are available below. For Schacht reeds please check the Schacht page. Kromski reeds also fit Ashford rigid heddle looms and the other way around. If you are planning on using two reeds at the same time you will need them to be of the same dent size and you will need Kromski Second Heddle Blocks to hold the additional reed.
Kromski Weaver's Choice Heddle

The Kromski Weaver's Choice Heddle (WCH) opens up endless opportunities for creative weaving. You are no longer confined to a single size warp yarn for the entire width of their weaving project. With the Kromski Weaver's Choice Heddle, the weaver chooses every single dent size just the way you like it!!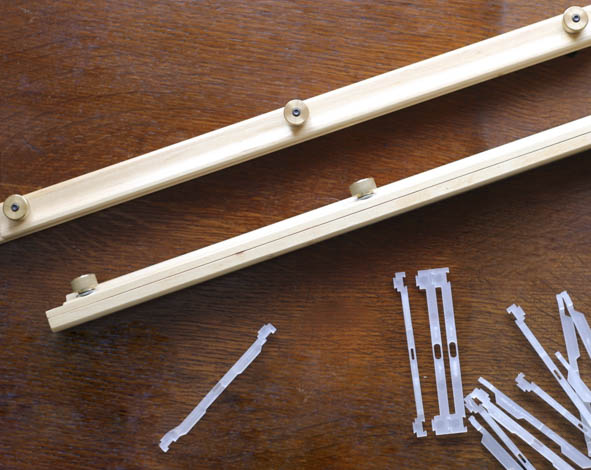 With the ability to use bulky yarns right alongside lightweight fingering yarns in the same project, the weaving possibilities are limitless! Each Kromski Weavers Choice Heddle comes with the following heddles:
For 8" Loom - Total of 80 pieces: 20 each 5dpi, 8dpi, 10 dpi, 12dpi
For 16" Loom - Total of 160 pieces: 40 each 5dpi, 8dpi, 10 dpi, 12dpi
For 24" Loom - Total of 240 pieces: 60 each 5dpi, 8dpi, 10 dpi, 12dpi
For 32" Loom - Total of 320 pieces: 80 each 5dpi, 8dpi, 10 dpi, 12dpi
Kromski Extra Heddle Pack for Weavers Choice Heddle
(above)
Add-on pack of extra heddle pieces for the Kromski Weaver's Choice Heddle above. Pack has 20 pieces each of the following dents: 5dpi, 8dpi, 10dpi and 12 dpi.
Kromski Stick Shuttles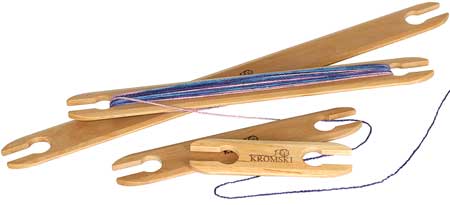 Nicely lacquer finished Kromski stick shuttles to accompany your loom. You will want more than just one or two!
Kromski Second Heddle Block
A Kromski second heddle block set will allow you to weave more complex designs. In addition to the blocks you will also need two of the same dent reeds. For all sizes of Kromski rigid heddle looms. Set of two blocks
Kromski Warping Sticks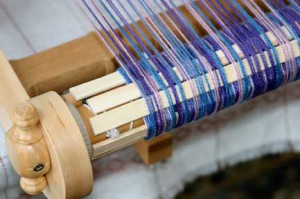 A simple weaving tool, but one that is sure to give your weaving the key to a perfectly tensioned warp. It is easy to use, as you wind your warp on the rear beam use our warp sticks to create a strong foundation that will support your warp from side to side and from one end to the other. Always tension your warp very tight as you wind on. This can only be done correctly with a two person team. Slip in a couple of warp sticks every 2-3 rotations, alternating the position so that the next layer does not sit directly on the previous layer.
A dozen stick will handle 2-3 yard warps, and consider two dozen for longer warps. You can never use too many, and you surely do not want to skimp. They have a width and thickness just right for the Harp. Sold bye the dozen.
Kromski Spring Kitchen Towel Kit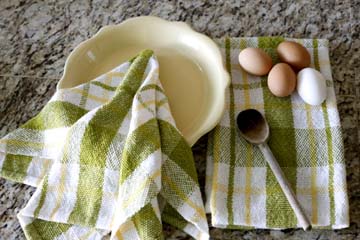 Fresh and fun this kit is easy to weave on your Kromski Rigid Heddle loom. Weave 2 kitchen towels measuring 19" x 31"each on your Kromski Rigid Heddle loom.
Kit includes yarn and Kromski instructions.
Equipment needed: Rigid heddle loom and a need a 12 dent reed.
Written specifically for the Kromski rigid heddle loom these towels can also be woven on any rigid heddle loom if you know how to put a striped warp on your loom.