8/2 Cotton Weaving Yarn
You can get cheaper 8/2 cotton yarns elsewhere, but you will not get the same quality. Especially when you are weaving you want to make sure you are getting the absolute best yarn you can afford, since you will be spending a lot of time weaving you will also want your finished project to look good and last a long time. This is our best selling yarn and our customers know why.
Check out this High Quality 8/2 Cotton yarn on 8 ounce tubes. 8/2 Cotton yarn is a classic and versatile weaving yarn that you will find yourself weaving with over and over again. It is perfect so so many projects.
This easy care weaving yarn is perfect for dishtowels, runners, placemats, pillows, bags and so much more! Tote bags or baby blankets anyone?
You can not get better quality 8/2 unmercerized cotton anywhere.
1630 yds. per 8 ounce tube. 100% Cotton.
Choose from a wide range of colors.
$12.95 each
Carribbean Dish Towel Kit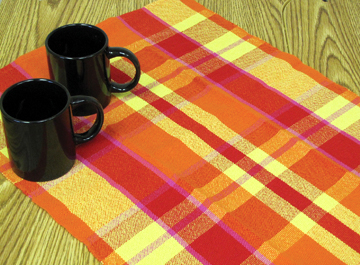 Check out this easy to weave dish towel kit! Each kit contains enough yarn for four large dishtowels 22" x 32" plus lots of extra warp and weft for sampling. Weave with durable and high quality 8/2 Cotton weaving yarn above.
Hand woven dish towels also make great gifts too!
Requirements: You will need a four harness loom, 10 dent reed, minimum of 22 inch weaving width.
Other Ideas for 8/2 Cotton Yarn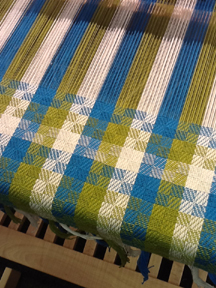 8/2 cotton yarn was used for this pillow in a turned twill patterns. Colors are Natural, Turquoise Blue and Kiwi. This would also be nice as a dishtowel. Set is 24 dpi.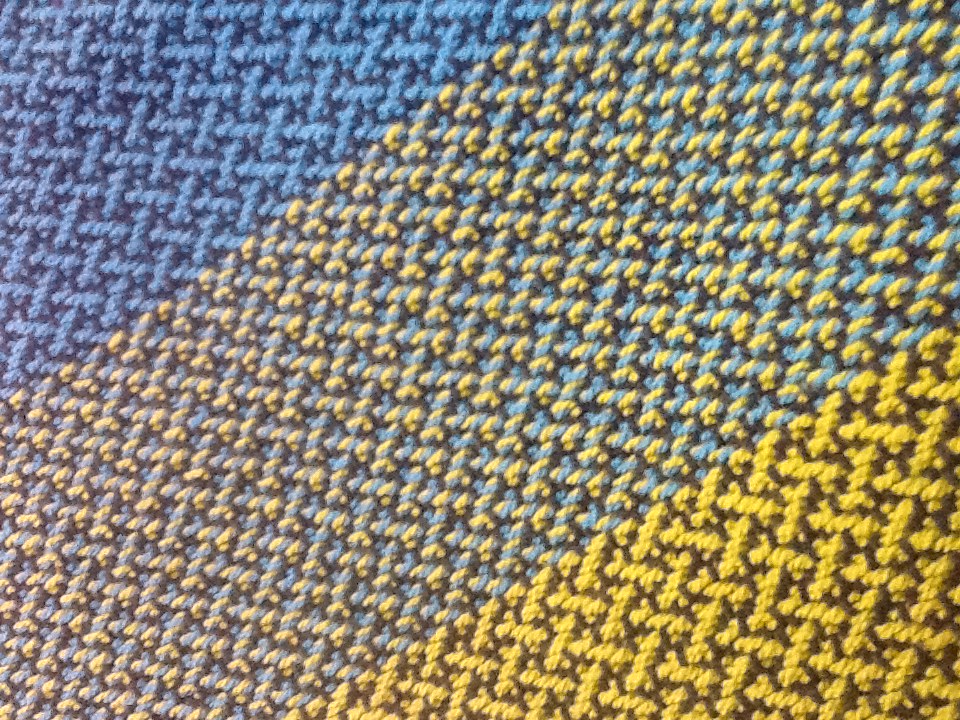 Detail of a series of dishtowel also woven with our 8/2 cotton yarn. This is another 8 harness pattern woven at 24 dpi, but any twill would look good.
Warp color are Yellow, Kiwi, Turquoise Blue and Blue. Weft is Deep Navy.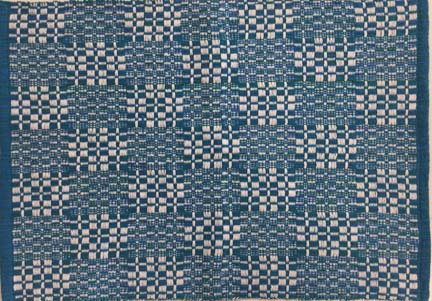 I found this overshot pattern in "The Ashford Book of Patterns from Four to Eight Shafts" and really liked the outcome. The warp are four random colors of 8/2 to give it some dimension.
You could just use one color of your choice, or use this project to de-stash your weaving yarn. Sett is at 18 epi. The ground weft is also one color of 8/2 (pick one) and the pattern weft in white is 8/4 Cotton, which gives it nice coverage.
I also wove another version with a doubled 8/2 in dark navy as the pattern weft and found that this combination brings out the tones of the background more.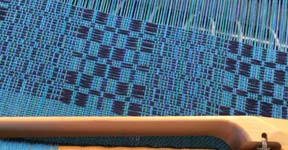 Either way, pick your favorite colors and have fun weaving. Make it your own. :-)
You may also like the following: