8/2 Cotton Weaving Yarn
You can get cheaper 8/2 cotton yarns elsewhere, but you will not get the same quality. Especially when you are weaving you want to make sure you are getting the absolute best yarn you can afford, since you will be spending a lot of time weaving you will also want your finished project to look good and last a long time. This is our best selling yarn and our customers know why.
Check out this High Quality 8/2 Cotton yarn on 8 ounce tubes. 8/2 Cotton yarn is a classic and versatile weaving yarn that you will find yourself weaving with over and over again. It is perfect so so many projects. This easy care weaving yarn is perfect for dishtowels, runners, placemats, pillows, bags and so much more! Tote bags or baby blankets anyone? You can not get better quality 8/2 unmercerized cotton anywhere.
1630 yds. per 8 ounce tube. 100% Cotton. Choose from a wide range of colors. $12.50 each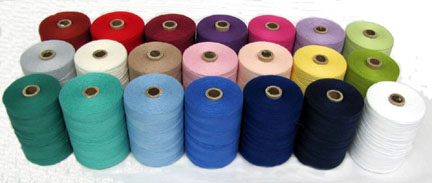 Cotton Boucle Yarn
This lovely Cotton Boucle weaving yarn will give your weaving lots of texture. Use it as a weft and the 8/2 cotton above as a warp only for super absorbent "thirsty" dishtowels (shown to left), or if you simply just want texture.
We only carry white cotton boucle yarn for now, let us know if you want to see more colors and we will get them! 8 ounces 750 yards
Caribbean Dish Towel Kit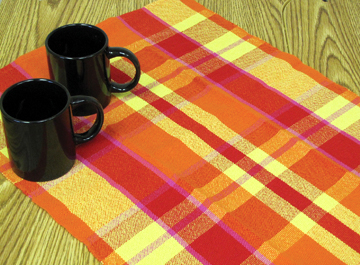 Check out this easy to weave dish towel kit! Each kit contains enough yarn for four large dishtowels plus lots of extra warp and weft for sampling. Weave with durable and high quality 8/2 Cotton weaving yarn above.
Hand woven dish towels also make great gifts too!
Requirements: You will need a four harness loom, 10 dent reed, minimum of 22 inch weaving width.
Other Ideas for 8/2 Cotton Yarn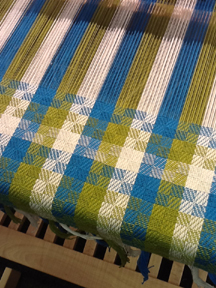 8/2 cotton yarn was used for this pillow in a turned twill patterns. Colors are Natural, Turquoise Blue and Pale Lime. This would also be nice as a dishtowel. Set is 24 dpi.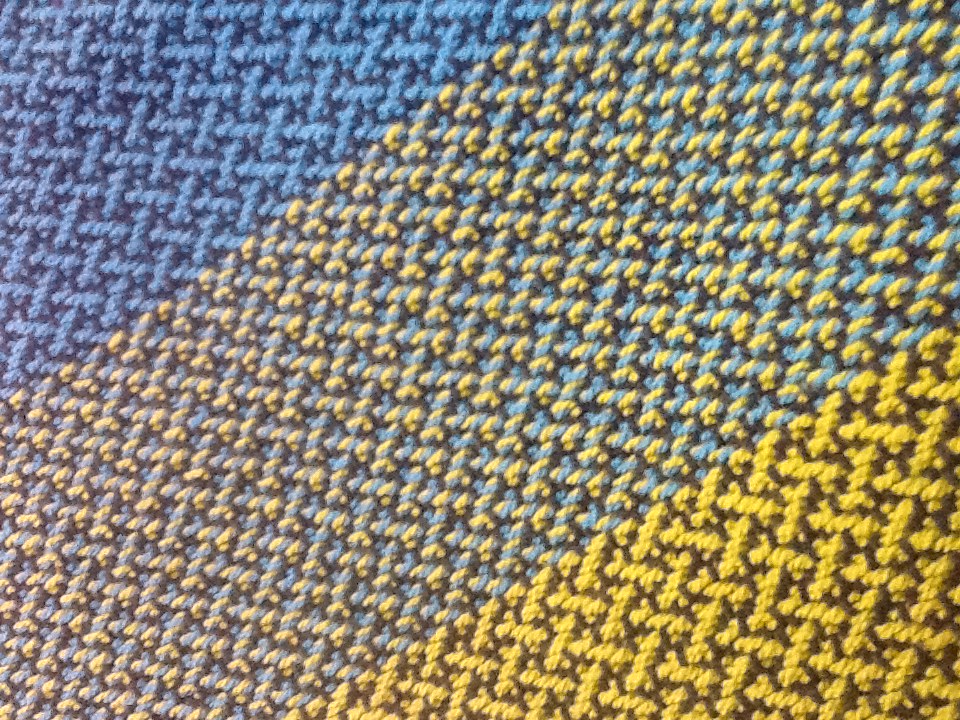 Detail of a series of dishtowel also woven with our 8/2 cotton yarn. This is another 8 harness pattern woven at 24 dpi, but any twill would look good. Warp color are Yellow, Pale Lime, Turquoise Blue and Blue. Weft is Deep Navy.
You may also like the following: