Linen Yarns on Cones
9/2 French Linen Yarn
Nice lustrous linen yarn from France, this yarn is not as hard as other yarns made from flax. Heirloom quality linen yarn for weaving, knitting and crocheting. Perfect for table linens like runners, placemats, with a subtle sheen. Press hard to bring out it's luster to the fullest.
8 ounce tubes. 9/2 linen, 8 ounces 1850 yards. 9/2 is just a bit fine than 8/2, but can be used instead.
10/2 Natural Linen Yarn

This 10/2 Linen yarn is great for a strong rug warp or an understated natural looking weft. This is a dry spun natural linen and has a rougher texture than the French Linen above. Great for natural looking warps, tapestry or rug warps, knitted wash clothes, etc.
Large 16 ounces cones. 1500 yards/Lb. 100% Dry Spun Linen. Natural only. Imported from Belgium.
NEW! Linen-Cotton Slub Yarn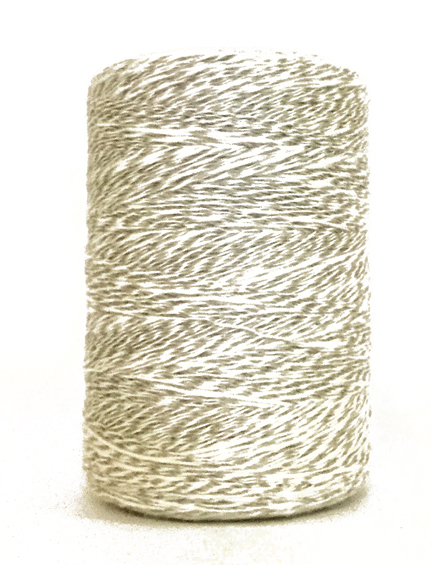 Nicely textured thick and thin, this Linen Cotton blend yarn is very versatile. Great for hand woven placemats, runners, pillows, textured bags or anything were you want some texture. 45% natural Linen, 55% cream Cotton. 8oz tube, 810 yards.
4 Ply Linen Warp Yarn

Heavy linen warp yarn, perfect for heavy rug or tapestry warps. Natural linen color. 100% linen, 8oz tube, 450 yards
Euroflax Linen Yarn Cones
Euroflax Linen Yarn from Louet is custom spun in Belgium, from the finest quality long line flax for a soft, durable product. This linen is steam processed for a rich, smooth, super soft knitting yarn. Euroflax linen gets softer with each use and is an Heirloom quality yarn perfect for hand woven table linens.
Get your favorite linen yarn on a cone and save. This yarn is the same as Euroflax Originals above, just wound on cones, so you have less ends to work in and can save more money. 100% linen. 8 ounces 650 yards
Euroflax Linen Yarn Cones are no longer available.
About Linen Yarn and Fiber...
Linen is the fiber of the flax plant, Linum usitatissimum. Linen is labor-intensive to manufacture, but when it is made into garments, and linen yarn is valued for its exceptional coolness and freshness in hot weather.
The collective term "linens" is still often used generically to describe a class of woven and even knitted bed, bath, table and kitchen textiles. The name linens is retained because traditionally, linen was used for many of these items. In the past, the word "linens" was also used to mean lightweight undergarments such as shirts, chemises, waist shirts, lingerie (a word also cognate with linen), and detachable shirt collars and cuffs, which were historically made almost exclusively out of linen.
The inside cloth layer of fine composite clothing garments (as for example jackets) was traditionally made of linen, and this is the origin of the word lining Linen textiles appear to be some of the oldest in the world: their history goes back many thousands of years. Fragments of straw, seeds, fibers, yarns, and various types of fabrics which date back to about 8000 BC have been found in Swiss lake dwellings.