Mill End Yarns
Check out our selection of value Priced Mill End Yarns on cones! Mill End yarns are perfect for weaving, knitting and crocheting! All yarns featured here are available for a limited time only, so order what you need for your entire project. Save Big! Chances are we may not get it back and once it's gone, it's gone. We will updating this mill ends page often, so check back and see what new Mill End yarns have come in!
Cotton Yarn & Cotton Blends
Cotton-Bamboo Chenille Yarn
Cream colored chenille yarn with a subtle sheen. Perfect for super soft scarves and drapy shawls. Or how about a comfy pillow? 1500yds/lb 50% Cotton, 50% Bamboo We only have a small amount of this chenille yarn, so don't wait too long. Click to enlarge
$21.95
Sale Price $18.95
Rayon Boucle - Ric Rac Yarn
Only three colors left! This mill end boucle weaving yarn is similar to ric rac yarn and great for shawls, scarves, pillows etc. Nice nubby texture and sheen. Choose from six three colors! Add texture and shine to your weaving or knitting with stunning Currant, warm Goldenrod or neutral Oyster. 100% Rayon. 1000 yard per Lb cone. Only $14.95
Acrylic Blend Yarn
NEW! Silver Lurex Blend Yarn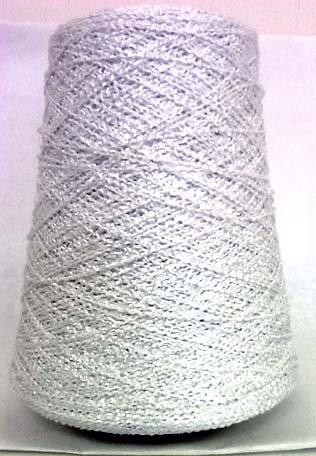 Add a bit of sparkle or go all out with this glitzy yarn! Cream colored yarn with Lurex threads plied in, this combination is a bit tricky to capture in an image. 1800 yards/Lb. Poly/Cotton/Lurex Blend.
Cezanne Novelty Boucle Yarn
Cezanne Novelty Boucle ideal for pillow, throws, totebags, rugs or anything that has to hold up to heavy wear. Acrylic/Poly Blend. This is a colorful, but toned down mill end weaving yarn that incorporates rich hues into a unique color combination. 850 yards/lb, 8oz cones/425 yards. Only $5.95
Linen Yarns
10/2 Natural

This 10/2 Linen yarn is great for a strong rug warp or an understated natural looking weft. This is a dry spun natural linen weaving yarn with a very subtle sheen. 16oz cones only. 1500 yds/Lb. 100% Dry Spun Linen. Imported from Belgium $28.95

All sales are final on Mill End yarns. NO returns, NO exception!