Spinning Wheels
Spinning Wheel Overview
Wikipedia defines a spinning wheel as a device for spinning thread or yarn from natural or synthetic fibers, but it is so much more.
Spinning Wheel Styles: Spinning Wheels are available in many different styles and brands. Generally there are the Saxony style spinning wheels with their sloped bed, the Upright wheels, also called Castle style, and the Norwegian style, with their typical double bench.
Features: Features for each spinning wheel vary from one model to the other, You may want to consider the following: Is the wheel a single or double treadle, and will it be comfortable to treadle and spin on? Is the wheel diameter large, for super smooth spinning, or small for portability? Is the size of orifice important to you? It may be if you are considering spinning Art yarns or chunky yarns. How many bobbins are included with each model? Are additional whorls or flyers available so you can add onto your wheel later? This will allow you to spin anything from fine lace weight yarns to heavy rug yarns and in between.
Choosing a spinning wheel: A new spinner is often overwhelmed by all the choices on the market today. Just simply ask yourself: What kind of yarn do I want to spin? Fine lace yarn? Crazy art yarns/ Or just middle down the road yarns like worsted weight yarn or a bit finer? Should my spinning wheel fold for portability. Check out out spinning wheel tips for more help with these questions.
Spinning Accessories: Most importantly you will need a spinning book or spinning DVD to help you get started spinning yarn. A niddy noddy for winding yarn skeins is also a must have. A ballwinder for winding yarn balls is also nice. If you have your own sheep or alpaca you will need a pair of hand carders for preparing your fleece for spinning and making your own rolags, or a drum carder which will help you card and blend colors and fibers and make a batt.
Joy 2 Spinning Wheel Kiwi 2 Spinning Wheel Traveller Spinning Wheel Country Spinner 2
Ashford Elizabeth 2 Ashford Traditional Ashford Electric Spinner 2
Kromski Prelude Kromski Sonata Kromski Minstrel Kromski Fantasia
Kromski Polonaise Kromski Symphony Kromski Interlude
Louet Victoria Louet Julia Louet Olivia Louet S10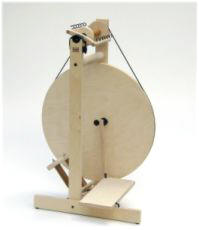 Majacraft Little Gem Majacraft Pioneer Majacraft Rose Majacraft Aura
Majacraft Suzie Majacraft Suzie Pro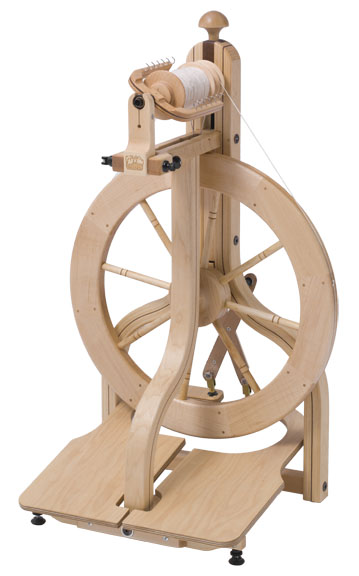 Matchless Ladybug Sidekick 30 & 24" Schacht Reeves
Not sure which Spinning Wheel to choose?
We know it may be confusing and have many spinning wheels here at our store for you to try. Stop by and spin on one (or a few) to find out which wheel you like and which one you love! Can't make it to the store? Give us a call, we can help: 503-538-4741
Spinning Wheel Diagram
A - Drive Wheel
B - Drive Belt
C - Flyer
D - Mother of All
E - Front Bearing
F - Tension Screw
G - Treadle
H - Footman
I - Footman Connector
J - Treadle Bar
K - Sloped Bed
D - Distaff
Please keep in mind that above diagram is for reference only. Spinning Wheel types vary, so some wheel may not have all parts shown in this diagram, but will still spin yarn without them.
My Spinning Wheel Journey
Over twenty years ago when I started to spin yarn, choosing a wheel was easy, there simply was not that much to choose from. In fact my husband made the choice for me, trying to surprise me and not knowing a thing about spinning wheels. The choices in the local shop were limited to the Ashford Traveller and Ashford Traditional, so he chose the later one for me and gave me with my first spinning wheel.
Oh! My! God!
I had long "thought about" getting a spinning wheel, spinning my own yarn, but then, having a huge box plopped in front of me, I was happy, confused and mostly scared that I would not be able to figure out how to spin at all. I had never really seen a spinning wheel up close, did not have any friends who spun yarn and had to "learn" even basic things like that drive wheel turns clock-wise when spinning. And learn I did, in the beginning just happy if my yarn did not fall apart, spinning a lumpy and bumpy yarn that I christened " novelty yarn". But I learned to treadle the wheel evenly, how to steadily draft he fibers in my hand and more. I learned the difference between a sliver and a wool top, worsted and woolen spinning and least but not last how to oil my spinning wheel to keep it in great shape.
That day was the simply beginning of a long time love affair with spinning, yarn and of course fibers. Not only have I fallen completely in love with the soothing rhythm of the spinning wheel, the textures of the various spinning fiber and the ability to spin the yarn in the color and thickness I want, but also built our own spinning and weaving online business and local shop in Oregon from the ground up. With over a decade in business I still get excited when new spinning fibers and rovings come in and new spinning wheel models are introduced.
So, now YOU are ready to jump into the world of spinning! My advice to you: just do it, all else will come and above all just have fun! I know I am....
Bridget