Spinning Wheels
Products > Spinning > Spinning Wheels
Wikipedia defined a spinning wheel: A spinning wheel is a device for spinning thread or yarn from natural or synthetic fibers. But it is so much more! It is not only fun and creative to spin your own yarn but also very relaxing. Generally there are four styles to choose from, the "upright" castle style wheel, the "horizontal" saxony style, the Norwegian style (with a flat bench) and the modern style, for example an electric spinner. All are being produced today by a number of different manufacturers and are available in a variety of models. For more information or help on choosing a spinning wheel see below or give us a call: 503-538-4741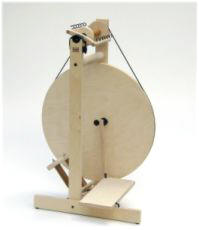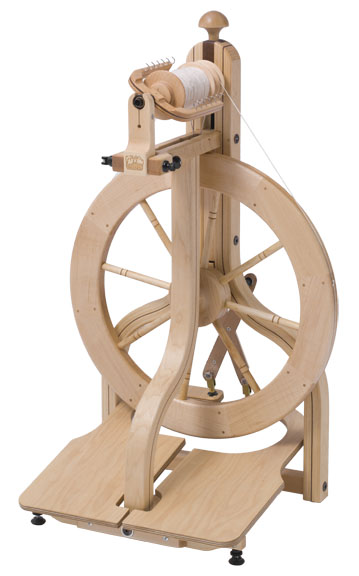 How to choose a Spinning Wheel
You may have tried a friends wheel before, used a drop spindle or are a "brand new" spinner ready to get started.
Either way, you are in for a treat! Today's spinning wheels offer a wide variety of choices and convenience. You can choose from basic no-frills styles, folding spinning wheels or large decorative saxony style machines so you will be able to find one that is right for YOU.
When selecting a spinning wheel remember that the spinning wheel has to suit YOUR needs, not anybody else's. The wheel that your friend cherishes may or may not be right for you. Consider the following before purchasing a spinning wheel:
Portability:
Do you want to take your spinning wheel along to classes, spin-ins etc. Is space a consideration as well? Where will the spinning wheel be stored when not in use? Does it have to fit in a closet or do you have enough space so that it can grace your living room or den? If so, portability might be the key and the most important point for you. Check out the Ashford Joy or the Kromski Sonata?
Comfort and Availability:
Does the spinning wheel you are about to purchase feel comfortable to YOU when you spin on it? Does it treadle quietly? Is changing bobbins easy? Will you be able to "upgrade" your spinning wheel in the future? For example can you purchase a fast flyer or whorl for high speed spinning for your wheel? Will there be replacement parts available should you need them?
Price:
Are you looking for a budget wheel? The no frills Ashford Kiwi, with a comfortable double treadle or the highly decorative single treadle Kromski Prelude will fit any budget.
Esthetics:
What should you spinning wheel look like? If you would have no budget limitation, which spinning wheel would you buy? Do you like the traditional look of a "fairy tale" saxony style wheel like the Kromski Symphony, or do you like the clean modern lines of the Louet wheels? Now, try find a similar looking wheel within your means.
Still Confused?
We know it may be confusing and have many spinning wheels here at our store for you to try. Stop by and spin on one (or a few) to find out which wheel you like and which one you love! Can't make it to the store? Give us a call, we can help: 503-538-4741
How it all began for me
Over twenty years ago when I started to spin, choosing a wheel was easy, there simply was not that much to choose from. In fact my husband made the choice for me, trying to surprise me and not knowing a thing about spinning wheels. The choices in the local shop were limited to the Ashford Traveller and Ashford Traditional, so he chose the later one for me and surprised me with my first spinning wheel.
Oh! My! God!
I had long "thought about" getting a spinning wheel, but then, having a huge box plopped in front of me, I was happy, confused and mostly scared that I would not be able to figure out how to spin. I had never really seen a wheel up close, did not have any friends who spun and had to "learn" even basic things like that drive wheel turns clock-wise when spinning.
That day was the beginning of a long time affair with spinning. Not only have I fallen completely in love with the soothing rhythm of the wheel, but also built our own spinning and weaving online business and local shop from the ground up. With over a decade in business I still get excited when new fibers come in and new spinning wheel models are introduced.
So, now YOU are ready to jump into the world of spinning! My advice to you: just do it, all else will come and above all just have fun! I know I am....
Bridget