Kromski Spinning Wheels
Products > Spinning Wheels > Kromski Spinning Wheels
Kromski spinning wheels have captured the hearts of American spinners today. Check out the folding Sonata, the graceful Kromski Symphony, the modern styled Fantasia and the classic Polonaise, just to name a few. Kromski spinning wheels, with their "old world" styling and charm have been available in the United States for many years. Whether you are a beginning spinner looking for a basic spinning wheel, or an experienced spinner searching for a special model there one of the Kromski spinning wheels is right for you!
Kromski Spinning Wheels
Kromski Interlude Spinning Wheel
Check out this newest addition to the family of Kromski spinning wheels! More compact than the Symphony, larger than the Prelude, the Kromski Interlude is right in the middle. If you are looking for an "antique" looking wheel that is suitable for beginners and experienced spinners, than this is the wheel for you.
Kromski Fantasia Spinning Wheel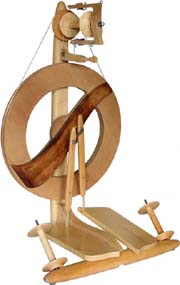 The Kromski Fantasia is compact with modern styling. Changing bobbins is easy - the front of the flyer simply pulls off - no drive band to deal with! Both the flyer and the wheel of the Fantasia spin on sealed ball bearings for a truly smooth feel. The ratios of 5 & 8 to 1 make the Kromski Fantasia spinning wheel perfect for the beginning spinner!
Kromski Sonata Folding Spinning Wheel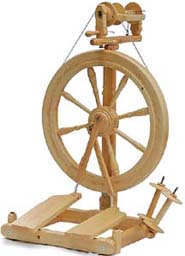 One of our best selling Kromski Spinning Wheels. The Sonata combines the best of two worlds. Decorative, beautiful, "Old World" Kromski design and great spinning capability, paired with a compact folding construction and modern styling. The Sonata weighs only 11.5 pound and folds to a compact 22" x 19".
Kromski Sonata Details
Kromski Prelude Spinning Wheel
The Kromski Prelude spinning wheel is perfect for beginners or perhaps a second Kromski spinning wheel for others. The Prelude has the look of an antique spinning wheel and the high degree of wood turning that the Kromski's are famous for, but it also has all the touches modern spinners expect.
Kromski Symphony Spinning Wheel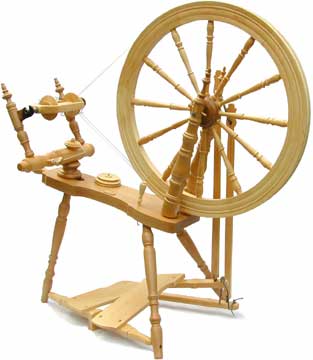 This is one of the most beautiful Kromski spinning wheels and it is fast! The Symphony is the "fairy tale" wheel! The large drive wheel diameter gives this spinning wheel lots of momentum and makes it fast. Double treadles make it easy to use, even for a beginner, and comfortable even for long spinning sessions. One of my favorites! The Kromski Symphony has the details spinners have come to expect with Kromski products - lots of finely turned wood and attention to detail.
Kromski Minstrel Spinning Wheel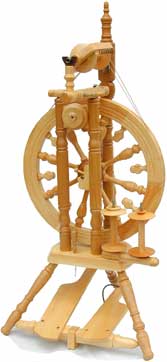 The Kromski Minstrel features a wide, steady base, comfortable double treadle, and an 18' large drive wheel. This is not only a very decorative spinning wheel, but also a great spinner at the same time, like all other Kromski wheels. One of my favorites and one of our best sellers. The Minstrel is a double drive wheel and has a built-in Scotch tension option. A threading hook and extra whorl are conveniently stored up front for easy access.
Kromski Minstrel Details

Kromski Polonaise Spinning Wheel
The Kromski Polonaise spinning wheel has the look of wheels from the Baltic area of Poland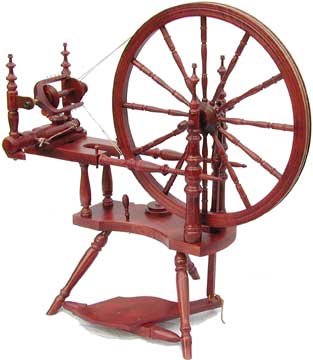 and Scandinavia. This will be a plus for spinners wanting the "real thing" and for the growing community of re-enactors. The amount of decorative turning on the Polonaise is substantial, making it a sight to behold. The level of detail and turning is breathtaking and makes this the queen of all Kromski spinning wheels. No other wheel being made today comes close to this level of detail.

Can't make it to our store in person?
Watch this Kromski overview showcase and all
Kromski Spinning Wheels
in Action and find out why these spinning wheels are so popular!
Kromski Spinning Wheel Accessories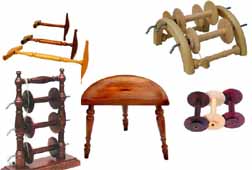 Kromski spinning wheel supplies: Kromski bobbins, niddy noddies, lazy kates, jumbo flyer kits, spinning stools, fast flyers and more!
Kromski Spinning Wheel Accessories
Kromski Spinning Wheel Ratios Comparison Chart

Beginning Spinners Question:
I have a new spinning wheel. What else do I need to get started spinning yarn?
Fiber for spinning - a wool roving would be ideal as it is easier to learn to spin with
A good spinning book or spinning DVD that shows you how to get started spinning
A large Niddy Noddy would also be nice so that you can wind a skein of yarn easily, but a baking sheet will also work in a pinch.
Check out our Spinning FAQ for other spinning wheel related questions.