Kromski Sonata Spinning Wheel
Products > Spinning Wheels > Kromski Spinning Wheels > Kromski Sonata
Kromski Sonata Spinning Wheel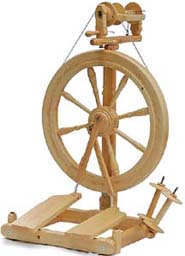 The Kromski Sonata spinning wheel combines the best of two worlds. Decorative, beautiful, "Old World" Kromski design and great spinning capability, paired with a compact folding construction and modern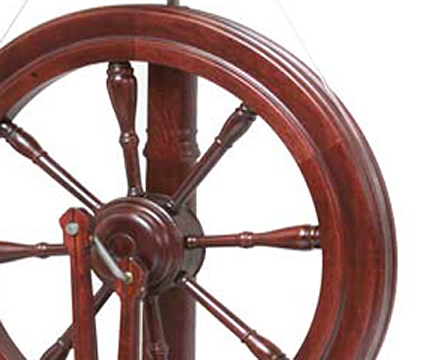 styling. The Sonata spinning wheel weighs only 11.5 pound and folds to a compact 22" x 19". A generous, well padded bag is included as well, so you can take your wheel, accessories and fiber wherever you go. Heavy duty padding, shoulder strap, carry handle and outside pocket for spinning accessories make this bag on of the best on the market.

The scotch tension on the Sonata offers the ratios of 6.7, 12.5 and to 1 and the wheel has an orifice height of 30". The Kromski Sonata spinning wheel includes three bobbins and a built-in lazy kate (bobbin holder) and threading hook. Choose from unfinished, clear, mahogany (top right) or walnut finish (right). It offers the ratios of 6.7, 12.5 and 14 to 1.
You can also add two additional flyers, a fast flyer for fine spinning and a jumbo flyer for chunky art yarn. Your Kromski Sonata spinning wheel will grow with you as your spinning skills advance. FREE shipping plus FREE stuff (see below)!


Kromski Sonata Spinning Wheel Special
Choose ONE FREEBIE with purchase!
Find out more about the
Kromski Sonata Spinning Wheel
and watch one of these instructional videos or view the
Kromski Sonata assembly PDF
.
You may also like the following: