Kromski Spinning Wheel Accessories
Products > Spinning > Spinning Wheels > Spinning Supplies > Kromski Spinning Supplies
Looking for Kromski bobbins, niddy noddies, jumbo flyer or lazy kates? You have found the right place! We have lot's of Kromski spinning wheel supplies to choose from.
Kromski Niddy Noddies
You can't spin without having a Niddy Noddy and with three sizes and up to four finishes, it is easy to choose the one for your yarn. Nice decorative niddy noddies in three sizes.
The large Kromski Niddy Noddy makes a 70" skein, the medium makes a 45" skein and the small one a 30"skein. Unfinished, Clear finish, Mahogany finish or Walnut finish.
Kromski Bobbins
All Kromski bobbins fit all Kromski spinning wheels. Just pick your finish.
Kromski Jumbo Bobbins
To be used with the Kromski Jumbo Flyers. These bobbins will not fit regular flyers. For any Kromski wheel.
Kromski Jumbo Flyer Kits
Kromski Jumbo Flyer Kit for Symphony & Polonaise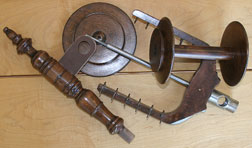 Kromski Jumbo Flyer Kit includes front maiden, jumbo flyer, whorl and one jumbo bobbin. Spin heavier yarns, novelty yarns or simply use for plying with this jumbo kit and a huge bobbin!
Choose from jumbo flyer kits for the Symphony or Polonaise only. Other jumbo kits below. Extra jumbo bobbins can be ordered above.
Kromski Jumbo Flyer Kits for Kromski Sonata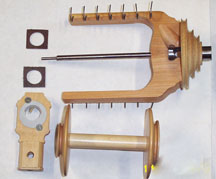 Kit includes flyer, one jumbo bobbin and front maiden. Ratios of 5, 7.5 and 10 to 1. For Sonata spinning wheel only.
Kromski Jumbo Flyer Kit for Minstrel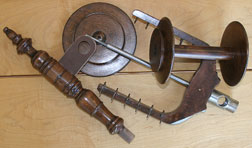 This Jumbo Kit includes flyer, one jumbo bobbin and front maiden. Ratios of 5, 7.5 and 10 to 1. For newer Minstrels only. The design on the Minstrel has changed over time.
Please call us if you need a Jumbo flyer for an older Minstrel.
Please only order this item if "the front maiden "post" on your Minstrel has a threaded rod out of the bottom with a brass nut to secure it to the mother of all base".
Kromski Sonata Fast Flyer
Increases your ratios to 12, 16 and 18 to 1. This flyer uses the regular Kromski bobbins. For Sonata only
Kromski Fantasia Ring Orifice Kit
Spin thick and chunky yarns with this little kit. Kromski has added an option for the Fantasia that lets you spin and ply jumbo size yarn without the added ex
pense of a jumbo flyer or bobbin.
The orifice ring easily attaches to the regular orifice, and the jumbo hooks are used in lieu of the original sliding hooks and fixed hooks at the back of the flyer (just remove the fixed hook; the new hooks will be used for all of your spinning).
Kromski Fantasia Whorls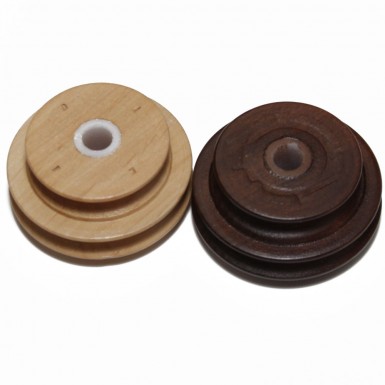 Additional whorls for the Kromski Fantasia provide higher ratios for spinning finer yarns. Choose your color and ratio.
Kromski Symphony & Polonaise Whorls
Slow and fast whorls for the Kromski Symphony and Polonaise. Choose your color and ratio.
Kromski Minstrel Whorl
Slow whorl for the Kromski Minstrel. Choose your color.
Kromski Lazy Kates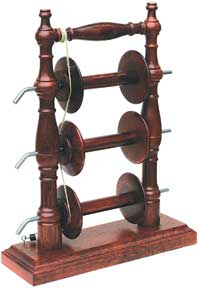 Choose from upright or arched styles. Both lazy kates hold up to three regular bobbins and have a tension device, your your bobbins behave!
Kromski Nostepinnes
Come try this simple wooden ball winder! Easy to do and use. Just carry the nostepinne in your spinning bag and you are ready to wind anywhere.
This is the low tech way to wind a center pull ball in a simple figure eight pattern and also a pretty spinning wheel accessory.
Ashford Finishing Wax
Good things come in s
mall packages. This easy to use Ashford finishing wax is not a Kromski product, but great on all unfinished Kromski spinning wheels. Don't let a smelly finishing product drive you away from your spinning wheel. This low odor wax finish has only a faint vanilla scent can be used indoors without annoying smells. (we even used this on a closet shelf and it worked out great!) Use this natural wax to finish any unfinished spinning wheel or loom or any natural wooden items. Kit includes Scotch brite pad and even though the can it comes in seems small, there is enough to finish two spinning wheels...does that mean you have to buy another wheel?
$26.95
About the Makers for Kromski Spinning Wheels...
The Kromski's of Wolsztyn, Poland, have been wood turners and wheel workers for three generations. The Kromski spinning wheels, with characteristic "old world" styling and charm have been available in the United States for many years. Whether you are a beginner, looking for a basic spinning wheel, or a spinner searching for a folding spinning wheel, there is a Kromski wheel for you!
Combining excellent craftsmanship and features for today's demanding spinners, the Kromski spinning wheels and related products are an exceptional value and a favorite among spinners. Even little details like a threading hook for the Fantasia are created with attention to detail. Or come with us to Poland and visit with the Kromski's and some of their employees. Visit the Kromski Factory