Kromski Minstrel Spinning Wheel
Products > Spinning Wheels > Kromski Spinning Wheels > Kromski Minstrel
Kromski Minstrel Spinning Wheel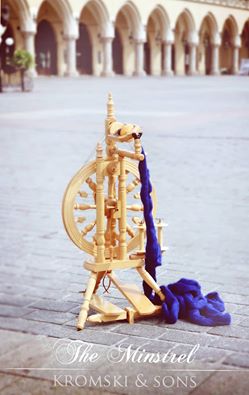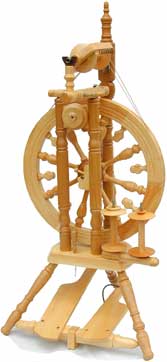 The Kromski Minstrel features a wide, steady base, comfortable double treadle, and an 18' large drive wheel. This is not only a very decorative spinning wheel, but also a great spinner at the same time. One of my favorite Kromski spinning wheels and one of our best sellers.
The Kromski Minstrel is a double drive wheel and has a built-in Scotch tension option. A threading hook and extra whorl are conveniently stored up front for easy access.
The Kromski Minstrel has no plastic parts and features brass bearings on wheel shaft and leather bearings on flyer.
Wheel diameter 18", orifice height 33", complete with 3 bobbins. Each bobbin holds up to 4oz of fiber or yarn.
Also includes threading hook, attached Lazy Kate and bottle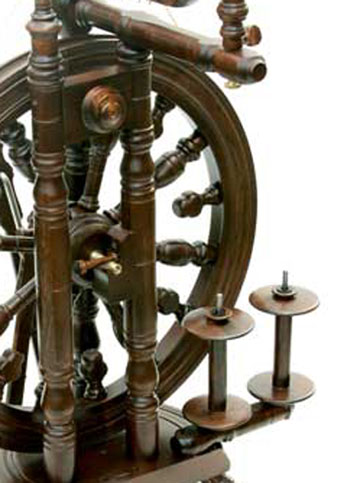 of spinning wheel oil. Kromski Minstrel ratios: 6.5, 8.5, 12 and 16 to 1; two whorls included, weight - 13 lbs.
Kromski Minstrel Spinning Wheel Special-
FREE items with purchase of Minstrel
Please choose ONE FREEBIE with purchase!
Kromski Minstrel Spinning Wheel Specifications:
Wheel Diameter: 18 inches
Orifice Circumference: 3/8"
Standard Whorl Ratios: 6.5, 8.5, 12 & 16:1
Additional Jumbo Whorl available: 4.5:1
Jumbo Flyer Kits & Fast Flyer Kits available
Durable brass bearing on treadles
Total Weight: 12 Lbs
5 Year Manufacturer Warranty
Kromski Minstrel Jumbo Flyer Kit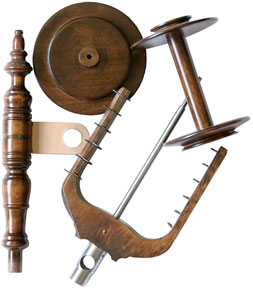 This Jumbo Kit includes flyer, one jumbo bobbin and front maiden. Ratios of 5, 7.5 and 10 to 1. For newer Minstrels that have a nut under the front maiden connection it to the mother of all. The design on the Minstrel has changed over time.
If your Minstrel does not have this this nut or if you are not sure please follow this link for more information http://kromskina.com/extra-flyers-for-double-drive-wheels/
If you have determined that your maiden looks like style one or two in the link you can still order this flyer, but will have to do some woodworking to make it fit.
NEW! Kromski Great Jumbo Flyer Kit for Kromski- Minstrel only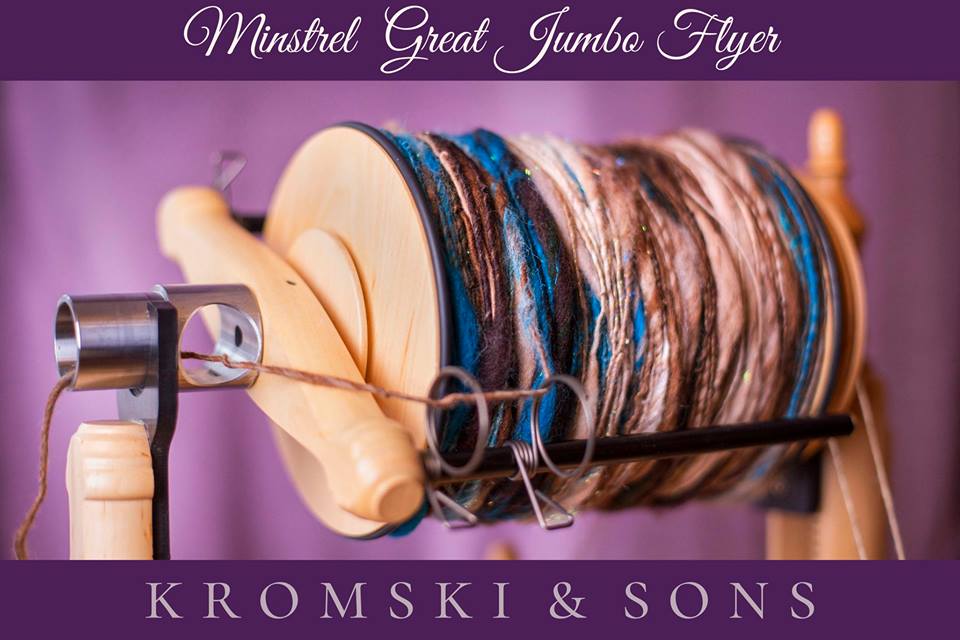 This Super large jumbo flyer kit has six times the capacity of regular Kromski bobbins!
Spin chunky Art Yarn with anything you like. Orifice diameter of 1 1/16".
The Kromski Great Jumbo Flyer Kit includes a great jumbo flyer, two great jumbo bobbins, two great jumbo drive bands, a new front and rear maiden and a new on-board lazy kate arm.
Please note: The great Jumbo Flyer is bigger than the the jumbo flyer
Kromski spinning wheel accessories can be found on a separate page.
Find out more about the Kromski Minstrel Spinning Wheel and watch one of these instructional videos or view the Kromski Minstrel assembly PDF.
You may also like the following: