Kromski Fantasia Spinning Wheel
Products > Spinning Wheels > Kromski Spinning Wheels > Kromski Fantasia
Kromski Fantasia Spinning Wheel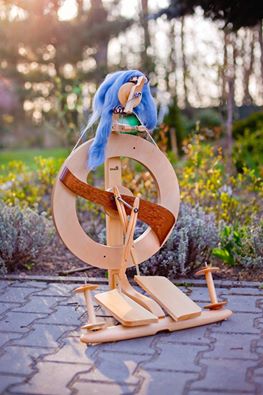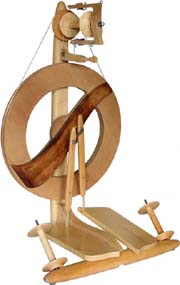 The Kromski Fantasia spinning wheel is light weight and has a sleek modern design. The "swoosh" on the wheel is not only decorative, but also balances the drive wheel ensuring that on treadle is always down when you stop treadling, so it is easier for you to start the wheel spinning with only your feet.
Changing bobbins is easy- the front of the flyer simply pulls off - no drive band to deal with! A rare earth magnet inside the flyer makes it possible. Both the flyer and the wheel of the Kromski Fantasia spin on sealed ball bearings for a truly smooth feel.
The ratios of 5 & 8 to 1 make the Kromski Fantasia spinning wheel is perfect for the beginning spinner! Additional whorls are available separately.
The Kromski Fantasia is made of European alder, birch and has a MDF wheel. (finished m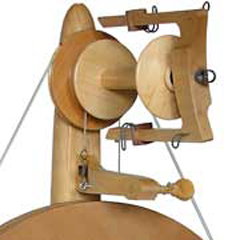 odels have an MDF wheel faced with veneer) Available in clear or walnut finish or unfinished.
The Kromski Fantasia spinning wheel comes complete with three bobbins, built-in lazy kate, threading hook, oil bottle and instructions.
FREE Shipping!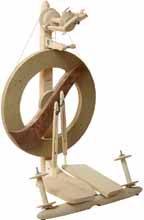 Find out more about the Kromski Fantasia Spinning Wheel and watch one of these instructional videos or view the Kromski Fantasia assembly PDF.
Kromski Fantasia Spinning Wheel Showcase Video
Kromski Fantasia Spinning Wheel Specifications:


Wheel Diameter: 18 inches
Orifice Circumference: 3/8"
Standard Whorl Ratios: 5 & 8:1
Three additional Whorls available: 10 &14:1, 18 & 20:1, Jumbo Whorl: 4 &6:1
Jumbo Flyer Kits available
Durable brass bearing on treadles
Total Weight: 12.5 Lbs
5 Year Manufacturer Warranty



Kromski Fantasia Jumbo Flyer Kit
Spin thick and chunky yarns with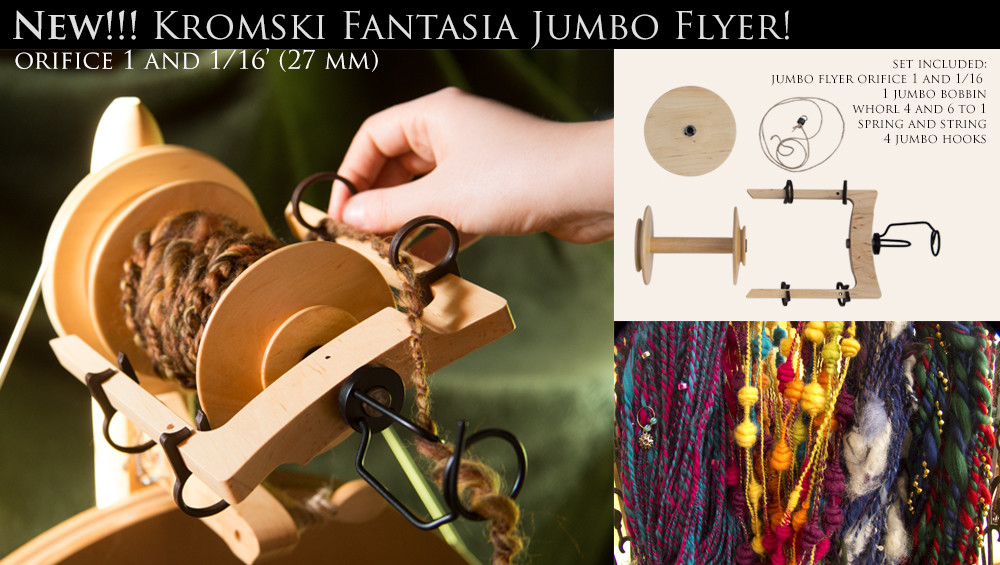 the Kromski Fantasia Jumbo Flyer kit. Jumbo Orifice is 1- 1/16 inches in diameter for even the thickest yarns. The whorl in this jumbo flyer kit has ratios for 4 and 6 to 1.
Complete with one jumbo bobbin, scotch tension spring and string and four jumbo hooks for the flyer.
Please choose your finish.
Kromski Fantasia Ring Orifice Kit
This is an adaptor for your regular flyer. If you are looking for a jumbo flyer kit, please select the kit above.
Kromski has added an option for the Fantasia that lets you spin and ply jumbo size yarn on your regular flyer. The orifice ring easily attaches to the regular orifice, and the jumbo hooks are used in lieu of the original sliding hooks and fixed hooks at the back of the flyer (just remove the fixed hook; the new hooks will be used for all of your spinning).
Kromski Fantasia Whorls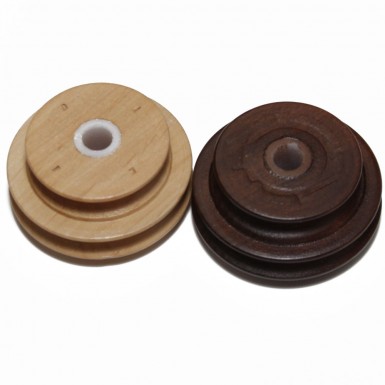 Additional whorls for the Kromski Fantasia provide higher ratios for spinning finer yarns. Each whorl has two ratios, either 10 and 14:1 or 18 and 10:1. Please choose your finish and ratio below.
You may also like the following: