Majacraft Spinning Wheels
Products > Spinning > Spinning Wheels > Majacraft Spinning Wheels

Crafted with pride, Majacraft spinning wheels offer a unique spinning experience. Not only are they built to be beautiful, but great care has been taken to ensure they are ergonomically designed to fit your body and your spinning style. Most styles allow you to place the flyer on the right or left side for even more convenience.
Majacraft Aura Spinning Wheel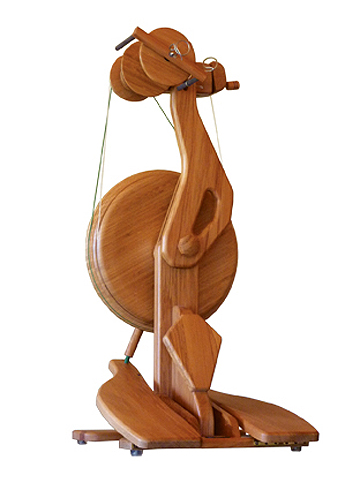 The Majacraft Aura is here! A new way of looking at double drives and a new way of looking at spinning. Designed from the ground up, the Aura has new style and presence while still retaining the classic Majacraft look. The Aura has two independent drive bands, one for the flyer and a second for the bobbin.
The flyer drive has three different ratios and the bobbin drive has two ratios plus infinite adjustment. The Aura spinning wheel has a new dual function orifice. Finer yarns can be held still in the delta part of the orifice.
Majacraft Aura Details
Majacraft Rose Spinning Wheels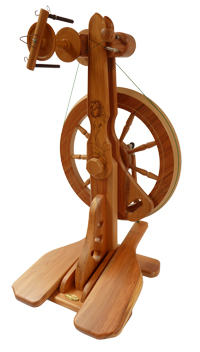 The Majacraft New Generation Rose is a classic wheel for every spinner. With its spoked wheel and engraved rose motif, it is elegant with a traditional feel. It is super-easy to use and yet still has the ability to carry out any spinning technique you can imagine.
The lines of the Rose are beautifully smooth and elegant. The motif has been redesigned by Tauranga artist Sharon O'Callaghan and the whole wheel has a very romantic feel to it. It is simple to assemble, easier to use and more reliable than ever.
Majacraft Suzie Spinning Wheel
The Suzie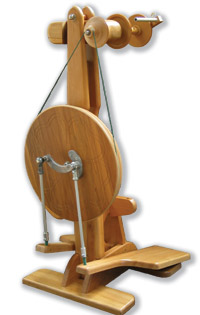 is the original Majacraft double-treadle spinning wheel. It spins beautifully and is crafted in attractive New Zealand Rimu. All Majacraft spinning accessories fit on the Suzie making it very versatile.
The Suzie offers true, smooth double treadle action that makes spinning effortless and a built in lazy kate.
Majacraft Suzie Pro Spinning Wheel
Majacraft also produce the Suzie Professional model with a green MDF wheel and whorl. The drive wheel is heavier and slightly larger than the Rimu veneer drive wheel of the Suzie. It gives smoother spinning with greater inertia and is a favorite of many spinners.
Majacraft Little Gem Spinning Wheel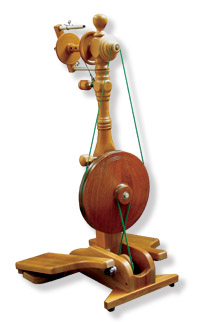 The Majacraft Little Gem spinning wheel is a state of the art travelling folding wheel. It folds down quickly and comes complete with three bobbins, travelling lazy kate and padded bag with straps and carrying handle.. The Little Gem easily handles tasks of spinning and plying wool, mohair, silk etc. The Majacraft Little Gem, although small and incredibly light (around 4kgs or 10lbs)
Majacraft Little Gem Details
Majacraft Pioneer Spinning Wheel
Th
e Pioneer has been designed by Majacraft to be a highly affordable spinning wheel. The wide range of ratios, a versatile Delta Flyer and easy to use Scotch Tension System will make spinning a dream! The head can be adjusted in a similar way to the Little Gem so you can customize the orifice position to fit your style and body. The Majacraft Pioneer is entirely constructed using solid pine and has a MDF drive wheel, as well as a honey-colored oil finish.
Majacaft Pioneer Details
Majacraft Spinning Wheel Accessories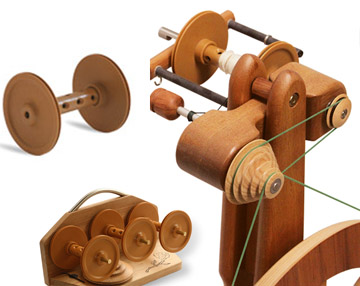 Majacraft offers a wide range of wooden or plastic bobbins, flyers and spinning accessories for your wheel.
About Majacraft Spinning Wheels....
Because of the handwork required, every Majacraft spinning wheel is different and may not look exactly like the next wheel. They each have a different character and the charm of an individually crafted wheel.
Majacraft wheels are constructed from the highest quality of materials and include features like:
- roller bearings
- stainless steel flyer shaft
- ultra smooth brass hinges for the pedals
- New Zealand Rimu wood that is matured and dried before manufacture
- flyer is balanced by hand to ensure smooth spinning at all speeds
- All wooden components receive three coats of lacquer and are hand rubbed between each coat
- variable spinning ratios so you can spin at any spinning wheel with no extra effort (typically 3:1-18:1)
- every wheel is individually tested at different spinning speeds before leaving the factory.
- personally signed by a member of our family and given a unique identification number.