Majacraft Aura Spinning Wheel
Products > Spinning > Spinning Wheels > Majacraft Spinning Wheels > Majacraft Aura
Majacraft Aura Spinning Wheel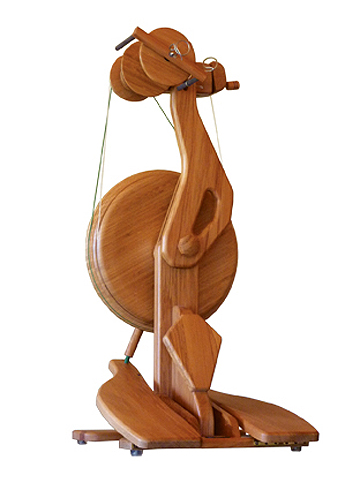 The Majacraft Aura is the spinning wheel for spinning Art yarns! The unique orifice lets you spin coil yarns, thick and chunky and core spun yarns. It offers a new way of looking at double drives and a new way of looking at spinning. Designed from the ground up, theAura spinning wheel has new style and presence while still retaining the classic Majacr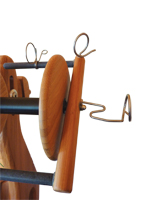 aft look. Like all other Majacraft spinning wheel it also folds and has a convenient carry handle.
What sets the Aura apart is that it has two independent drive bands, one for the flyer and a second for the bobbin. The flyer drive has three different ratios and the bobbin drive has two ratios plus infinite adjustments. The Majacraft Aura spinning wheel has a new dual function orifice. Finer yarns can be held still in the delta part of the orifice. This also has the function of holding coil yarns very still so you can observe your work. You can bypass the delta and use the large halo ring for spinning huge yarns.
With the new double drive, the Aura can spin anything that can be pulled through this orifice! The new folding handle design has the grip in a new location and special bumpers on the handle to keep the spinning head away from the pedals when you fold it down. All existing Majacraft flyers fit on the Aura, so if you already have one from another wheel you can use it too! Also, all wood bobbins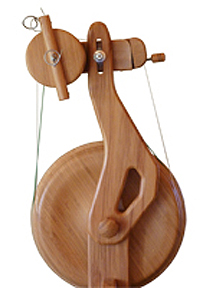 produced after April 2010 will fit as well.
The Aura is constructed out of New Zealand Rimu wood with a solid bamboo drive wheel. It weights 16.5 lbs. and has a 13" wheel diameter. Ratios are: 4.1, 5.4, & 7.3 :1. Complete with three jumbo wooden bobbins.
Majacraft wheels ship FREE to the US and Canada. Your Majacraft spinning wheel will ship to you directly from the manufacturer per air mail. They usually ship within 4 to 8 weeks.
You may also like the following: