Jacquard Acid Dyes
Perfect for Dyeing Wool, Alpaca & Silk
Want to dye your yarn or wool, alpaca or silk the easy way? Try Jacquard Acid dyes that are easy to use and mix and at the same time easy on the budget too.
Jacquar
d acid dyes are concentrated hot water dyes that make the most vibrant colors on protein fibers (all animal fibers). Jacquard Acid Dyes will dye yarn or fibers and fle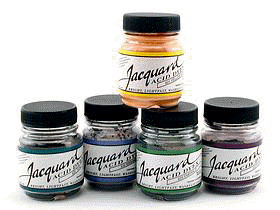 eces, silk, wool fibers, cashmere, alpaca, feathers, and most nylons easily and are also great for overdying.
Don't be alarmed by the name Jacquard Acid Dye, the only acid involved is the vinegar that you add yourself. Packaged in convenient, re-closable 1/2 oz. jars, Jacquard Acid Dyes will dye about two pounds of fiber, fleece, yarn or fabric to full strength, more if you mix your own lighter shades. Jacquard Acid Dyes are extremely brilliant and colorfast. If you can do a load of laundry, you can use these dyes. It's that easy.
In addition to garment dyeing in a washing machine, you can use the Jacquard Acid Dyes to paint or print.
You can also dye wool fibers in rainbow batts with Jacquard Acid Dyes, using the stove top method.
Remember: every monitor displays colors differently. Use this color chart only as a general guide.
Jacquard Acid Dyes $5.25 each will dye up to 2 Pounds of Fiber, Yarn or Garments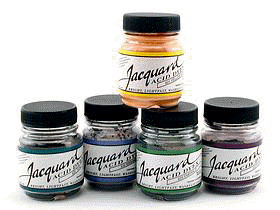 Jacquard Acid Dyes are easy to use and economical! They are ideal for wool, silk, alpaca, llama and all other and protein fibers!
Each 1/2 ounces jar of jacquard Acid Dye will dye about 2 Lbs of fiber to full strength. Primaries are Yellow Sun, Cherry Red and Sky Blue.
Rainbow Dye Kit
Have a D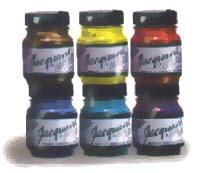 ye Party! Fun Rainbow Dye Kit contains six dyes that can be blended to achieve even more colors. This handy kit includes instructions for multicolor rainbow dyeing, or dye solid colors if you like. Our Jacquard Dye Kit contains three primary colors (Sun Yellow, Cherry Red and Sky Blue) and three secondary colors (Deep Orange, Violet and Emerald). Each kit contains enough dye to color TWELVE!!! pounds of fiber, fleece or wool. Now there is no reason not to be dyeing wool! A SUPER value! and a great way to try our dyes!
The Ashford Book of Dyeing, Revised Edition
This classic bo
ok has been completely updated and revised and offers a wealth of information. Packed with information about preparing your fabric or fiber for dyeing, natural dyes and recopies, chemical dyes for protein and cellulose fibers, dye baths for yarns and fabrics. The Ashford book of Dyeing by Ann Milner, is a comprehensive introduction to dyes and the wonderful world of color. There are detailed explanations of dyes and recipes for their use. Whether you are a spinner, weaver, knitter or textile artist, novice or more advanced in your craft, there will be something in the Ashford Book of Dyeing to extend your ideas.
A Dyer's Garden
A Dyer's Garden touches on the history and nature of dye plants and walks you through a garden season from design to planting to harvesting for the dye pot. For everyone who wants to grow their own natural dyed stuff. Paperbound, 6 x 7 1/4, 112 pages, color photographs.
Currently out of print.
Basic Directions for Jacquard Acid Dyes
Don't let the name fool you…Acid Dyes do not contain acid or any other harmful chemicals. In fact, it has a neutral pH, like water. The only thing acidic is the white vinegar that you add. Jacquard Acid Dyes are the dye of choice for silk, wool, nylon, feathers or any protein fiber.
Versatility
Jacquard Acid Dyes are extremely brilliant and colorfast. If you can do a load of laundry you can use these dyes. In addition to garment dying in a washing machine you can use it to paint, print or airbrush.
Economy
One half once of Jacquard Acid Dyes will color about two pounds of fiber or fabric. Yardage will vary by weight and with of fiber or fabric.
Safety
Jacquard Acid Dyes are considered non-toxic when used properly. Common sense and good housekeeping should be used when handling any dye or chemical. Jacquard Acid
Stove Top Method
Soak to be dyed fabric, yarn or wool in cold water for at least 20 minutes. Wring out excess water. Fill a large metal pot with water and add dye. Make sure all the dye is dissolved before adding fiber or yarn. Distribute evenly. Add about ¼ cup of vinegar. Heat to 180 F for ½ hour. Vigorous stirring will cause your woolen fiber or yarn to felt, so this is to be avoided. Remove from dye bath and cool to touch. Rinse in water and soap of the same temperature until final rinse water is clear. Sudden temperature changes of the rinse water will result in felting.
Washing Machine Dyeing for Fabric
Don't use for woolen fibers unless they are Superwash
Using the washing machine for small amounts of fabric because it is convenient and results are reproducible. The variables in dyeing are temperature, dye concentration, time and amount of fabric. The washing machine maintains consistent time, temperature and agitation so the amount of dye and fabric are the only thing you need to be concerned with.
Set the washing machine to gentle cycle, hot wash/cool rinse and fill to the lowest level appropriate for the amount of fabric dyed. Add dye powder and agitate until dissolved. Some dye colors are more dense than others, so use ½ jar for one pound of fabric. ¼ jar for ½ pound of fabric, etc. Add clean fiber and agitate two minutes. Add one cup of vinegar being careful not to pour directly onto fabric. Before wash cycle is complete, turn machine off and examine fabric. Fabric looks much darker wet than it does dry. To test your results, dye a scarp of material with your main load and dry with a hair dryer. At this point, you may let the machine continue through its cycle or start again; adding more dye if desired to increase depth of the shade. Wash in cool water and liquid soap.
Also try Jacquard Procion Dyes for Cotton, Linen and all other plant fibers