Wool for Spinning
Looking for wool for spinning and felting? We have over 100+ colors of dyed wool top, carded wool sliver and roving on this page. We also have natural wool fibers and unusual spinning fiber like bamboo and angora.
Combed Wool Top
Fine Merino Wool Top
Fine 64's, 21.5 micron merino wool top. These super-soft combed merino wool fibers are ideal for spinning and felting. Because this is a combed wool top you only get the long fibers of the merino fleece, all the short ones and the noils have been taken out so it will be easier for you to spin an even yarn that will wear great and pill less than a yarn spun from carded wool roving.
Mix and match with the multi color merino wool top below for even more fun. Great Britain. Perfect for felting too! 4 ounces $10.95 or 8oz $18.95
Fine Multicolor Merino Wool Top
NEW Colors
We just love this multicolor wool! A joy to spin, these fine merino wool fibers are soft and perfect for treating yourself! Thia multi color merino wool top is perfect for spinning since it will help "hide" little spinning mistakes and will add interest to your spun yarn. Because this is a combed wool top, you only get the long fibers, all the short ones and the noils have been taken out so it will be easier for you to spin an even yarn that will wear great and pill less than a yarn spun from carded wool roving. Watch the multicolor spinning fibers blend as you spin. You will want more than just one color. Great Britain. 4oz only $12.95 or 8oz $21.95
Merino-Silk Fiber Blends
This merino-silk fiber blend from Ashland Bay has more silk than other silk blends! Check out this super soft scrumptious spinning fiber with a soft "buttery" feel. Watch the colors blend as you spin this fiber into yarn. The merino will give your yarn softness and the silk will give it strength and a luxurious feel, so you can even spin it into a superfine yarn if you like.
This is the perfect fiber if you are looking for something special. It is also great for felting scarves and nuno felting etc. Choose from 10 awesome colors. 70% soft merino and 30% tussah silk. Great Britain. 4oz only $12.95
Hand Dyed Corriedale Wool
Treat yourself with these unique color ways! Choose from stunning blue-green color combinations, sizzling reds, enchanting vineyard and others. Our hand dyed wool top is created small batches to ensure controlled dyeing. Be sure to order enough hand dyed wool for your project as colors will wary from batch to batch! Instructions how to use this variegated wool are included. Also great for felting! Spice Island wool top shown to far left, Monet's Garden spun into yarn shown to left.
4oz $12.95 8oz $23.95
Carded Wool Roving
Ashford Felting Wool Sets
These four Felting Wool Sets from Ashford are perfect for spinning and felting if you want small amounts of wool roving in many colors. 14oz total of carded Corriedale Wool Sliver in 12 colors. $43.95
Set 1: moss, navy, marigold, fir, eggplant, pumpkin, teal, lilac haze, nutmeg, sky blue, rose & berry.
Set 2: periwinkle, black, copper, camel, lima bean, chocolate, blue, green, magenta, orange, purple.
Set 3: turquoise, yellow, red, candy, indigo, lagoon, lime, lavender, lemon, pansy, raspberry, tangerine.
Set 4: Cherub, Ice, Mint, Cupcake, Sweet Pea, Honey, Butterscotch, Toffee, Olive, Cherry Red, Amethyst and Fern Green.
No image available
Ashford Corriedale Sliver Fiber Packs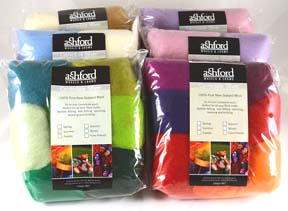 Convenient seven color packs of Ashford's popular 30 micron Corriedale Sliver pre-packaged in 100gm bags. The Ashford Corriedale Sliver is made of 100% pure New Zealand wool. It is perfect for all your fiber crafts including needle felting, wet felting, spinning, blending and carding. There are 6 collections to choose from - Summer, Autumn, Winter, Spring, Pastels and Furry Friend.
Summer - green tea, kiwifruit, bean sprout, lime, mint, spearmint, green
Autumn - scarlet, orange, purple, magenta, tangerine, chilli pepper, raspberry
Winter - white, bubblegum, indigo, lagoon, blueberry, lilac, blue
Spring - cupcake, candy floss, marshmallow, pansy, strawberry shortcake, grape jelly, lavender
Pastels - white, honey, mint, lavender, cupcake, ice, apricot
Furry Friends - white, grey, chocolate, butterscotch, toffee, cookie, liquorice
Hand Dyed Potluck Wool Roving
Spinning yarn is easy with this wool roving! Potluck roving is great for spinning and felting and many exciting and fun fun color ways. This wool is lofty and feels similar to Corriedale wool. Potluck roving is great for a beginning spinner since it is easy to draft and makes a bouncy fluffy yarn with a lot of loft. This roving is a blend of high quality domestic virgin wools. It is hand dyed in small lots in the Pacific Northwest and then blended into unique color ways. Potluck roving colors may vary within a dye lot, so spin from multiple balls for more uniform colored yarn 8 ounce balls. $17.95
Granite Iris Lavender Mulberry Paradise
Misty Mountain Moody Blue Night Sky Ocean Mudpuddle
Party Time Vine Maple Purple Haze Stormy Sea Pumpkin Spice
8 oz Ball $17.95 ea Quantity
Special Purchase: Dyed Corriedale Wool Top
We have made a special purchase and are passing the savings on to you! Nice dyed Corriedale wool top. We only have 20 lbs of each color so hurry! Steel Grey and Kiwi only.
This one won't last!