Majacraft Suzie Spinning Wheel
Products > Spinning > Spinning Wheels > Majacraft Spinning Wheels > Majacraft Suzie
Majacraft Suzie Spinning Wheel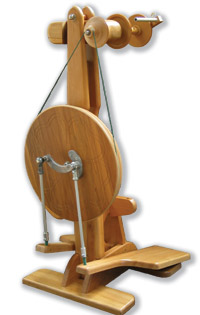 The Suzie is the original Majacraft double-treadle spinning wheel. It spins beautifully and is crafted in attractive New Zealand Rimu with a decorative laser engraving on the upright. Like the Rose and Aura, you can customized the Suzie by installing the flyer on the left or right side as well adjust the height of the flyer. In addition you can fold the Suzie, just unscrew the center knob and the head swivels down while the convenient carry handle swivels up.
This wheel also features a built-in lazy kate and a delta orifice (no threading hook required). Like all Majacraft spinning wheels the Suzie offers true, smooth double treadle action that makes spinning effortless. All Majacraft spinning accessories, like additional flyers and whorls, fit on the Suzie making it very versatile.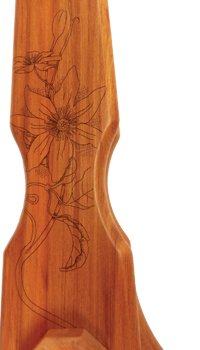 Some of the features of the Suzie are: Double heel and toe treadling action, frictionless sealed ball bearings, sliding hook flyer. Ratios from 4 to 16: 1, other whorls available. Five main ratios available on each whorl. Comes complete with four (4) bobbins.
Majacraft wheels ship FREE to the US and Canada. Your Majacraft spinning wheel will shipped to you directly from the manufacturer per air mail. They usually ship within 4 to 8 weeks.
You may also like the following: