Ashford Wild Drum Carder
Products > Spinning > Drum Carders > Ashford Wild Carder
Take your carding to the Wild Side! The Ashford Wild Carder is specifically designed for blending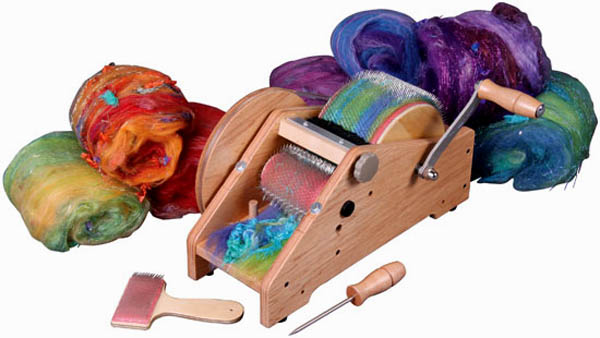 and creating exciting fun, funky and wild batts for spinning and felting. Create unique blends with "added extras" such as fibers, fabrics, ribbons, feathers, noils, cocoons, paper and more....
The Ashford Wild Carder features a built-in adjustable packer brush (brush attachment) - this packs fiber more efficiently onto the large drum and allows "added extras" to be packed into your batt.
The Ashford Wild Carder has extra long teeth, allowing you to make a thicker batt and to keep all your "added extras" in your batt.
The 4 inch carding width produces a very handy size batt ready to spin. This Ashford Drum Carder is portable and compact and only 7 3/4lbs with built-in hand hold. Makes up to 1 1/2oz batt. Finished batt size 24 x 6inches. Comes assembled and lacquered. 72 tpi carding cloth. Complete with cleaning brush - stores conveniently under the feed-in tray, and doffer (Awl) - stores conveniently on the side.
FREE Shipping in the continental US
| | |
| --- | --- |
| | |
| Kate from Ashford in New Zealand is carding fleece with the Ashford Wild Carder | |
You may also like the following: