Majacraft Rose Spinning Wheel
Products > Spinning > Spinning Wheels > Majacraft Spinning Wheels > Majacraft Rose
Majacraft Rose Spinning Wheels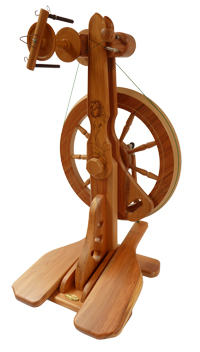 The Majacraft New Generation Rose is a classic wheel that has been redesigned for spinners of today. With its spoked drive wheel and engraved rose motif, it is elegant with a traditional feel, but can be folded so you can spin yarn anywhere. The Rose is a scotch tension wheel with a wide range of ratios and two flyers.
The Rose spinning wheel folds so you can spin anywhere. As you fold the wheel the handle swivels upward, so transporting it easy. The handle and head position are adjustable so you can achieve the most comfortable spinning position for you, perfect for both left and right handed spinn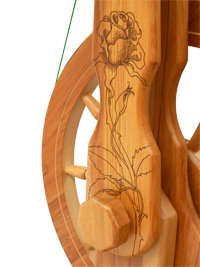 ers. The flyer can be installed on the left or right side of the upright and adjusted in height to suit your individual spinning preference. The Rose motif laser engraving on the upright gives this spinning wheel a unique charm.
The Majacraft Rose has a normal and fast whorl, giving you a wide range of ratios from 4.25 to 19.5 to 1. The two flyers that come with the wheel have a delta orifice that does not need a threading hook, and a fine fiber orifice. Both flyers have sliding hooks.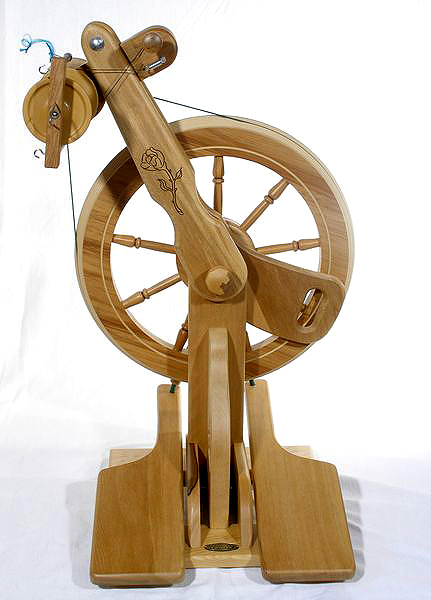 The Rose also includes the Rose Carrier which can be used as a 3-bobbin lazy kate. The carrier has rubber feet, a convenient carry hand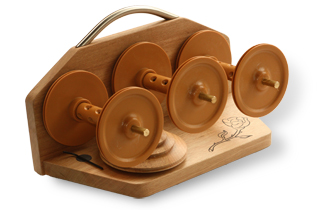 le, whorl holding pin and a magnet to store the allen wrench needed to change whorls. The Majacraft Rose comes complete with four (4) bobbins. This wheel is simple to assemble, easier to use and more reliable than ever. The Majacraft Rose is a wheel you will treasure for years to come.
Majacraft Rose Carrier with bobbins, whorl and allen wrench
Majacraft wheels ship FREE to the US and Canada. Your Majacraft spinning wheel will ship to you directly from the manufacturer per air mail. They usually ship within 4 to 8 weeks.
Majacraft High Speed Head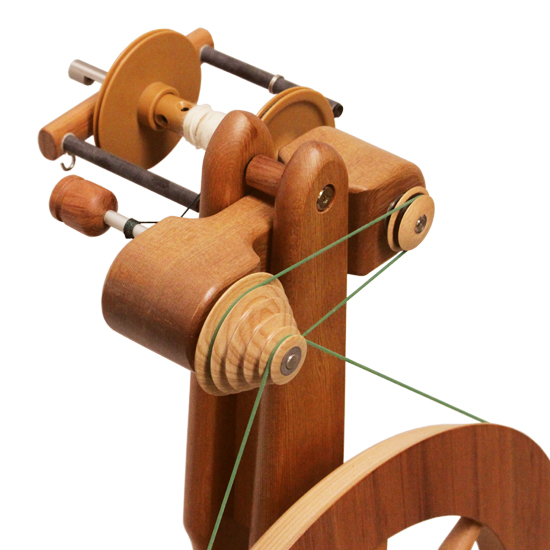 Spin super lace weight yarn on your Majacraft Rose or Suzie wheels. By modifying and "gearing up" a standard spinning head, it is now possible to spin at ratios up to 40:1 (on the Rose, the maximum speed is closer to 30:1 on a Suzie/Suzie Professional). If you are interested in lace or cotton spinning then this will really help to make the task simpler and much more efficient.
A very light tension spring is used to increase the sensitivity of the brake adjustment which is very important when spinning at high speeds.
A lace kit is a perfect compliment to the high speed head as the small flyers rotate very freely due to their low rotational inertia
You may also like the following: