Schacht Reeves Spinning Wheels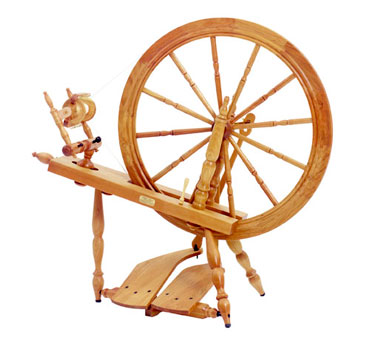 Schacht Reeves spinning wheels are now produced by Schacht Spindle Co. in conjunction with Rick and Marge Reeves. These "dream-wheels" offer a high amount of craftsmanship and are beauties to behold.
These Schacht Reeves Saxony style spinning wheels are fast and smooth with a ratios from 7 to 1 to 24 to1. Crafted in Ash or Cherry, the Schacht Reeves spinning wheel is an heirloom in the m
aking. All spinning wheels come with double drive and scotch tension mechanism standard. Choose from single or double treadle and 24" or 30" drive wheel diameter. Each Schacht Reeves spinning wheel includes three bobbins, 2 whorls, a lazy kate with hand turned uprights and a fancy threading hook. 30" Cherry wheel shown above, 24" Ash wheel to right, both double treadle.
Get three additional whorls free with purchase!
Lazy kate and threading hook are included with Schacht Reeves spinning wheel.
All wheels below have the flyer on the left.
Please call us to order if you would like the flyer on the right at no additional cost.
Schacht Reeves spinning wheels are made to order, please allow up to eight to twelve weeks for delivery We will contact you with an estimated ship date at the time of your order.
Schacht Reeves Spinning Wheel Bobbins
Schacht Reeves Whorls
In addition to the fast and medium whorls included with each Schacht Reeves wheel, you can also purchase slow speed, high speed, and super high speed whorls. Whorls are available in ash and cherry.
Ratios are: Slow-8 and 10:1, High-Speed-22.5 and 25:1,
Super-Hi-28 and 31.5:1.
Schacht Reeves Spinning Wheel Parts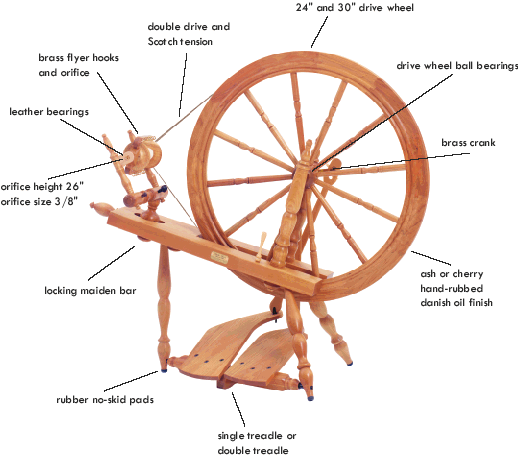 Schacht Reeves Spinning Wheel Chart
Standard accessories with wheel
3 bobbins, lazy kate, threading hook
Bobbin length, inside dimension
3 3/8"; bobbin core radius 7/16"
Bobbin Capacity
3 - 3 1/2 ounces
Flyer width between arms
4"
Type of bearings/bushings
Drive wheel - ball bearings; flyer - leather and bronze
Drive Band
Cotton
Ratios
24" - 12:1 to 20:1; 30" - 16:1 to 25:1
Left- and right-hand Schacht-Reeves spinning wheels available upon request.


You may also like the following: