Spinning Books
Our newest Spinning Books are at the top of the page, all other spinning books are sorted alphabetically.
NEW! The Field Guide to Fleece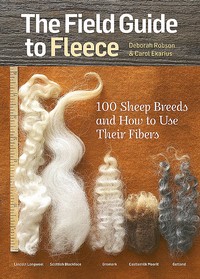 100 Sheep Breeds and How to Use Their Fibers. Choose the best fleece every time. Which wool is right for your project and what might you do with that big bag of luscious fleece that catches your eye? The answer s to your questions are always at your fingertips in this portable reference to the fleece characteristics of 100 sheep breeds and what their fibers are most useful for.. 232 pages, softcover
NEW! The Fleece and Fiber Sourcebook
More than 200 Fibers from Animals to Spun Yarn. Check out this great fiber sourcebook. Learn about the abundance of animals and the fiber they produce. The Fleece and Fiber Sourcebook covers almost ev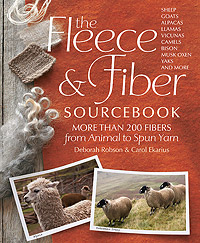 ry sheep breed in the world from the long wool breeds of the United Kingdom to the Tasmanian merino, the Navajo churro, the northern European Faroese, and dozens and dozens more. It also includes goats, alpacas, llamas, and vicunas), bison, horses, musk oxen, rabbits, and even dogs.
Each entry includes photographs of the featured animal; samples of its raw fleece, its cleaned fleece, and yarn spun from the fleece; and samples of the yarn knit and woven. You'll find everything you want to know about each animal and its fiber, including the fiber's color, density, strength, and staple length, and recommendations for processing and using it. This is the essential reference no fiber-lover can be without.
NEW! The Complete Guide to Spinning Yarn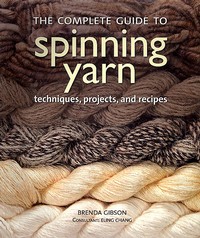 Spinning is experiencing a resurgence of interest as it moves in a contemporary direction away from its traditional past. The Complete Guide to Spinning Yarn provides a new generation of crafters with all the information they need in one accessible package, starting with tools and equipment, types of fibers, and spinning techniques to making, processing, and finishing off a skein of yarn. Included are actual recipes for making many types of yarn, ranging from boucles, to worsteds, to flecked, and chunky yarns, all shown in full-color close-up detailed photos. Instructions for a small group of projects to use the yarn you make are also included. Last but not least, learn how to go commercial, with valuable tips on realistically pricing your goods, accepting commissions, selling at craft fairs or on the internet, and more.
A must-have reference and source of inspiration for new and experienced spinners alike, The Complete Guide to Spinning Yarn provides all the know-how to get started, perfect your skills, or take your spinning to the next level.
NEW! The Practical Spinners Guide: Silk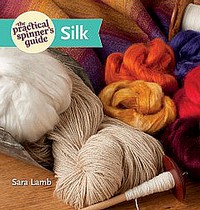 Silk fiber differs from wool; it is slicker, harder to draft, and can initially be more difficult to spin into a smooth yarn. It is available in a bewildering range of forms, all of which need different degrees of processing. At the same time, silk is incredibly strong, has an amazing luster and affinity for dyes, is comfortable in warm and cool weather, and has little weight. An ounce of silk fiber can be pricey, but also provide a lot of mileage. Spinning enough yarn for a garment may take well over a month; spinning silk is not instant gratification, but deeply satisfying when the work is complete.
The Practical Spinners Guide will discuss the various forms in which silk is available—combed top, bricks, noils, hankies, and bells—and how best to card, prep, and spin them, specifically touching on trouble spots like drafting and adding twist. She also covers finishing yarns—cleaning and degumming, setting twist, and plying—and even touches on what dye processes are best for adding color, as well as how to blend silk into other spinning fibers.
NEW! The Practical Spinners Guide : Cotton, Flax and Hemp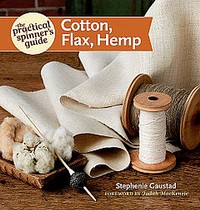 Interest in spinning continues to grow, and over the last year or so books have become more specialized—focusing on specific types of fiber or spinning techniques. As yet there is no book devoted to the spinning of plant or cellulose fibers. Though not nearly as popular as more easily-spun wools or fleece, there is interest in the subject and more spinning suppliers are carrying cotton and flax fibers. In step-by-step illustrated techniques, The Practical Spinners Guide offers a detailed overview of each plant, the fiber it produces, and how to properly prepare, spin, and finish yarns made from each fiber. Cotton, flax, and hemp behave very differently from wool, and special handling is required. The Practical Spinners Guide will teach you how each fiber behaves, and how best to card, prep, and spin them, specifically touching on trouble spots like drafting and adding twist. She also covers finishing yarns—cleaning, setting twist, and plying—and even touches on what dye processes are best for adding color. Finally, she includes a discussion of spinning for both knitting and weaving, covering fabric properties of each fiber, and what the spinner needs to take into account while creating the yarn and using it in a subsequent project
Spinning Books from A- Z
Creative Spinning
Learn to create appealing multi colored yarns with Alison Daykin and Jane Deane, who have decades of experience spinning, weaving, and dyeing. Find out how easy it can be to create personalized and gorgeous skeins of one-of-a-kind fibers. Designed for complete beginners, Creative Spinning offers 30 beautiful projects that teach a repertoire of skills on both the hand spindle and spinning wheel. Creative Spinning starts with spinning and twisting, plying, and finishing, then goes on to offer a primer on working with fibers. All the chapters are organized by yarn type, including short wool and down, medium fine wool, long wool and luster, hill and mountain, rare wool, animal hair, silk, and vegetable fiber.
Fibre Facts, Bette Hochberg
The third book from Bette Hochberg concentrates on various spinning fibers, their use and preparation. Chapters on the properties of fiber, wool, silk, cotton, linen and synthetic fibers are included as well as an analysis of yarn structure.
Handspindles, Bette Hochberg
This classic gives a detailed overview of the different types of drop spindles, their origin and uses. Included chapters on the historic aspects of spindle spinning, Turkish spindles, Navajo spindles, supported spindles, as well as "how to" instructions for spinning on a drop spindle and on a supported spindle, the distaff and it's use.
Hand Spun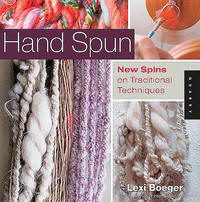 Subtitled "New Spins on Traditional Techniques" by art-yarn pioneer Lexi Boeger. If you are looking for one-of-a-kind wild yarns, Hand Spun is the spinning book for you. Learn the basics of fiber prep, from washing to carding. Create cutting edge yarns that are as unique as you are in this well rounded book.
Discover 20 fashion forward, yet accessible projects including chunky scarves, fabulous hats, a belt, a rug, boas and more.
Respect the Spindle Book
Portable and productive, the hand spindle has been responsible for creating the world's yarn for millennia. In Respect the Spindle, veteran spinner Abby Franquemont teaches spinners old and new how to create incredible yarn with the amazing drop spindle. Respect the Spindle offers step-by-step photography with detailed illustrations, making the spindle spinning techniques clear to even the novice spinner. Profiles of drop spindle spinners from various traditions are presented in sidebars throughout the book, which introduce heartwarming and historical fiber stories from around the world. Five simple projects give spinners practice in creating a variety of yarns and patterns. Check out the DVD "Respect the Spindle"
Spin Art - Book & DVD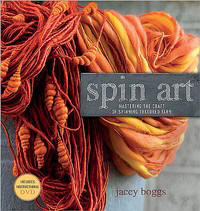 Mastering the Craft of Spinning Textured Yarn. This is no ordinary spinning book. Bring your skills of spinning yarn to the next level.
In Spin Art you will learn how to create innovative, eye-catching single and plied spun yarn styles, including wraps, be hives, bumps, racing stripes, loops, bubble wrap, multiplied, and more.
This book comes complete with DVD. $26.95
Spin Control
Techniques for Spinning the Yarn you Want. Spin Control teaches spinners to control their handspun and make the yarns of their dreams. From soft, bulky singles to durable cabled yarns with terrific stitch definition; and from tweedy yarns with rich texture and color to serviceable 3-ply that holds up to heavy use, the sky is the limit with Spin Control.
Start Spinning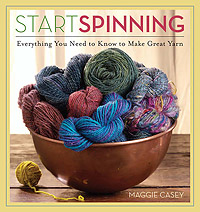 Everything You Need to Know to Make Great Yarn Start Spinning will teach to spin the yarn of their dreams beginning with an introduction to the various types of fibers available. Learn how to choose and prepare (or buy) fiber with which to spin. Follow detailed instructions for both spinning on a spindle and spinning on a wheel, with extra detail on Wheel 101 complete with plenty of photos. Start Spinning also offers a special section on trouble shooting and wheel maintenance, plus tips and tricks for creating better yarns. Then Start Spinning moves into plying, setting twist, using a niddy noddy, and woolen and worsted spinning. Start Spinning concludes with a chapter on uses for spun yarn, which covers wraps per inch, measuring yards for projects, and size of yarn. S120 pages, 125 photographs, 5 illustrations. Check out the DVD "Start Spinning"
Spin to Knit, Shannon Okey
Take your knitting to a new level with the addition of handmade yarn! Spinning is easy to learn, handspun yarn is hot, and with
Spin to Knit
everything you need to create fun, funky, one-of-a-kind designer yarn is right at your fingertips.
Spin to Knit
teaches you all the details about fibers, tools, and materials for getting started spinning, and offers a substantial selection of simple patterns for knitting with that fabulous yarn you've created all on your own. Urban spinner Shannon Okey, answers all your burning questions about spinning basics. For instance, what fibers are good for close-to-the-skin projects, what's good for layering, and what on earth can you do with dog fur or recycled fabric? Find out the basic tools you need to get started spinning, whether you should begin with a drop spindle or a wheel, why "lumpy bumpy" yarn is your friend, ways to un-lump your yarn, and how to control singles, twist, and ply.
Spinning Wool: Beyond the Basics
Building on the basics presented in the author's previous book, Ashford Book of Spinning (find it further down the page), this handbook provides more advanced spinners with information extending beyond the act of spinning—how to spin an adequate yarn and extend the range of yarns produced, what happens during the spinning process, and the relationship between the raw materials and the final output—for greater mastery of the craft. This new edition features up-to-date information about spinning wheels, new color photos, and seven new projects. Organized in four sections—wool, spinning wheels, yarn design, and projects—the text provides examples of a global range of fleece types, a detailed examination of the functions of bobbin and flyer wheels, a step-by-step analysis of spinning yarns of a predetermined size and twist count best suited to the properties of the fleece, and informative explanations of different spinning materials.
Spin, Span, Spun, Bette Hochberg
The fourth book of the Bette Hochberg series is packed with fact and folklore for spinners and weavers.
Find out interesting and amazing tidbits about your favorite hobby.
Spinning Llama and Alpaca, Chris Switzer
Lean how to spin this lovely fiber. Instructions for cleaning, washing, preparation and blending of alpaca and llama.
Learn how to dye and spin these fine fibers from expert spinner and llama and alpaca owner Chris Switzer. Projects included.
The Ashford Book of Carding, Jo Reeve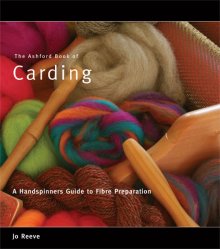 Learn how to use flick cards, hand cards and drum carders. Find out how to process fleece into roving and how to blend colors and fibers. The Ashford Book of Carding is great for spinners that want to master their drum carder. Weather you plan to card fleeces or blend fiber or combine colors, The Ashford Book of Carding is for you! Projects: Self-striping socks; Merino mittens; Triangular shawl; Merino and silk scarf. 92pp.
The Ashford Book of Handspinning, Jo Reeve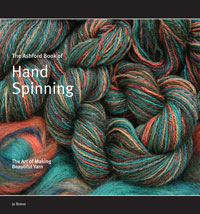 This new title from Ashford covers spinning from the beginning to more advanced techniques as well as fiber preparation, novelty yarns and five easy projects. East to understand, step by step instructions will guide you trough the process and you will master spinning in no time! The Ashford Book of Handspinning is destined to become a classic must have!
Alden Amos Big Book of Handspinning
This book is destined to be a classic! Great reference book for every spinner will leave no questions unanswered. Wheel designer and maintainer of textile traditions, Alden Amos – the recipient and evaluator of traditional wisdom – will guide you thru the many aspects of spinning, spinning wheels, fibers This is truly a BIG book offering decades of experience in making and handling yarn. He'll change your spinning for the better. Spinning books come and go, this one is a keeper with it's in depth spinning instructions. 480 pages, hardcover
Spinning History Books
The Age of Homespun, Laurel Thatcher Ulrich
This is hist
ory. The story of daily life in colonial times in New England, of the creation of creature comforts, of domesticity, of the intricate changing interlacement of working men and women. This is not a "how-to" or a picture book. It is a storybook of the treasures that are ignored by the mass-produced culture that predominates today. Written by a Harvard history professor, it is not an academic tome, but more a collection of stories about different people, all in the grand context of the changes that were happening to every body at the dawn of the Industrial age. Read this book!