Drop Spindles & Kits
DVD Drop Spindle Kit
Learn to spin your first yarn the easy way! Our DVD Drop Spindle Kit includes all you need to get started: DVD "Getting Started on a Drop Spindle" with 55 minutes of how to spinning instruction and how-to ply and finish your yarn.
Getting Started on a Drop Spindle starts with a description of the spindles parts and styles of spindles, then moves into what materials you need to get started.
Learn to "Park and Draft" and spin in no time! Move on to spinning and plying standing and learn how to create a yarn that is uniquely yours.
This spinning kit also includes a beginners top whorl drop spindle, two ounces of Corriedale wool roving and one ounce of hand dyed wool top for your spinning pleasure.
Lean to Spin Cotton Kit
Cotton is called the "fabric of our lives", and rightly so. Cotton is everywhere, from jeans and t-shirts to dishtowels and sheets, cott
on products dominates all our lives. Now you can find out why! This Learn to Spin Cotton Kit includes everything you need to get started on your cotton yarn spinning adventure:
A cute brass Tahkli support drop spindle, a variety of cotton including different pima cotton slivers, ginned cotton and punis and easy to follow instructions.
Makes a great gift too! Contains cotton fibers proudly grown in the US.
Hand Turned Drop Spindles
Spindles by Jim
These little drop spindle masterpieces are hand turned one by one on a lathe, meaning that no two spindles are exactly the same. We use a variety of exotic woods and dyed woods as well as maple. Crafted with care in our woodshop, and finished with a nice sheen, our top whorl spindles are well balanced and have lots of momentum. We use Birch, Cherry or Walnut or Oak shafts to compliment the whorl and bend each spindle hook individually to fit the spindle. Since each spindle is hand turned no two are exactly alike. . Each one is unique! Drop spindles range in weight from 1.4 to 1.8oz.
Other Drop Spindles
Kromski Drop Spindles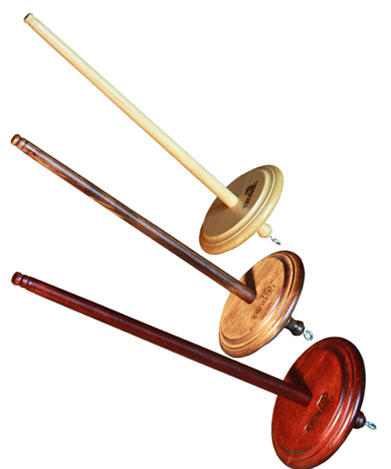 Check out these fun Kromski drop spindles. Get one to match your Kromski Spinning wheel or collect them all. :-)
Each spindle weights about three ounces with a shaft length of 12' and a whorl diameter of 4". The shaft slips out of the whorl for easy transport and or storage.
These spindles can be used as top or bottom whorl spindle and are great for spinning heavier yarns and plying. $19.95
Turkish Drop Spindles
These pretty, light weight Turkish drop spindles are now back in stock! We love the fact that these drop spindles have a lot of momentum and are easy to manage. Best of all: You do not have to wind your yarn off this spindle to ply: Wind your yarn around the crossbars as you spin. Slip the bars out when you are done spinning and your ball of yarn is ready for plying. Crafted with care from solid Walnut, Cherry or Maple. Cherry and Maple spindles weigh about 1.4 oz, the maple Turkish spindles weight about 1.6 oz. Total length about 10 inches with cross arms of 5 inches. Tung Oil Finish. can't decide? Collect all three!
Ashford Turkish Drop Spindle
Ashford brings you this large Turkish drop spindle that allows you to wind a center pull yarn while you spin. Simply wind your yarn around the crossbars. Slip the bars out when you are done spinning, and your ball is already wound for you. The Ashford Turkish drop spindle is a bottom whorl unfinished spindle and weighs about 1.5 ounces. Silver beech wood and surprisingly light weight for it's size of almost 15 inches with a lot of momentum for easy spinning!
Small Drop Spindle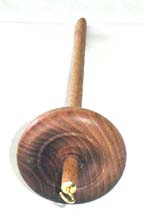 Extra Value Priced drop spindle! Spindle with great balance for fast and fine spinning. Weighs just under one ounce. Choose from top or bottom whorl. Unfinished Drop Spindle can be used as is or stained and painted in your favorite colors.
Medium Beginner's Drop Spindle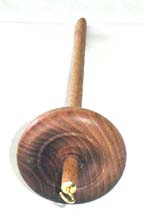 Extra Value Priced Drop Spindle! Basic medium drop spindle for beginning and advanced spinners. This is the same spindle we have in our DVD drop spindle kit since it is perfect for getting started spinning your own yarn. Choose from top or bottom whorl. Unfinished Drop Spindle can be used as is, or stained and painted in your favorite colors. 1.3oz.
Schacht Hi-Lo Drop Spindles
Schacht's popular drop spindles just got better. The new Schacht Hi-Lo Spindles offer the best of both whorls: a brass hook at the top for high-whorl spinning and a grooved shaft for low-whorl spinning.
Three sizes offer a broad spectrum of spinning capabilities: 4" (3oz) perfect for bulky spinning or plying, 3" (2.2 ounces) for medium weight yarns, and 2" (1.1 ounces) for finer yarns for fibers. Solid Maple.
More about Drop Spindles
Many spinners start out with a drop spindle, a bit of fiber and the willingness to learn how to spin. Others skip the drop spindle spinning in favor of a spinning wheel, with which you can spin much faster…. but wait a minute? Spin faster?… Who needs speed anyways, hand spinning is all about creating, loving what you do, and having fun. Hand spinning is a creative outlet, allowing us to literally "spin our dreams" into thread. Create unique fiber blends, color combinations and yarn textures. You are the designer and the master of your own yarn. Only your fantasy and the sky is the limit. The yarn you spin is yours by design!
Drop spindles also connect us with the past, thus spinning with this simple tool will in effect continue the thread of time that binds us to our ancestors. Just think of the thousands of years in which hand spindles provide the only way to obtain clothing from fibers. This simple device created every bit of yarn from coarse linen thread for sails, so that ships could explore the oceans, to the finest silks for royal robes. Since spinning wheels did not appear until the middle ages, the drop spindle was one of the most important tools on hand. Everyday clothing, table linens, tapestry and embroidery yarns, everything was spindle spun.
Spindles come in a wide array of designs, weights and sizes. Keep in mind the lighter a spindle the finer yarn you can spin, meaning a heavier spindle (3 to 4 ounces) is most suitable for thicker yarns. Here a just a few of the spindle types available::
Bottom whorl drop spindle, can vary in weight and designs. Many beginners start with a relative heavy (2 ounces or more) bottom whorl spindle, but you can also learn easily on a top whorl.
Top whorl drop spindles, our most popular spindles. With a little bit of practice the top whorl spindle can spin a lot faster than a bottom whorl, thus putting more twist in your yarn.
Turkish spindles, are also called cross arm spindles. This tool will let you wind your yarn into a ball as you spin. Pull out the cross arms when you are done and presto! You have a center pull ball.
But the most important thing is to simply have fun :-)