Louet Spinning Wheels
For over a quarter century, Louet in Holland has been designing, a superior line of spinning wheels. All Louet spinning wheels, like the Louet Julia and the folding Louet Victoria have maintenance free ball bearings to ensure excellent spinning ability. The same maintenance free ball bearing are used at the footman connection. (Absolutely no lubrication is necessary for the bearings to work correctly) Louet spinning wheels are engineered spinning wheels with YOU in mind!
The Louet Julia Spinning Wheel
The Louet
Julia is produced with portability in mind! You can take your Louet Julia spinning wheel apart when you travel, or store it away easily. The modern styled Julia spinning wheel has four ratios: 1:6, 1:8.5, 1:12.5, 1:19. A removable insert provides two orifice sizes (12mm and 8mm). All rotating parts run on ball bearings for smooth operation, while the Louet Julia itself is constructed out of lacquered
beech and birch plywood. Great ratios and double treadle action make this a smooooth spinning wheel. The base with treadles can be easily disassembled from the upright with the main wheel for easy transportation. (Just stick it in your suitcase!) Complete with three bobbins, instructions and free standing lazy kate with break. An optional high speed set is available for the Louet Julia and provides an extra 1:27 ratio. FREE Shipping!
The Louet Victoria Folding Spinning Wheel S95
The Louet Victoria spinning wheel will travel! It is the smallest spinning wheel on the market today. The Louet Victoria folds for easy transport or storage. At only 6.5 pounds it is lightweight, while offering a wide range of ratios from 6:1 to 14:1 at the same time. The Louet Victoria spinning wheel comes complete with three bobbins, free standing lazy kate and instructions. The Louet Victoria spinning wheels is perfect for the spinner on the go! Choose from Oak or Beech wood. The Victoria Spinning Wheel Carry Bag, that can also used as a backpack sold separately below.
Louet Victoria Carry Bag
Nicely designed bag that holds your Victoria securely. Space for three bobbins and lazy kate. This bag has also backpack straps, so you can transport your Victoria wherever you go. Black and tan contemporary design. Victoria spinning wheel not included. Please contact us for delivery information.
Louet S17 Spinning Wheel Single Treadle
Louet S17 spinning w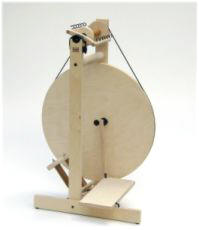 heel kit. This single treadle Louet spinning wheel is designed with the budget conscious spinner in mind. The Louet S17 offers smooth ball bearing operation like all the other Louet spinning wheels, easy treadling and a well balanced wheel that won't disappoint you. The Louet S17 spinning wheel is a great wheel for a great price. Enjoy the same large bobbins as with all other Louet spinning wheels! Unfinished.
Louet S10 Spinning Wheel - Single or Double Treadle
This is the original Louet spinning wheel with minor modifications to keep it on the leading edge of spinning technology. The Louet S10's careful design has proven it to be an ideal wheel for beginners and experts alike. The Louet S10 spinning wheel is sturdy and that makes it a suitable wheel for production spinners. The single hole in the wheel leads to a balanced flywhe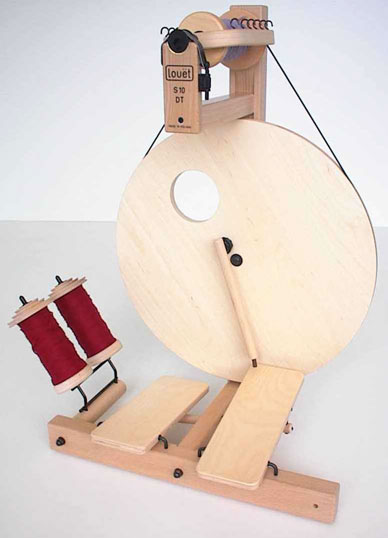 el, which ensures that the wheel always stops in the place that you stop. The Louet S10 spinning wheel is constructed with solid lacquered wood. Accessories available for the Louet S10 spinning wheel include: skein winder, distaff, a four bobbin lazy kate, high speed bobbin, fat core bobbin, flyers, and various spare parts.
Louet S10 double treadle spinning wheel offers the comfort of a double treadle combined with great engineering. Clear lacquer finish.
Louet Spinning Wheel Accessories
NEW! Louet Art Yarn Flyer
This new Art Yarn Flyer from Louet will make it a breeze to spin creative, unique yarns on your Louet S10, S15 and S51 spinning wheel. The low ratios of 4.2, 5, and 6.2 to 1 allow you to spin coil, novelty or art yarns easily. The Art Yarn Flyer does not come with a bulky bobbin. Please order bulky bobbins further down the page. You can also use your regular bobbins with the flyer. Make it your own! Pre-order now!
Click here to watch the Louet Art Yarn Flyer in Action
Louet High Speed Kit
Upgrade your Louet spinning wheel with this High Speed Kit. Fits Louet S10, S10 DT,
S51, S51DT, S75, S15, S17 – to be better suited to spin finer yarns. The Louet high speed spinning set comes with a high-speed flyer, 3 fatcore bobbins and a drive belt. The cost is less than buying each of these components separately.
Louet High Speed Set for Victoria or Julia
Victoria or Julia High Speed Set - This high speed set for the Victoria contains a flyer, 3 bobbins, a small whorl (you have to add this to the existing whorl) and a hook for threading the yarn through the orifice and the flyer hole. The image is of the beech set, but in the oak set the flyer disc and the hook handle are oak. The orifice is 5 mm, but you can take out the inserts and have an 8 or 12 mm orifice. Ratio's are 1:20 for the Victoria and 1:30 for the Julia.
Louet Lazy Kates
This stand alone Louet lazy kate is made of clear lacquered Beech will hold 3 Victoria or Julia bobbins (not included) and is equipped with an adjustable brake. Please note that the standard S10/S15/S75 bobbins will not fit this lazy kate.
Louet Spinning Wheel Bobbins
Choose from regular, high speed or fat core Louet bobbins. Fat core Louet bobbins have the same ratio as high speed Louet bobbins, but with a 2" core for easier spinning and beginning spinners. A small amount of draw in gives you more control for cotton and other fine fibers. Also shown is bulky bobbin (far right top) and bulky flyer for thick yarns. Please contact us for order information.
About Louet Spinning Wheels...
Louet spinning wheels are manufactured in the Netherlands and we have been offering them for sale for o
ver 12 years. They are robust, sturdy wheels that will enable you to spin your favorite yarn.
Louet spinning wheels were originally geared towards spinning medium to heavy yarns. Although bobbins and flyers are available for spinning this type of yarn, the standard wheels have been redesigned to be more suitable for spinning fine to medium yarns. The orifice on the standard wheel is sufficiently large (12.5 mm or 1/2") as are the bobbins, (bobbins for the Julia and Victoria are smaller), to allow you to create novelty yarns. The drive wheel of all Louet spinning wheels rotate on a maintenance free, lubricated for life ball bearing pack to ensure excellent spinning ability by allowing them to turn freely and quietly. The same maintenance free ball bearing is used at the footman connection. (Absolutely no lubrication is necessary for the bearings to work correctly)