Louet Spinning Wheels
For over a quarter century, Louet in Holland has been designing, a superior line of spinning wheels. All Louet spinning wheels, like the Julia and the folding Victoria have maintenance free ball bearings to ensure excellent spinning ability. The same maintenance free ball bearing are used at the footman connection. Absolutely no lubrication is necessary for the bearings to work correctly. Louet spinning wheels are engineered spinning wheels with YOU in mind!
The Louet Julia Spinning Wheel
The Louet Julia is produced with portability in mind! You can take your Julia spinning wheel apart when you travel, or store it away easily. The modern styled Julia spinning wheel has four ratios: 1:6, 1:8.5, 1:12.5, 1:19. A removable insert provides two orifice sizes (12mm and 8mm). The Louet Julia includes 4 bobbins and lazy kate with purchase.
The Louet Victoria Folding Spinning Wheel S95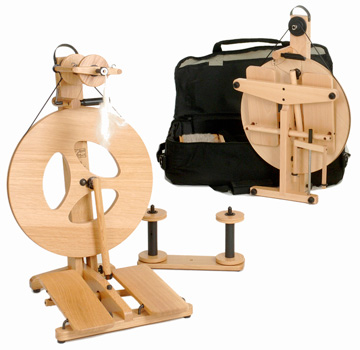 The Louet Victoria spinning wheel will travel! It is the smallest spinning wheel on the market today. The Victoria folds for easy transport or storage. At only 6.5 pounds it is lightweight, while offering a wide range of ratios from 6:1 to 14:1 at the same time. The free standing lazy kate holds your bobbin securely. This Louet spinning wheel can be ordered with an optional padded carry bag.
Louet S17 Spinning Wheel Single Treadle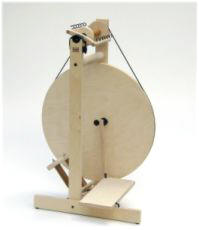 This Louet S17 spinning wheel is value priced This single treadle Louet wheel is designed with the budget conscious spinner in mind.
The S17 offers smooth ball bearing operation like all the other Louet spinning wheels, easy treadling and a well balanced wheel that won't disappoint you. The S17 spinning wheel is a great wheel for a great price.
Louet S10 Spinning Wheel - Single or Double Treadle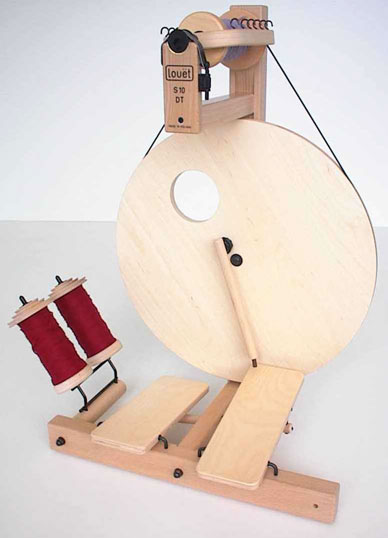 This is the original Louet S10 spinning wheel with minor modifications to keep it on the leading edge of spinning technology. The S10's careful design has proven it to be an ideal wheel for beginners and experts alike. The S10 spinning wheel is sturdy and that makes it a suitable wheel for production spinners. The single hole in the wheel leads to a balanced flywheel, which ensures that the wheel always stops in the place that you stop.
Louet Spinning Wheel Accessories
Louet Spinning Wheel Bobbins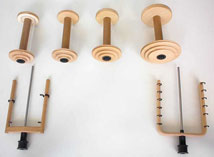 Looking for Louet spinning wheel accessories like bobbins, jumbo flyers, lazy kates, the new Art Yarn Flyer or a carry bag for the Victoria?
Louet Accessories Details
About Louet Spinning Wheels...
Louet spinning wheels are manufactured in the Netherlands and Pacific Wool and Fiber has been offering them for sale for over 12 years. They are robust, sturdy wheels that will enable you to spin your favorite yarn. Louet wheels were originally geared towards spinning medium to heavy yarns. Over the last few years Louet bobbins and flyers have been redesigned to be more suitable for spinning fine to medium yarns.
The orifice on the standard wheel is sufficiently large 1/2 wide and the bobbins are a generous size, so that they can hold a lot of yarn, (bobbins for the Julia and Victoria are smaller), to allow you to create novelty yarns. The drive wheel of all Louet spinning wheels rotate on maintenance free, lubricated for life, ball bearings to ensure excellent spinning ability by allowing them to turn freely and quietly. The same maintenance free ball bearing is used at the footman connection. (Absolutely no lubrication is necessary for the bearings to work correctly)