Louet Spinning Wheel Accessories
Products > Spinning Wheels > Louet Spinning Wheel > Accessories
Louet Victoria Spinning Wheel Bag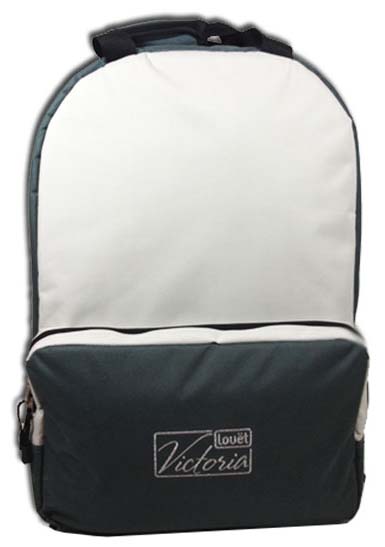 Carrying Case for Louet Victoria Spinning Wheels. Designed to fit the Louet Victoria wheel along with 3 bobbins and lazy kate. Good padding with straps to hold everything firmly in place. Can be carried as a back pack or with the shoulder strap or side handle.
Louet Art Yarn Flyer for S10, S15 and S51 Spinning Wheels
The Louet Art Yarn Flyer will make it a breeze to spin creative, unique yarns on your S10, S15 and S51 spinning wheel. The low ratios of 4.2, 5, and 6.2 to 1 allow you to spin coil, novelty or art yarns easily. The Art Yarn Flyer does not come with a bulky bobbin. Please order bulky bobbins further down the page. You can also use your regular bobbins with the flyer.
Louet Victoria or Julia High Speed Kit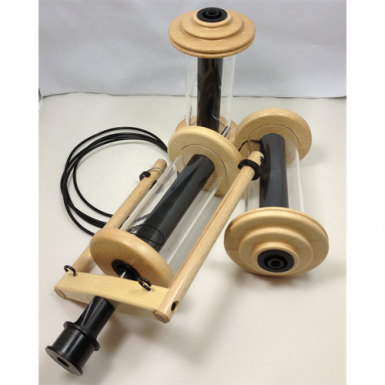 Louet Victoria or Julia High Speed Set - This high speed set for the Louet spinning wheel contains a flyer, 3 bobbins, a small whorl (you have to add this to the existing whorl) and a hook for threading the yarn through the orifice and the flyer hole.
The image is of the beech set, but in the oak set the flyer disc and the hook handle are oak. The orifice is 5 mm, but you can take out the inserts and have an 8 or 12 mm orifice. Ratio's are 1:20 for the Louet Victoria spinning wheel and 1:30 for the Louet Julia spinning wheel.
Louet Lazy Kates
This stand alone Louet lazy kate is made of clear lacquered Beech will hold 3 Victoria or Julia bobbins (not included) and is equipped with an adjustable brake. Please note that the standard S10/S15/S75 bobbins will not fit this lazy kate.
Louet Spinning Wheel Bobbins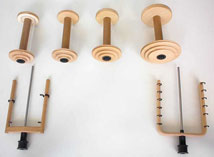 Louet bobbins come in a variety of sizes. Please select the correct bobbin to fit your spinning wheel. You will need a bulky or Art Yarn flyer if you want to use the bulky bobbin.
Choose from regular, high speed, fat core, bulky or Victoria and Julia bobbins.
Fat core bobbins have the same ratio as high speed Louet bobbins, but with a 2" core for easier spinning and beginning spinners.
Louet Footman Connector
Connects the footman (long wooden rod) to the treadle. Brown plastic connector with screws and instructions.
This part fits all S10, S15, S17, S51, S70, S71, S75, S76, S77, S20 and S60. Not for Victoria or Julia.
Please note that this connector will fit only the above mentioned Louet spinning wheels. If you are looking for footman connectors for an Ashford or Kromski spinning wheel please give us a call: 503-538-4741
About Louet Spinning Wheels...
Louet spinning wheels are manufactured in the Netherlands and we have been offering them for sale for over 12 years. They are robust, sturdy wheels that will enable you to spin your favorite yarn. Louet spinning wheels were originally geared towards spinning medium to heavy yarns. Although bobbins and flyers are available for spinning this type of yarn, the standard wheels have been redesigned to be more suitable for spinning fine to medium yarns.
The orifice on the standard wheel is sufficiently large (12.5 mm or 1/2") as are the bobbins, (bobbins for the Julia and Victoria are smaller), to allow you to create novelty yarns. The drive wheel of all Louet spinning wheels rotate on a maintenance free, lubricated for life ball bearing pack to ensure excellent spinning ability by allowing them to turn freely and quietly. The same maintenance free ball bearing is used at the footman connection. (Absolutely no lubrication is necessary for the bearings to work correctly)
FREE SHIPPING in the Lower 48 States!