Ashford Spinning Wheels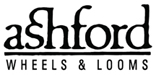 With over 75 years of experience in building quality spinning wheels and looms, Ashford spinning wheels are crafted with you in mind. You will love the folding Ashford Joy 2, the budget friendly Kiwi 2, or the graceful Ashford Elizabeth 2, just to name a few. Join the family of textile artists and spinners worldwide, who love their Ashford spinning wheel.
FREE Shipping + FREE Stuff
Ashford Spinning Wheels
Ashford Joy 2 Spinning Wheel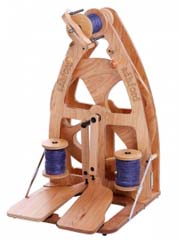 The Ashford Joy 2 spinning wheel has been re-designed with a larger sliding hook flyer and larger bobbins, that hold more yarn. This means you can spin longer without having to change your bobbin. Just pinch the yarn guide and slide it to where you want your yarn on your bobbin. You will love the compact Ashford Joy 2 spinning wheel that will go wherever you go.
Ashford Traditional Spinning Wheel

The Ashford Traditional spinning wheel offers a lot of value, combined with great spinning capability. This popular single treadle Ashford spinning wheel, lovingly called "Tradi" is a classic and has been around for many years and for good reason. It is durable, (we often see 20+ old models come in for minor repairs) and has the traditional feel with heel to toe treadling action that is soothing. It has a classic Saxony, yet contemporary style and is available as scotch tension or double drive. (The double drive spinning wheel includes the scotch tension option).
Ashford Traveller Spinning Wheel
The Ashford Traveller has a compact castle style and a built in lazy kate, along with it's great spinning capability. You will love the great feel this double treadle on this Ashford spinning wheel, and if you are a beginning spinner you will find that the double treadle action helps your control your spinning. The Ashford Traveller spinning wheel is available as scotch tension or double drive. (The double drive offers both options). Choose from unfinished or clear finished spinning wheel kit.
Ashford Elizabeth 2 Spinning Wheel
The Ashford Elizabeth 2 is designed beautifully for effortless treadling and spinning. This is the prettiest of all Ashford spinning wheel models and reminds me of a "Fairy Tale" spinning wheel. It will be your treasure for years to come! The Ashford Elizabeth 2 is a double drive wheel and has both, a traditional Saxony style sloped styling as well as great spinning capability. a wide range of yarns.
Ashford Country Spinner 2 Spinning Wheel
Great for spinning super thick, bulky and novelty yarns, the NEW Ashford Country Spinner 2 from Ashford has one huge bobbin with three speeds perfect for spinning fun art yarn. The amazing large Country Spinners 2 bobbin holds up to 2.2 lbs. of yarn!! A huge 1 1/16" flyer orifice will let you spin thick and chunky yarns without problems. This Ashford spinning wheel also has provisions just in case you want to ply from two bobbins!
Ashford Country Spinner 2 Details
The Ashford Kiwi 2 Spinning Wheel
Simple, smooth and so easy to use. This basic, no frills spinning wheel lets you jump into spinning without breaking the bank. The Ashford Kiwi 2 has a new and improved design with great new features like the new sliding hook flyer, just pinch and slide, and larger bobbins that hold more yarn. Ratios for this wheel are 5.5 and 7.25 :1. The Ashford Kiwi 2 comes complete with three large bobbins and a built-in Lazy Kate, with threading hook and instructions.
Ashford Electric Spinner 2
New design, lower price! If you are planning to spin large amounts of yarn, perhaps for a small cottage industry, or if you have trouble treadling, the Ashford Electric Spinner 2 is your best choice.
It is very easy to use and very portable. The quiet, direct drive 12V motor lets you spin a variety of yarns. And because it is so compact it can travel with you wherever you go. Includes a sliding hook flyer, 3 large jumbo bobbins and lazy kate with yarn guide, power pack, cord and interchangeable outlet.
Ashford Electric Spinner 2 Details
Ashford Spinning Wheel Accessories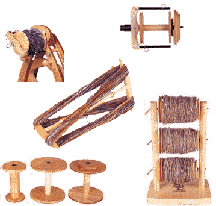 Ashford Spinning supplies, including Ashford spinning wheel bobbins, jumbo bobbins, niddy noddies, lazy kates, sliding hook flyers and more.
Ashford Spinning Wheel Accessories
Beginning Spinners Question:
I have a new spinning wheel. What else do I need to get started spinning yarn?
Fiber for spinning - a wool roving would be ideal as it is easier to learn to spin with
A good spinning book or spinning DVD that shows you how to get started spinning
A large Niddy Noddy would also be nice so that you can wind a skein of yarn easily, but a baking sheet will also work in a pinch.
Check out our Spinning FAQ for other spinning wheel related questions.
Spinning Tips has great advice on how to select the perfect spinning wheel
Most of all, just have fun spinning your own yarn!