Ashford Traveller Spinning Wheel
Products > Spinning Wheels > Ashford Spinning Wheels > Ashford Traveller
Ashford Traveller Spinning Wheel
- FREE Items with Purchase
The Ashford Traveller has a compact, classic castle style design, a built in lazy kate and great
spinning capability. The Ashford Traveller spinning wheel is easy to spin on even if you are a beginning spinner and you will find that the double treadle action helps your control the drive wheel directions and with that your spinning. Because this spinning wheel is compact it is easy to take along to classes or can be stored conveniently.
The Ashford Traveller spinning wheel is available as scotch tension or double drive. (The double drive has both both options). Choose from unfinished or clear finished spinning wheel kit.
The Ashford Traveller spinning wheel comes complete with four
bobbins, built-in lazy kate, threading hook and instructions. Compact and smooth spinning!
Ratios are:
Single Drive: 5.5, 10, & 14:1
Double Drive: 6.5, & 8.5:1
FREE Shipping and FREEbies!
Ashford Traveller Spinning Wheel Deals
Choose ONE FREE Item with purchase!
Ashford Maintenance Kit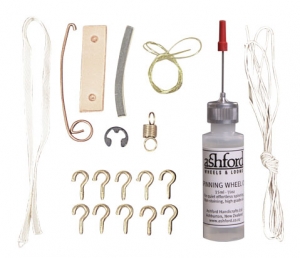 This helpful maintenance kit from Ashford contains an oil bottle and oil, a cotton spinning wheel drive belt, scotch tension spring and band, leather and plastic footman connector, threading hook, e-clip, and 10 flyer hooks. Keep your Ashford spinning wheel in great shape, or fix up a hand-me-down. This may come in handy for other brands of spinning wheels too!
You may also like the following:
Need help choosing a spinning wheel?
Check out our spinning wheel tips or give us a call!
503-538-4741. We can help!