Ashford Traditional Spinning Wheel
Products > Spinning Wheels > Ashford Spinning Wheels > Ashford Traditional
Ashford Traditional Spinning Wheel
The Ashford Traditional offers a lot of value, combined with great spinning capability. This popular single treadle Ashford spinning wheel is a classic and has been around for many years and for good reason. It is durable, (we often see 20+ old models come in for minor repairs) and has the traditional heel to toe treadling action that is soothing.
It has a classic saxony, yet contemporary style and is available as scotch tension or double drive. (The double drive spinning wheel includes the scotch tension option).
The Ashford Traditional Spinning Wheel includes four bobbins, lazy kate that holds up to three bobbins, threading hook and instructions. Ratios: Single Drive: 6.5, 10, &17:1 Double Drive: 7.5, 10, & 14:1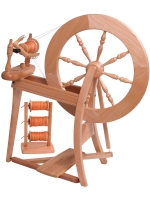 FREE Shipping & Free Stuff
Ashford Traditional Single Drive Unfinished $615.00
Ashford Traditional Single Drive Lacquer Finish $755.00
Ashford Traditional Double Drive Unfinished $650.00
Ashford Traditional Double Drive Lacquer Finish $785.00
Ashford Traditional Spinning Wheel Special
Choose ONE FREEBIE with purchase!
We want you to love your Ashford spinning wheel, so we are giving away free stuff! Please choose one of the below options for extra bobbins, a niddy noddy, fiber or a store credit to make your order extra special!
| | |
| --- | --- |
| | |
| Learn to spin on an Ashford Traditional spinning wheel with Richard Ashford in New Zealand | |
Ashford Spinning Instruction pdf
You may also like the following:
Need help choosing a spinning wheel?
Check out our spinning wheel tips or give us a call!
503-538-4741. We can help!
From personal experience...
The Ashford Traditional was my first spinning wheel and mine was the double drive version. Learning to spin with this wheel was very exciting. I really like the fact that this wheel has a true and time tested design. Now, years later, we often see older, well used and loved Ashford Traditional spinning wheels come to our shop for repair. Most of them just need minor parts and then are ready again to spin for another decade to come. This, to me is a true sign of quality. Bridget :-)