Ashford Country Spinner 2
Products > Spinning Wheels > Ashford Spinning Wheels > Ashford Country Spinner 2
Ashford Country Spinner 2 Spinning Wheel
Ashford Country Spinner 2 Spinning Wheel
Only your imagination is the limit! This bulky spinner lets you incorporate ribbons, lace or feathers into chunky yarn. Or just simply spin super thick. It's all up to you. Create unique art yarns just the way you like them. The Ashford Country Spinner 2 has one huge bobbin with three speeds perfect for spinning fun art yarn or super chunky thick yarns. The amazing large Country Spinners 2 with its extra large bobbin lets you spin up to 2.2 lbs. of yarn!! The wooden sliding hook flyer makes threading your yarn easy.
A huge 1 1/16" flyer orfice will let even thick and chunky yarns pass thru it without problems. This Ashford spinning wheel also has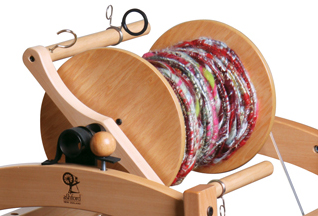 provisions just in case you want to ply from two bobbins!
Arched rails and factory assembled sides are easily put together with bolts and barrel nuts.
Ratio are 3, 4: and 5 to 1. Unfinished or clear finish.
FREE Shipping & Free Stuff
Did you know that...some of the amazing costumes for the movie "The Hobbit" were spun on the Ashford Country Spinner 2? What will you spin?
Ashford Country Spinner Special
Choose ONE FREEBIE with purchase!
Ashford Country Spinner Bobbins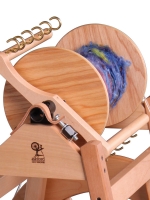 This is a huge bobbin! With about 12 inches in length you can spin Art yarns or chunky yarns to your heart's content.
Made to fit either the Ashford Country Spinner or the Ashford Country Spinner 2. Holds up to 2 Lbs. of fiber or yarn. Unfinished or Clear Finish.
Ashford Orifice Reducer Bushing Set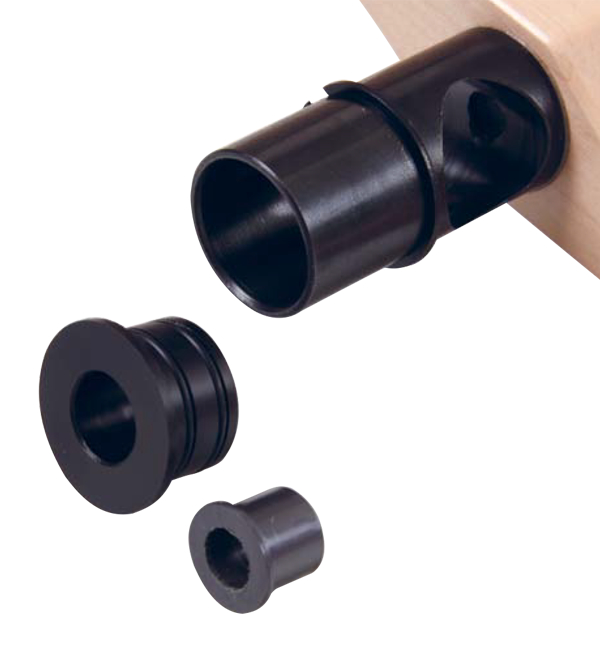 For Ashford Country Spinner or Ashford Kiwi Super Flyer. Allows you to spin finer yarns while controlling the movement in a large orifice. Reduces orifice to 5/8" or 3/8". Two bushing set.
You may also like the following:
Need help choosing a spinning wheel?
Check out our spinning wheel tips or give us a call!
503-538-4741. We can help!