Spinning Supplies & Accessories
Ball Winders, Swifts, Spinning Wheel Belts and Skein Winders. For spinning wheel bobbins, niddy noddies, lazy kates etc. please search by your spinning wheel brand. We have Ashford spinning supplies, Kromski spinning supplies and Schacht spinning supplies.
Spinning Wheel Belts
Colorful Spinning Wheel Belts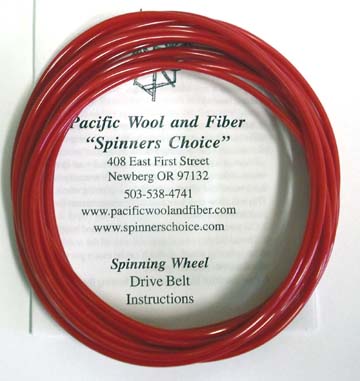 These stretchy poly-cord drive bands for your spinning wheel are durable and easy to install. These flexible spinning wheel drive belts offer a stronger draw in than conventional cotton belts and will last and last. Our spinning wheel belts come in a generous lengh, so you will have extra material to practice fusing your belt if you like. Choose from traditional clear or black or bring some color into you spinning with our colorful belts. Available in single drive ($7.00) or double drive ($14.00) or pre-fused only for Louet S10, S15, S17 and S51. ($9.95) All non-fused spinning wheel drive belts include easy to follow instructions. Our spinning wheel belts will fit all brand name spinning wheels including Ashford, Kromski, Baynes, Louet, Fricke, Lendrum, Schacht and Schacht-Reeves etc.
Clear Black Lavender Blue Rose Emerald Cherry
Knitter Pride Yarn Ball Winder
Great quality at a great price! Plastic Knitters Pride Ball Winder will come in handy for winding yarn skeins into balls or emptying the bobbins of your spinning wheel. Makes "stackable" center pull and outside pull balls.
Either way this knitting wool winder is one of the most important knitting supplies and a must have for spinners, knitters and weavers. Complete with built in clamp. Makes balls up to 4 ounces
Ashford Skein Winder
Easy to use, adjustable skein winder makes a 1 yard or 1.5 yard skein. Wind skeins right of your spinning wheel. Sturdy beech wood construction. Unfinished. The base can be taken off for easy storage or transport. Skein of yarn shown not included.
Leclerc Fringe Twisters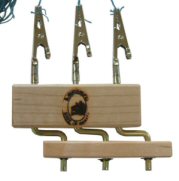 The Leclerc Fringe Twister is a fun little tool will help you make the finishing touches to scarves, bags, rugs, wraps and and and...
Or create twisted cords that can be used anywhere! Twisted fringes look more polished than simply knotted ones while at the same time preserving the ends of of projects. The Leclerc fringe twisters are available in double, triple or quad! Great for spinners, weavers and felters.
NEW! Ashford Fringe Twister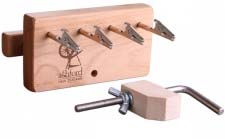 This is the Rolls Royce of fringe twisters! Quad fringe twister complete with clamp and instructions. Great for making a twisted fringe for scarves and shawls, create multi colors twisted cords for accessories, pillow and bags. Create your own finished look. Lacquer finish.
Spinning Wheel Oil Bottle

Oil bottle with high quality oil with tip. Keep your spinning wheel in great shape with regular oiling. Machine oil lubricates flyer shaft, outside orifice, treadle and bearings.
This it the best thing you can do for your spinning wheel and for yourself!
Don't spin with a squeak, oil your wheel!
Cotton Spinning Wheel Belts

Waxed cotton band with instructions for tying on your spinning wheel. For single (scotch tension) or double drive spinning wheels.
Kromski Spinning Wheel Accessories Ashford Spinning Wheel Accessories