Cotton Boucle Yarn
Cotton Boucle Weaving Yarn
This lovely unmercerized Cotton Boucle yarn comes in lots of colors. It is very versatile and will add lots of texture to your hand weaving projects. Use it as a warp or weft for super absorbent "thirsty" dishtowels or if you simply just want to add lots of texture to your weaving project. Also great for rep weave, hand woven scarves, garments, fun pillows or throws.
100% Cotton. Sett for plain weave is 12 to 16 dpi , for twill weaves 15 to 18 ends per inch.
8 ounces 750 yards $17.50






Red Cognac Wine Raspberry Fuchsia Magenta





Purple Lavender Deep Navy Navy Royal Denim





Periwinkle Light Blue Peacock Turquoise Pale Lime Kiwi






Forest Yellow Black Beige Natural White
Cotton Boucle Dish Towel Kit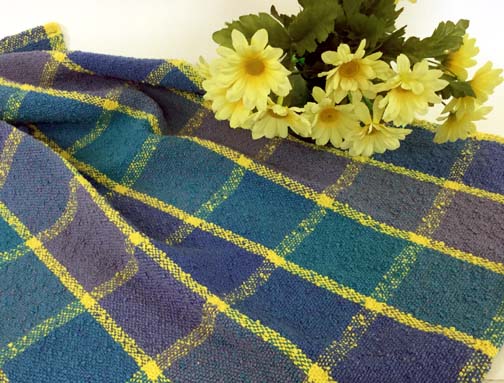 Lovely Cotton Boucle dish towel kit reminiscent of the Hulda Klager Lilac Garden in Woodland, Washington. Colorful terry cloth squares in Periwinkle, Royal and Turquoise are framed by cheery yellow borders that add highlights and structure to this easy to weave kit.
Both the warp and weft are woven with Cotton Boucle yarn above.
Weaving instructions are written for four harness looms. Sett 16 dpi, 8 dent reed, 22" weaving width. Kit makes four generous towels with plenty of warp for sampling.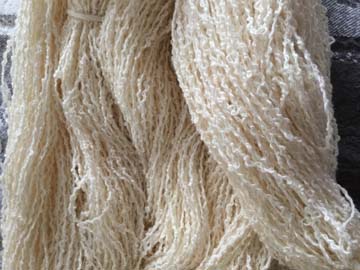 Cotton Boucle close-up: Add lots of texture to your weaving with our cotton boucle yarn!
The cones are wound pretty firm, but once your wind a warp with this yarn the texture really comes to light
I have also used this yarn also as a weft with our 8/2 cotton yarn as a warp, set at 24 dpi in a twill pattern and it made a nice heavy duty dishtowel. Bridget
You may also like the following: