Weaving Looms

Want to buy a loom? There are many styles and brands of weaving looms on the market today. From a beginner friendly rigid heddle loom, to table looms, floor looms or computer driven dobby looms for expert weavers or semi-pros.
Ask yourself: What is it that I want to do? How much space do I have available for my new loom? What do I want to weave? Scarves, runners, dishtowels, rugs or maybe all of the above? Which loom fits my budget? Looms are sorted here by brand. See more information on how to select a loom on our Weaving FAQs page and below...
Selecting a Loom
For the new weaver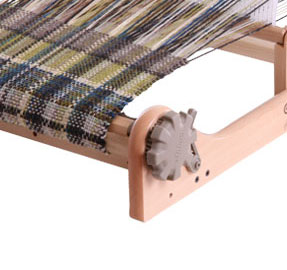 New Weavers want to jump right into weaving! Good for you! With a rigid heddle loom you can! These loom are easy to warp (set-up) and you will be weaving in no time. You can choose from different brands like Ashford, Kromski and Schacht and various weaving widths. Rigid Heddle looms can be used on a table. Most brands also offer a separate stand for your loom, allowing you to weave anywhere. Looms usually come with everything you need to start weaving including stick shuttles, clamps, threading hook and a reed. Starting at $130 or so.
The intermediate weaver

Four harnesses it is, or maybe eight? If you have explored weaving before, but want to go further or if you are taking a weaving class, these looms will be very tempting to you. Multi-harness looms allow for a finer weave structure, more tension on your warp and have either foot treadles (faster weaving) or levers (table loom models). Many manufacturers let you choose the size reed you would like with your loo, 10 and 12 being the most common. If you are not sure which reed to get, don't panic, you will probably want a variety of reeds anyhow, so you really can not make a mistake.
To weave on these looms you will be need a warping board or warping mill to measure the warp and a preferably at least one boat shuttle with several bobbins. You may also want a loom bench, which allows for a wider reach and a good weaving book or two (or DVD) Table looms start at several hundred dollars, floor looms start at under $1500.
The expert weaver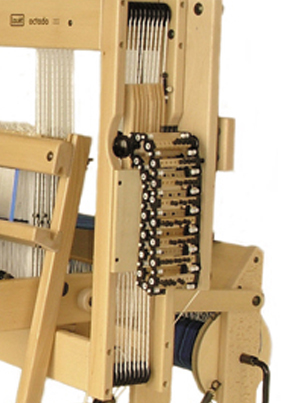 You know who you are. You know what you want and you have had several looms before. Weaving on a dobby loom allows for managing up to 32 shafts with one or two treadles. Electronic or mechanical interfaces combined with various weaving software and your computer or laptop, will read the draft and select the correct shaft for you.
Dobby looms from Louet and Leclerc will allow you to weave at a faster pace without having to make complicated tie-ups. These looms are for weavers with a good understanding of weaving and weave structures, semi-pros, handweaving shops and the expert hobbyist.
Floor Loom Diagram
You can familiarize yourself with the various loom parts below. We have used the Schacht Mighty Wolf loom as an example, but most looms are similar. This can come in handy when you are trying to understand the loom descriptions on the various pages. Happy Weaving!