Drum Carders
A drum carder is used to card fibers such as wool fleeces, alpaca locks, angora and other fibers. Most carders have two drums. The smaller drum is designed to draw the fibers in, transferring it to the larger drum thus creating a batt for spinning and felting. Drum carders can also be used to blend different fibers and creating your own colorful batts.
Ashford Drum Carders
Ashford Drum Carders: Super Fine - Fine - Coarse
Ashford drum carders with brush attachment, three carding cloth choices and two speeds are perfect for all fibers and fleeces. Card and blend fibers and colors quickly and efficiently.
These new, improved Ashford Drum Carders has two ratios for even more flexibility and control when carding and blending. Use the 6:1 ratio to prepare your fleece.
Ashford Wild Carder - Go Wild!
Take your carding to the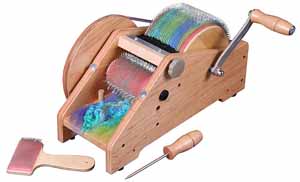 Wild Side! The Ashford Wild Carder is specifically designed for blending and creating exciting fun, funky and wild batts for spinning and felting.
Create unique blends with "added extras" such as fibers, fabrics, ribbons, feathers, noils, cocoons, paper and more....
Ashford Extra Wide Drum Carder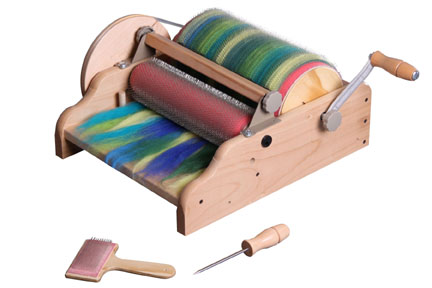 This drum carder his Huge! The Ashford Extra Wide Drum carder is a serious carder that makes a massive 12" wide batt and is perfect for spinning and felting. The fine carding cloth (72ppsi) lets you card most fibers with ease.
Ashford Extra Wide Drum Carder
Louet Drum Carders
NoNeed to Tease! Feed fiber directly into the licker-in (feeder drum) Louet drum carders have a larger licker-in drum and no need to adjust drums or drum placement! Louet carder teeth are longer and flexible! Louet drum carders eat right out of your hand!
Louet Roving Carder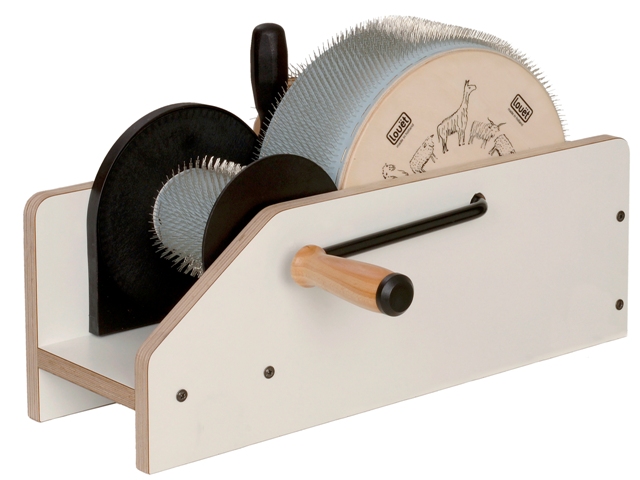 New design, same great quality! The Louet Roving Carder offers fine cloth, with long, flexible teeth and a four inch wide drum that make a batt of about 4 by 30 inches. Enclosed gears for smooth and easy operation. No lubrication is needed, and no adjustment of any kind is required to keep this carder in great shape! The long, flexible teeth will make a heavier batt.
Louet Drum Carder
New design, same grea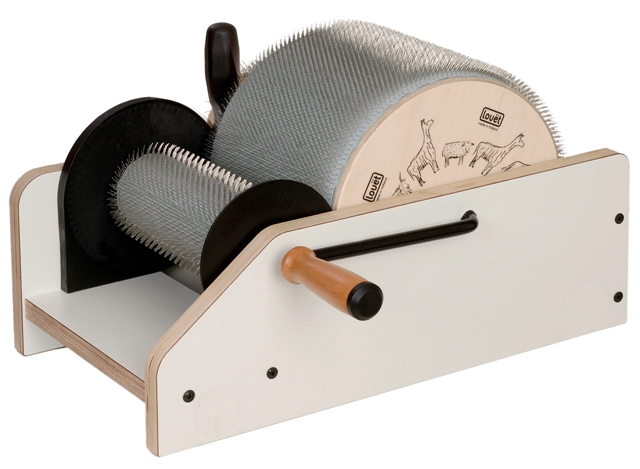 t quality! For serious carding! This Louet Drum Carder has an eight inch wide drum for large carding capacity that makes a big batt of about 8 by 30 inches. and intermeshing teeth for great performance. The enclosed gearbox assures smooth operation, while the extra high, flexible, teeth allow for a heavier batt than other drum carders as well as a high carding efficiency.
Louet XL Drum Carder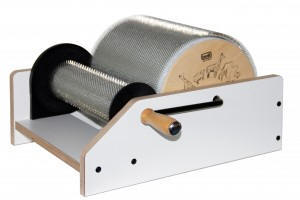 This baby is Louet's largest carder and will go a great job with all fibers! Perfect if you have lots of fleeces to card. Almost 12 inches in width, the Louet XL Drum Carder is huge. Combine that with the large diameter drum that makes a batt approx. 30" by 12" and you will go thru your fleeces better than ever before.
Louet XL Drum Carder Details
Majacraft Drum Carders
Majacraft Fusion Engine Drum Carder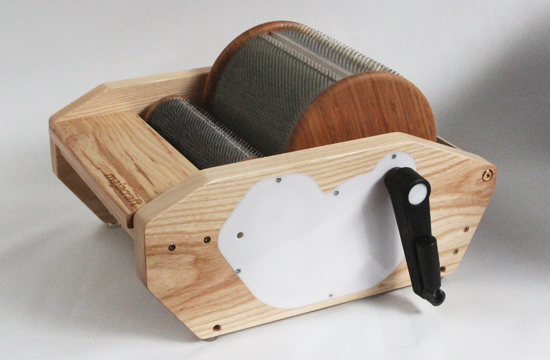 Majacraft designed the Fusion Engine carder to perform exceptionally, and to reduce or eliminate the common carding issues experienced with other drum carders. The Fusion Engine has a higher and more efficient carding ratio than most carders, so it blends fibers more thoroughly with fewer passes.
Majacraft Fusion Engine Carder Details
Strauch Drum Carders
Strauch "Finest" Drum Carder
Strauch's flagship model is the Finest drum carder. This top-of-the-line model is unique and comes complete with the Brush Attachment and all available accessories. A sturdy chain as the drive mechanism provides a constant positive non-slipping action while carding and is far superior to belt drives.
Strauch Finest Motorized Drum Carder
This motorized Strauch 405 drum carder for the semi-pro fiber enthusiast. Perfect if you want to turn your fleeces into cash! singlewide and doublewide models.
Being an engineer, Otto Strauch designed these carders to be truly unique in the marketplace and built with the same high standards as the hand crank models.
Strauch Motorized Finest Drum Carder
Strauch Petite Drum Carder
This carder is great for fiber artists with budget and/or space considerations who want a Strauch quality machine.
The Petite is an excellent choice for a mid-sized carder with full sized features. The Petite is a manual drum carder with a polyurethane drive belt.
Strauch 200 Series Drum Carders: Fine - Medium - Coarse
Strauch 200 series drum carders with strong chain drive, sturdy wood frame and three choices of carding cloth and two carding widths, let you find the right carder for your fibers.
Strauch 200 Series Drum Carder
Strauch Mad Batt'r Drum Carder
Card your favorite art batts! Strauch Mad Batt'r drum carders with strong chain drive, tough thick carding cloth and motorized option, lets you blend the perfect art batt from your fibers.
Strauch Mad Batt'r Drum Carder
Check out these
Carding Instructions
for all drum carders, no matter what brand you have.
No Bugging My Fleece
Everyone is so busy these days, some of your fleeces might not been washed yet. Here are five safe ways of storing raw fiber:
1. Store it in containers with a tight fitting lid. 5 gallon buckets with lids work great and you can really pack the fleece in these tight. You might also be able to use large plastic bags, but they can easily puncture and pest infestation can occur.
2. Tuck in a small cotton pouch filled with dried lavender for extra protection against moth damage.
3. Don't store it too long. Make it a priority to process these fleeces as soon as possible, so that you avoid matted and felted tips on your fleece
4. Keep fleece containers away from direct sources of heat (direct sunlight, hot water heater, radiator etc.) since any fleece contains a fair amount of moisture.
5. Don't forget to label your containers with the date and the content, so you always know what you have.