Louet Roving Carder (Junior Carder)
Louet Roving Carder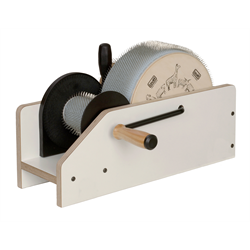 Louet Roving Carders also called Junior Carders are compact drum carders with strong enclosed gears - no belts that wear our or slip and a great price!
If you card fibers occasionally or card for small projects, the Louet Roving Carder is perfect for you. It has the same carding cloth and solid construction as the Standard Louet Drum Carder, but the batt is only 4" wide and about 30" long. It is perfect to card fibers for small projects like for socks, hats and scarves. The prepared fiber batt is similar in size to a commercial roving. You can also thoroughly blend colors on this model carder. It is a great introduction to the world of drum carding.
Free Shipping in the Continental US


Specifications:
- Drum is 4" (10 cm) wide and 10 1/2" (26.5 cm) in diameter
- Surface speed ratio is 12:1
- Teeth are spaced at 72 teeth/sq inch
- Teeth are 3/8" deep (11 mm)
- Card approximately 1/2 ounce (15 grams) per batt
- Weight 13 pounds (6 kg)
- Carding teeth flexible
- No pre-teasing needed
-Table Clamps, Doffer Brush and Doffer Pin included
An comprehensive instruction manual written by well known author and fiber artist Deb Menz is included with all Louet drum carders.
Flexible, intermeshing teeth and enclosed gears make the compact Louet Roving Carder strong and reliable when it comes to carding.
The Louet drum carders are made of laminated birch and have a hard white coating. In order to ensure a long life, the teeth on all Louet carders are made of high grade plated steel wire. All gearboxes (except on the Elite) are enclosed to prevent fibers entering the gear system.
| | |
| --- | --- |
| | See how easy it is to use the Louet Roving Carder |
| | |
Check out these Carding Instructions
for all drum carders, no matter what brand you have.
You may also like the following: