Ashford Extra Wide Drum Carder
Products > Spinning > Drum Carders > Ashford Extra Wide Drum Carder
Ashford Extra Wide Drum Carder - SALE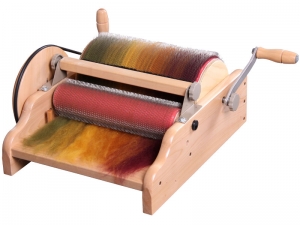 This drum carder his HUGE! The Extra Wide Drum Carder is for serious carding! Do you have a lot of fleeces to card or do you want to make a wide fiber batt?
Then this carder is for you! The Ashford Extra Wide Carder makes a massive 12" by 23" batt that perfect for spinning and felting.
The fine carding cloth (72tpi) lets you card most fibers with ease. This carder comes with a brush attachment (packer brush) that pushes the fiber into the carding cloth making a thicker batt, and controls finer fly-way fibers.
The Ashford extra Fine drum carder comes complete with cleaning brush, to clean the carder when switching colors or fibers, and a doffer for taking the batt off the carder, clamps, as well as detailed instructions.
Solid silver beech wood, assembled.
Get those Fleece DONE with this Serious Ashford Extra Wide Drum Carder.
FREE Shipping in the Continental US.
Ashford Extra Wide Drum Carder $750.00 Sale $699.00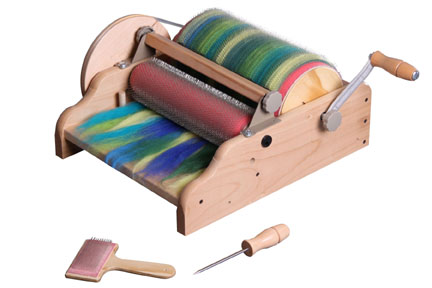 Ashford Extra Wide Drum Carder with tools
General Drum Carder Instructions
for all brands of carders
| | |
| --- | --- |
| | |
| Kate from Ashford in New Zealand is carding fleece with the Ashford Drum Carder | |
You may also like the following: