Louet Octado Loom
Products > Weaving Looms and Accessories > Louet Looms > Louet Octado Loom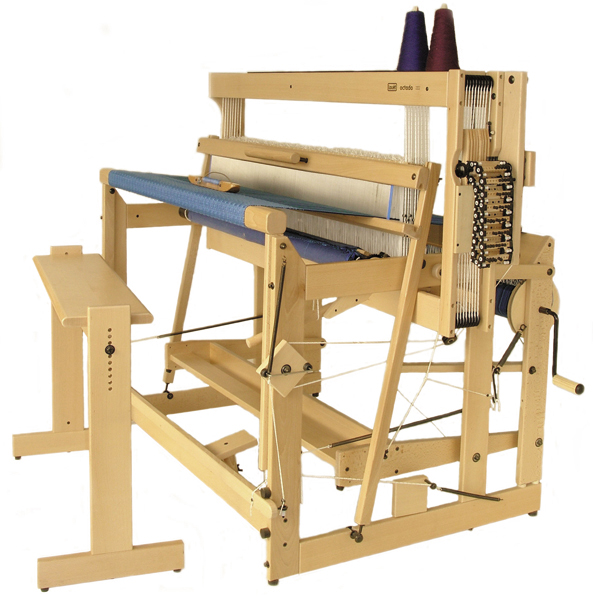 The Louet Octado is another great dobby weaving loom from Louet. The 8 Harness Octado has only one treadle and works with a dobby mechanism (you will have to purchase this separately), so even complicated pattern treadling is easy!
A dobby mechanism (programmable shaft selector) is an alternative for the tie-ups to the treadles on a standard hand weaving loom..
With a dobby loom, you can say good-bye to the tie-ups, there are none! The new Octado loom has a similar operating method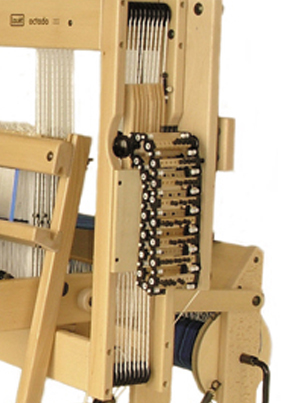 as the larger Megado. This means a big countermarch weaving shed, and a very light treadling action. Again, easy on the weaver. A floating breast beam allows for exactly the same warp tension all the time. A built-in raddle makes warping super easy!
The Louet Octado can be operated with a mechanical dobby (shown above on loom) you just "peg" your patterns, shown above on loom, or with an electronic interface. (Your choice!)
The electronic interface works with most popular computer weaving software, including Fiberworks P

CW, Patternland, PixieLoom, Weavemaker, Proweave and Weave It. Please note that you will also need a laptop or computer to weave on your Octado dobby loom
Choose from 70 cm, 90 cm and 110 cm weaving width (28", 36" and 44") The castle (middle section) of the Octado loom (where all the shafts are) comes completely assembled. A detailed instruction manual will help you to complete the assembly without any problems.
FREE Freight on all Louet Floor Looms within the continental US.
Watch the Louet loom video for the Octado, the little brother of the mighty Megado
to find out how the dobby system works
Additional Accessories available, please email for prices
Please note that this Louet loom is built to order. Delivery time can range from one week to 12 weeks. We will charge your card half of the price when you order this item and charge the second half once we receive shipping information. This loom is shipped per freight directly to your home FREE of charge (Alaska and Hawaii excluded, please contact us for a shipping quote.