Louet Megado Loom
Products > Weaving Looms and Accessories > Louet Looms > Louet Megado Loom
Louet Megado Dobby Loom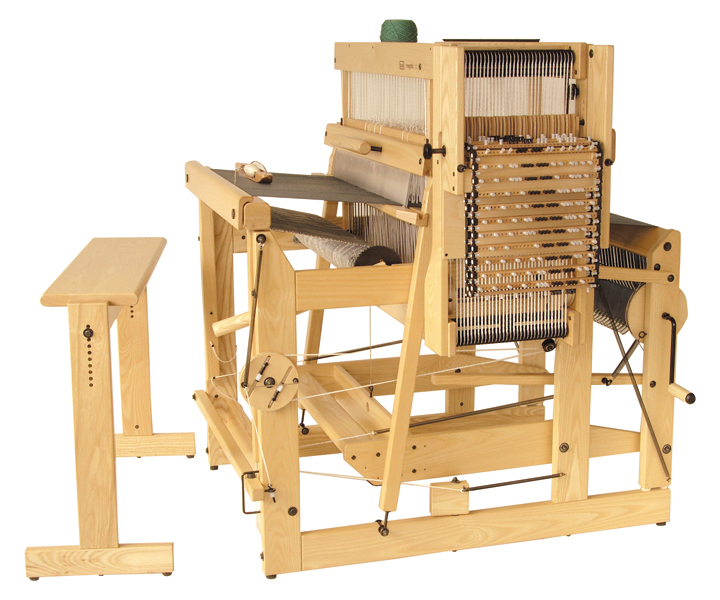 If you are a production or semi-production weaver or if you just want to weave complex patterns without complex treadling, this dobby loom is for you. Like all Louet floor looms, the Louet Megado offers a wide shed, countermarch action and a built-in raddle. Tie-ups are easy...there are none! The single wide treadle is permanently connected, and the appropriate shafts will be raised by the dobby system. So you do not have to crawls under this loom.
This innovative dobby loom is the flagship of the Louet family! The Louet Megado is simple, easy to operate, and robust enough to handle all your weaving projects. The Louet Megado allows for complex weaves without complex treadling or tie-ups. The Megado loom features a wide shed, built-in raddle for easy back to front warping, a cloth protector built into the cloth beam, that protects fine weaves and a floating breast beam that gives you the same tension every time you advance the cloth.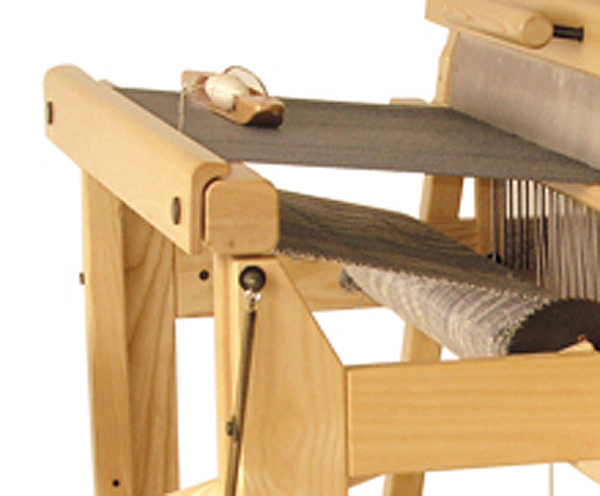 To create a weaving shed, Louet invented a new system. The selected shafts and the back beam move in conjunction to create a countermarch shed. The lifting mechanism is incredibly light to operate, even when lifting most of the shafts.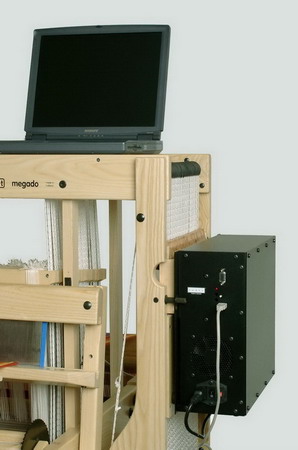 The Megado loom has to be purchased with either the mechanical dobby head (shown on loom above) or an electronic dobby head (shown to the left) so that you can weave.
If you choose the electronic dobby head you have the option from several software packages that work with the Megado, such as: Fiberworks PCW, Patternland, PixeLoom Proweave Weavemaker and Weave It. The Megado interface supports both PC and Mac operating platforms.
If your choice is the mechanical dobby head you do not need any software of computer to operate this loom.

The Louet Megado is available in 70cm (27 5/8"), 110cm (43 1/3") and 130cm (51 1/4") weaving widths. It can be purchased with either 16 shafts or 32 shafts. The Louet Megado is made of Ash hardwood and is finished with a double coat of semi gloss lacquer. Included with the loom are: a large shelf, built-in raddle, a 10 dent stainless steel reed, 900 (70cm)/1400 (110cm)/1600 (130cm) Texsolv heddles, lease and tie-up sticks and 16 warp sticks. The complex castle section comes pre-assembled so that you have to add only the remaining pieces.
FREE Freight on all Louet Floor Looms within the continental US
The full dimensions of the Megado loom are: (WxDxH)
Megado 70: 121 x 127 x 131cm (47 5/8 x 50 x 51 5/8"),
Megado 110: 161 x 127 x 131cm (63 3/8 x 50 x 51 5/8"),
Megado 130: 181 x 127 x 131cm (71 1/4 x 50 x 51 5/8").

to be used with your next order. You can use this for anything you like...loom bench, yarn, shuttles etc.
Louet Dobby Heads for Megado Loom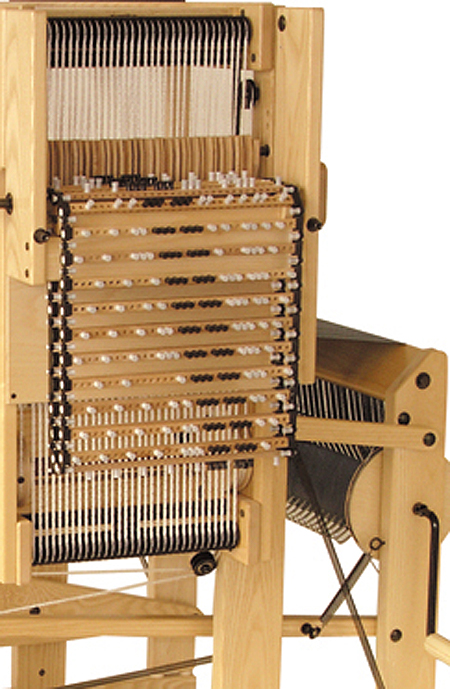 If you order the Electronic Interface: Please note that you will also need to purchase a software program and driver. You can choose from several software programs that are available, download the demo for free and once you found your favorite one, purchase a copy to use with your Megado loom and interface. Laptop shown in picture not included (you will need to use your own computer or laptop)
If you order the Mechanical Interface: Laptop and software is not required, you "peg" your own pattern in the mechanical interface.
Accessories for the Louet Megado Loom
Louet Second Back Beam for Megado Loom
Second back beams are sometimes also called double back beams. They are useful when weaving with yarns that have different fiber content or require different amounts of tension. Examples are seersucker, pique or supplementary warps.
Louet Sectional Warp Beam Kit for Megado Loom
Sectional warp beam with 1" spacers.
Please note that this Louet loom is built to order. Delivery time can range from one week to 12 weeks. We will charge your card half of the price when you order this item and charge the second half once we receive shipping information. This loom is shipped per freight directly to your home FREE of charge (Alaska and Hawaii excluded, please contact us for a shipping quote.)
Other accessories are available for the Louet Megado Dobby Loom, please email for prices!
Adjustable height bench (59 – 72 cm/23 ¼ - 28 3/8")
Tilting set for bench
Flying Dutchman shuttle
Fly shuttle mechanism
Beater system support attachment
Treadle height adjusting blocks

Learn more about the Louet Spring, Octado or Megado dobby loom by watching these videos that show you how to warp and weave on these looms