Spinning DVDs
Basic Spinning DVDs
New Spinner's Guide to Troubleshooting DVD
Your guide to spinning success. Love spinning, but have persistent problems you can't seem to solve? Abby Franquemont answers questions, shows examples and demonstrates why these things happen and how to address them. In this video workshop you will learn how small and large changes can make your spinning easier, more consistent and more comfortable. You will learn: how to determine whether your wheel needs repair, ways to improve your spinning posture and movements, how to remove blemishes in your yarn, what you can expect from different fiber preparations. 72 minutes
NEW! 12 Ways to Spin Handpainted Top DVD
Love that handpainted top? But not sure on how to spin it? You will learn a dozen ways to play with color and gain control over your yarn. In this video you will learn how to, preserve the colors you fell in love with, combine two ore more braids of fiber, techniques for controlling the flow of color in your yarn and how to spin gradient, fractals and self striping yarns.44 minutes
NEW! Building Blocks of Spinning DVD
Spinning is a craft that can be learned in hours, yet has infinite possibilities to be explored over a lifetime. In this video, Sarah Anderson teaches the building blocks you need for a lifetime of successful spinning—twist, draft, and control. You'll learn the secrets of twist, the "glue" that holds yarn together. Techniques and fiber preparation for worsted and woolen spinning. Tips and techniques for spinning short fibers such as cotton. Basic balanced plying, chain (Navajo) plying, and troubleshooting. Spiral, cable, crepe, boucle, and other novelty yarns. Every technique and concept is explained clearly and simply in Sarah's inimitable, enthusiastic style with video that lets you see all the action in amazing detail. 237-minute spinning workshop.
Start Spinning: The Video, 2 DVD Set
Yes, this is a DVD, even though the title is strange, you will find a wealth of information in this unique DVD set. The Two DVD's of Start Spinning will teach you how to pre-draft and why, how to adjust your spinning wheel, how to spin a good single yarn and how to ply. Start Spinning will also show your how to master carding and combing, spinning the long draw, spinning worsted yarn, spinning from the fold and much much more! Play time 78 minutes and 66 minutes. Grab this one! Also see the book "Start Spinning"
Respect the Spindle the Video DVD
Never mind the title, Respect the Spindle the Video is really a DVD. Veteran spinner and spindle aficionado Abby Franquemont shows spinners old and new how to create volumes of incredible yarn with the amazing drop spindle. You'll learn how drop spindle spinning works and how to spin on a simple stick, how to make a functional spindle out of almost anything, how to spin a lot of excellent yarn in an amazingly short time and how to manage the yarn supply, to ply efficiently, and to finish appropriately. Want more? Check out our DVD Drop Spindle Kit that combines this DVD with fiber and a spindle so you are ready to rock! Also check out Respect the Spindle the book!
Getting Started on a Drop Spindle DVD
Another great DVD from Maggie Casey. Learn how to use a simple, portable drop spindle to make your own yarn. Getting Started on a Drop Spindle starts with a description of the spindles parts and styles of spindles, then moves into what materials you need to get started. Learn to "Park and Draft" and spin in no time! Move on to spinning and plying standing and learn how to create a yarn that is uniquely yours.
Specialty Spinning DVDs
NEW! Spinning Silk DVD
Sensuous, Successful yarns from Luscious Silk. Fall in love with silk again! This awesome two hour DVD will show you how to select your silk, draft even the slickest silk easily. Learn to spin enough fine yarn for a project without strain or fatigue, ply and finish yarns for maximum luster and durability and use your spinning wheel or drop spindle for maximum efficiency. Plus bonus content! Learn to dye silk by hand painting the yarn or finished product. Sara's guidance brings gorgeous silk yarns within reach for spinners from advanced beginner to expert.
NEW! Spin to Weave DVD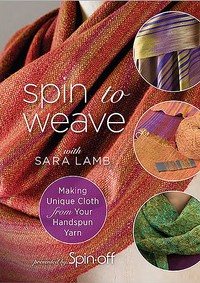 This 2- disk DVD set will show you how spin yarn for weaving, so that you have complete control over the color, texture, and performance of your fabric. In this Spin to Weave video, Sara Lamb teaches how to create just the right yarn to suit your weaving designs. With this two-hour Spin to Weave workshop you will learn the properties of a good weaving yarn, discover fiber choices and yarn types for different fabrics and purposes and gain knowledge of production spinning techniques to create lots of yarn quickly and comfortably. From fiber to finish, learn to create luxurious cloth from handspun yarn. By mastering spinning techniques, weaving techniques, color, texture and more, you will be creating gorgeous fabric in no time.
Three Bags Full 2 DVD Set
How to select, prepare and spin a great fleece. This new DVD set Three Bags Full by Master Spinner Judith MacKenzie, will teach you how to spot a great fleece, and how to lay out and sort a fleece from choice to seconds to waste. Learn different methods of how to prepare a fleece (from washing it in the washing machine to lock by lock), and how to prepare it for spinning. With the Three Bags Full DVD and Judith's help you will be able to make a confident choice next time you buy a fleece! - For those of you that have their own sheep- learn to evaluate what you already have, you may not realize what treasured fiber you already have!
Spin Flax and Cotton DVD
Discover time honored techniques for spinning flax as well as spinning cotton plus hear compelling stories of these textiles' history. With this hour-and-a-half workshop, you will discover the process of taking flax from seed to strick, learn two methods of dressing a distaff and watch a cotton bow open, learn how to clean cotton fiber for carding. From methods of spinning flax to using a cotton bow in the Cajun style, Norman shares his knowledge from around the world and through the ages in Spin Flax and Cotton. BONUS! Norman demonstrates using a traditional indigo dye vat and explains how he creates stunning depths of color.
How to Card Wool DVD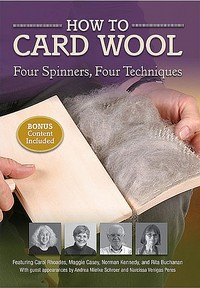 Four Spinners, Four Techniques. Carding is the first step toward consistent, easy to spin yarns, and hand carders are the most accessible tool for achieving them. In the DVD How to Card Wool you will learn how to produce fluffy, lofty airy rolags, how much fiber to load onto your cards and how to take it off. This DVD will also show you different techniques used by different spinners. Explore and Enjoy!
Big and Lofty Yarns DVD
Spin the big, soft yarns of your dreams. When you start spinning, it seems like all you can spin are fat, lumpy yarns—then you get the hang of it and figure out how to make fine, smooth, thin yarns, and you spend the rest of your spinning career trying to figure out how to make those smooth yarns big and lofty. In Big and Lofty Yarns, Maggie Casey demystifies the process, explaining just how to make miles of the soft big yarns. Learn how to prepare your wool on a drum carder, learn how to adjust your wheel's take up and how to preserve the loftiness of the yarn through plying and finishing.
A Spinners Tool Box DVD
Master Spinner Judith MacKenzie had done it again! As a spinner, your most important, versatile tools are your own skilled hands. With those eight fingers and two opposable thumbs, plus a half-dozen simple techniques for manipulating the fiber supply, you can spin a full suite of yarn styles. A Spinners Tool Box will show you how to spin: Worsted, Semi-worsted, Woolen, Semi-woolen and Boucle yarns.You'll begin by seeing the unlikely possibility of spinning the six different yarns styles with a single fiber preparation. You'll end by witnessing this revered master spinner, in a miracle of energetic ambidexterity, draft two fiber sources simultaneously into a single strong, lofty, funky novelty yarn. And so can you!
Color Works for Spinners - 2 Disk Set DVD
Learn simple tri
cks to create your own unique fiber colors! There's magic in color, but creating wonderful color for spinning and felting is what you might call "practical" magic. Start with colored fiber – natural or dyed. Add a blending tool (a drum carder is Deb's choice). Mix and play using some simple, basic color principles – and there's no limit to the possibilities. With Color Works for Spinners relaxed, enthusiastic guidance, you'll learn basic blending techniques, the language of color, which is the key to successful blending, how to work with hue, value, and saturation and much more.
Drafting: The Long and the Short of It DVD
What's the diff
erence between woolen and worsted spinning? IS there a difference? How do you decide when to use what method? Why should a spinner care? Here to make common sense out of it all is Abby Franquemont. You'll learn: - The short forward draw (worsted) and what kinds of fibers it's best for. - The backward long draw (woolen) and what kinds of fibers to choose it for. - Two hybrid drafting methods, including spinning from the fold. - Important extras such as making good worsted joins and spinning ergonomics. The result? You'll be comfortable with a wide range of drafting methods, and you will have developed a sense of when and how to use them with different fiber preparation.
Handspinning Rare Wools DVD
Jump into the world of Handspinning Rare Wools. How to spin them, why we should care. You'll learn that washing, carding, spinning and finishing these fibers is a never-ending experiment filled with surprises! Deborah Robson explores 38 rare and endangered sheep breeds such as Northern European short-tailed sheep, Old British breeds, rare English Long wools, Classic English Down Breeds, Welsh and Border Breeds, American Originals and more!
How I Spin DVD
A common sense approach to great productivity and creative joy. What can you learn from someone who spins all day, every day (except during gardening season), and who produces her own handspun shirts, sweaters, blankets, rugs, table linens, bath towels, aprons, even gardening shorts? Short answer: A lot! Rita Buchanan has spent more thoughtful time preparing fiber, spinning yarn, and making fabrics from her handspun than perhaps anyone in the developed world. In this set you'll learn: How to control yarn size with your hands, not with wheel adjustments, how to create the most wonderful preparations using cards, combs, and more. How to spin cotton while reading your favorite book And so much more. Play time: 1-65 min, 2-90 min.
In Praise of Simple Cloth 2 DVD Set
Liked "How I Spin"? Let Rita Buchanan take you a step further and share her passion for spinning and weaving with this crossover DVD. Packed with a joy for spinning and weaving In Praise of Simple Cloth shares practical tips and will teach you how to: match yarn for a project, explore the properties of various fibers, spin and weave for wall and floor rugs, creating humble household fabrics for everyday use as well as knitting with handspun yarns. Keep it Simple!
Know your Wheel DVD - 2 Disk Set
Learn how to t
weak your wheel! Spinning Wheel Experts Alden Amos and Cindy Lair will show you how to: Quiet that annoying clunking sound, stop the drive band from jumping off, lubricate your spinning wheel and much much more. Know Your Wheel will make you feel confident knowing how your spinning wheel functions, and learning special tricks to deal with common maintenance problems. A "must have" for the used spinning wheel owner!
NEW! Spin Thin DVD
How to spin fine yarns. Inspired by wedding ring shawls, knitted from yarn so fine they can pass thru a ring? Do you want to create multi-ply yarns for socks, sweaters or hand woven fabric? If you are looking to find out how to spin fine yarns flawlessly this is the DVD for you. In this video you will learn how to adjust your wheel for fine spinning, how to sample everything, how to match your fiber preparation to your fiber and spinning method and when to use each drafting method to produce fine yarn. 70 minutes
Spinning for Lace DVD
Do you want to spin cobweb-fine threads that are both lively and durable? Meet Margaret Stove! Her methods might seem counterintuitive, but they work! A great advocate of the fine Merinos of her native New Zealand, Margaret is fearless in creating plied blends using silk, angora, qiviut, and more. Learn how to handle a fine fleece without felting it, wash by the lock, adjust your wheel tension for exquisite delicacy, and ply a balanced yarn, or tweak your hand positions for plying different fibers together. Spinning for Lace will show you how to choose and sort a fleece, separate staples, dissolve the grease, manage the staple to avoid felting and maximize durability and "bounce." Using high magnifications of the fibers and spun yarns, Margaret explains just how it all works.
Spinning Luxury Fibers DVD- 3 Disk Set
Spinners today have such an abundance of fiber choices, sometimes it's hard to know where to begin – and to know how to handle these precious materials once you have them in your hands. Let Master Spinner Judith MacKenzie show you what she's learned from deep experience in both craft and industry, with a hands-on teaching style that will give you inspiration, confidence, and good results. This three-disk set covers: Silk, from cocoon to top to roving to magnificent blends, Alpaca, both Huaycaya and Suri, Camel, Llama, Paco-Vicuña, Yak, Bison, Cashmere and Quiviut With Spinning Luxury Fiber you'll learn how to prepare each fiber, how to spin it, how to finish your yarn, and the fascinating history and lore of each.
Spinning and Weaving the Ashford Way DVD
Learn more about the various Ashford products including spinning wheels and weaving looms. Learn how to assemble and Ashford Traditional spinning wheel, view spinning instructions, find out how to use spinning accessories, including how to card and dye fiber. Assembly instructions for several Ashford looms are shown as well as instructions for all looms. This DVD gives you a good overview of the various Ashford products. 67 minutes. value Priced.
The Gentle Art of Plying DVD
Plying is not an afterthought. It's your gateway into the vast world of yarn design. Informed and skillful plying can make all the difference between "just another yarn" and "just the yarn you want." In The Gentle Art of Plying, master spinner Judith MacKenzie presents not just the basics—how to hold your hands, where to put your kate—but an extensive adventure into the endless possibilities. You will learn how to use organize your hands (the best tools of all) avoid errors, customize and enhance commercial yarns.